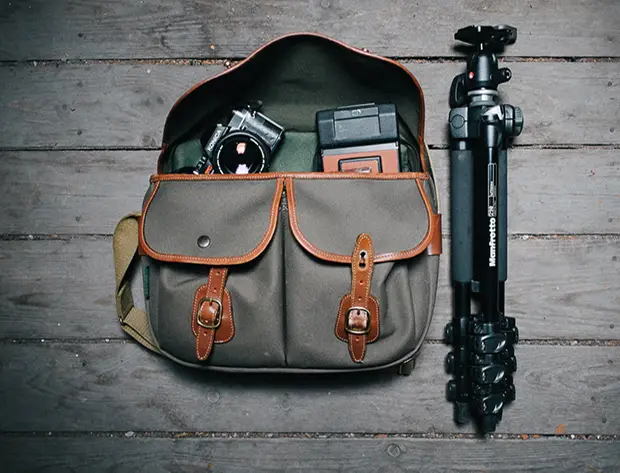 In your bag 1164, Martin Martinsson
Oops, sorry about that. Looks like we had a double submission there. OK, back on track now, we have a whopper of a bag shot today. Not just a bagshot, but a bunch of camera porn too. Check it out.

Hi,
I am a 37 year old architect from Malmö, Sweden. I moved to Germany about five years ago and to compensate for the loss of social life, I restarted my sleeping interest in photography. Since then my hobby has developed into a somewhat fanatical passion and nowadays I never leave home without carrying at least one or two cameras.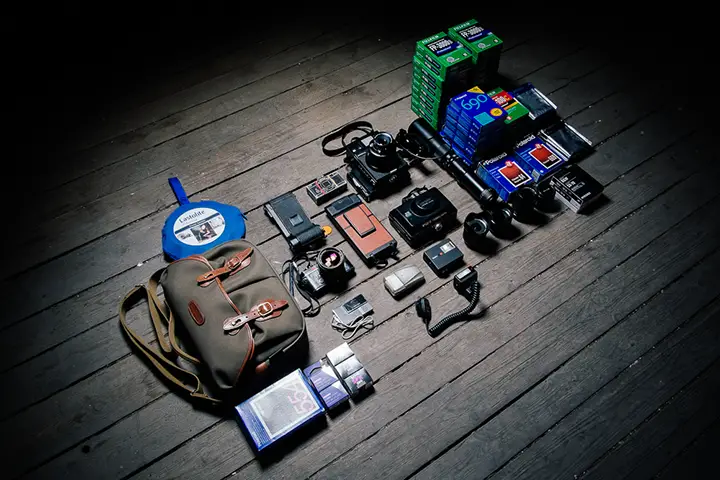 Without realizing I have managed to build up quite a collection of cameras during these last five years. I noticed how heavy everything has become when I dragged up all my cameras, films and accessories to the attic to take the above picture of my gear. I almost started to wonder if this actually might be the cause to some of the back problems I have been having lately…
Let me start with the bag: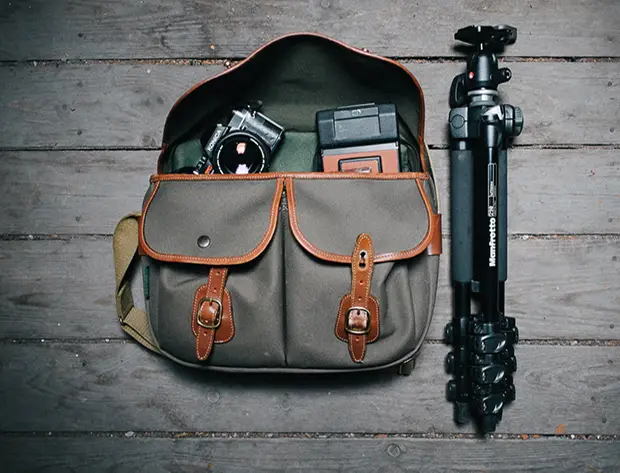 ​
My main bag for photography is the Billingham Hadley Pro. Very comfortable and does not look like a typical photography bag so I don't need to feel too nerdy as I am walking down the street with it. It fits up to three cameras plus some extra photographic film plus a wallet and some other stuff needed on a daily basis.
Generally I only use my Billingham-bag if I am carrying any of my bigger cameras or if I am out shooting a special project or out travelling. On a daily basis, commuting to work or going grocery shopping, I only bring one or two smaller cameras. To my surprise, two of my most used cameras lately, are my Olympus Mju-II and my (wife's) P-Sharan Pinhole camera.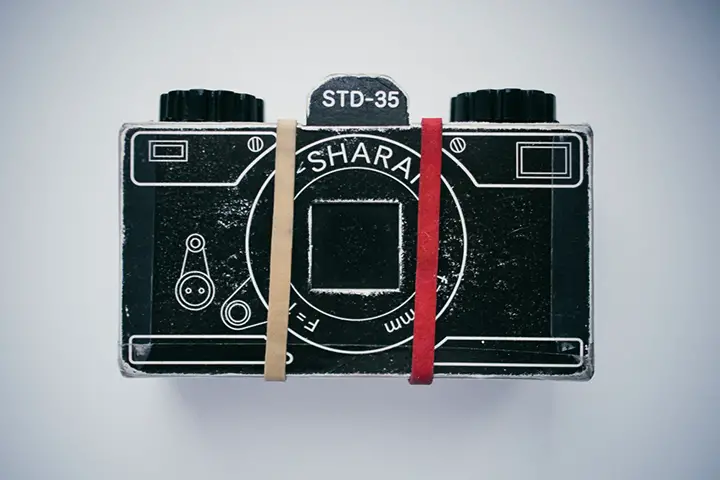 ​
They are small and portable so there is really no excuse leaving house without them. The Olympus, which has been in my possession since the late 90's, combines portability with excellent picture quality. These photos rarely get published online but it is perfect for documenting family life and events.
The P-Sharan Pinhole camera is an extremely fun camera to use – especially together with slide film. I always bring it with me. Blurred, dreamy photos with an infinite depth of field. I am amazed by the results every time I get a roll developed.
I also have a digital camera – the Fujifilm X-pro1. Fantastic piece which really helped to restart my interest in photography. I like the analogue feeling with the manual controls and it really has a fantastic line of lenses. I have bought three – the 14, 18 and 35mm versions which all are really good. Unfortunately digital photography has become too much associated with WORK. I use the camera sometimes professionally and for other projects and that has taken away some of the fun. Even though I am probably a "better" photographer digitally, I leave it at home nowadays when I travel or do some sort of personal projects. Analogue photography is just so much more fun, exciting, creative and challenging. There is just no way of knowing the outcome each time I press the shutter button with a film camera.
I shoot a lot of Polaroids. It is definitively my favourite film format and it has endless creative possibilities. I buy expired film from Polaroid whenever I can find some, but also use the Fujifilm FP-100c (I especially like working with bleached negatives. Please check out my how-to-do in my Flickr photostream). Compared to other photography it is quite expensive to do instant photography but when I really get "that shot" – it feels like it is worth the money spent. The Mamiya Universal is a great camera to use all though it is really, really heavy to carry around. This monster-size causes a lot of attention and questions from people around so it is not exactly ideal for stealth. It is the best camera to have around to start casual conversations with strangers and other camera freaks. Besides having a Polaroid back, I have also recently acquired a 6×7 and a 6×9 medium format back for this camera which I am planning to use together with a few rolls of Kodak Aerochrome that am saving for a special occasion.
My Konica Autoreflex TC is actually quite a bad camera since almost half of the photos come out blurred or badly exposed (might be something wrong with the shutter curtain). It was a gift from my grandfather, so it would feel bad to replace it. The upside is that I have some fantastic lenses to use with it. Above pictured with the very bokehlicious Konica Hexanon AR 57mm F/1.2. My main camera choice when it comes to black & white film or Lomochrome Purple.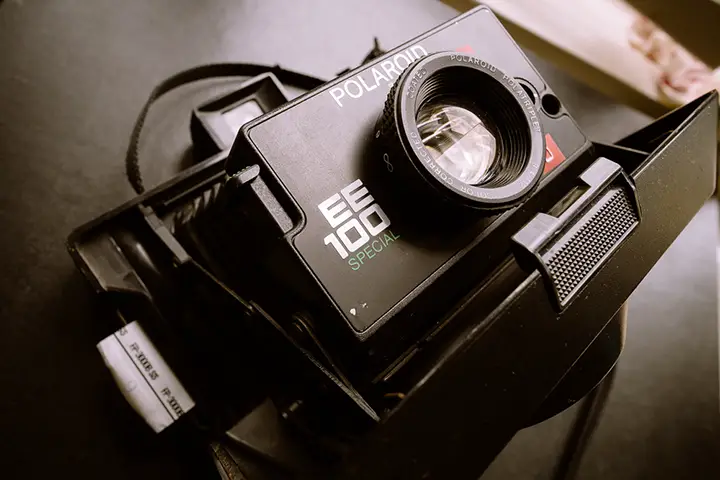 Lastly I have two Polaroid cameras which I use less frequently than my other cameras – a Polaroid SX-70 Sonar Autofocus and a Polaroid EE100 special. The latter was my first instant peel-apart camera which I have nowadays replaced with my Mamiya Universal. It is not a bad camera though. The plastic lens produces some really nice and creamy pictures but it is very difficult to achieve perfect focus without the use of a tripod and a measuring tape.
The SX-70 is the best looking camera I have in my collection. I use it quite seldom since the film is so pricey. Almost twice as expensive as the peel-apart films (and I don't even get a negative to play around with). I really enjoy the aesthetics though and some of my favourite photos ever were made with this camera.
You can find some of my photos via:
Flickr: www.flickr.com/photos/martinssonmartin/
Tumblr: martinssonmartin.tumblr.com/
Lomography: www.lomography.com/homes/mmartinsson
Martin Martinsson
​
Thanks for sharing not only your bag, but your collection too. It is nice to see that you don't actually carry all of that lot around.
Check out the links and make sure you come and comment.
Keep them coming folks, we need more submissions, so get your bag on Japancamerahunter.com. Send me a hi resolution image of the bag. Optimum size is 620×473. Please ensure there is a bag in the shot, unless you don't use one. The more you can write about yourself the better, make it appealing and tell us a story. Oh and don't forget your contact details (twitter, flickr, tumbler et al). Send the bag shots here. Please understand that there is a long wait now as there is a backlog of submissions. Not all make the cut, so make sure yours is funny/interesting/quirky. And please make sure the shot is of good quality, as the ones that are not do not go up.
Cheers
Japancamerahunter