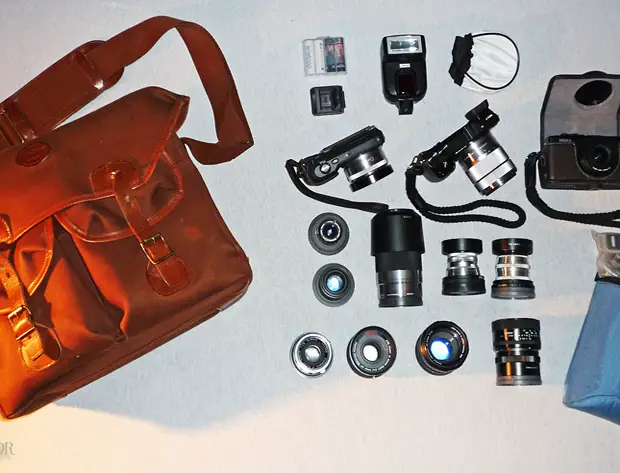 In your bag number 98, Carsten Schouler (LucisPictor)
Now that we are back rolling I have a bag for you that I have wanted to show for a long time. This bag belongs to a guy I know as LucisPictor and has been sitting in my 'inyourbag' file since the great crash. I hope you enjoy it as much as I do.

Hi there,
I really enjoy your series "What's in your bag" and would like to participate with my present "daily bag".
As a Canon EOS shooter for several years, I always was carrying around large and heavy bags with two DSLRs and at least 5 or 6 lenses, sometimes more, inside.
But the Sony NEX-System has changed my photo bag a lot.
This is what I have in my daily bag at the moment: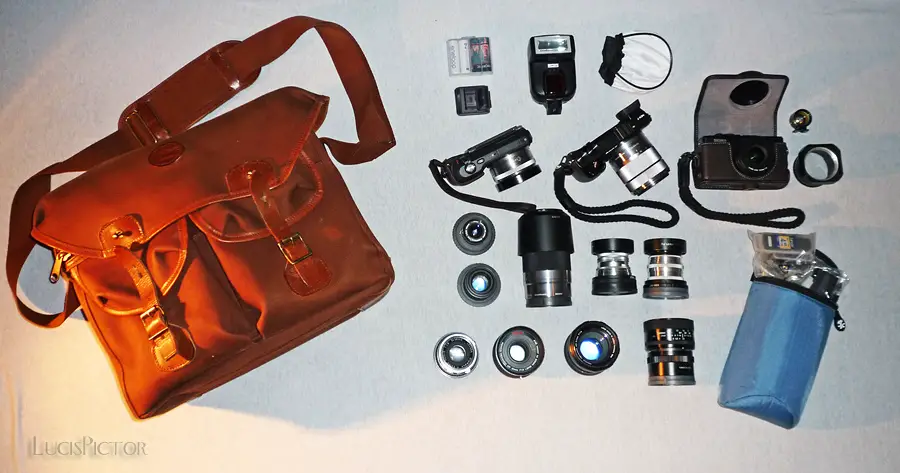 It's a CCS Hertiage bag in brown. I love the way it looks and its quality.
Inside I have:
Sony NEX-7
Sony NEX-3
Sigma DP1s
Metz 24 AF-1S Flash
Sony SEL 2.8/16
Sony SEL 18-55 OSS
Sony SEL 55-210 OSS
and those manual lenses adapted to E-mount:
Pentax-110 2.8/18
Tamron 2.5/24
Fujian CCTV 1.7/35
Olympus F-Zuiko 1.8/38 (PEN F)
Konica Hexanon AR 1.8/40
Jupiter-3 1.5/50
Leica Summitar 2/5cm
Konica Hexanon AR 1.4/57
and sometimes another lens, depending on what I plan to shoot.
That could be a Pentax-M 2.8/28, a Minolta Rokkor 2/45, a Leica Elmar 4/90 or perhaps a Leica Hektor 4.5/135.
The blue pouch holds replacement batteries and additional memory cards, filters and a viewfinder and a lens hood for the Sigma DP1s as well as some other smaller stuff.
There is still some space left in the bag to put in a compact film cam such as a Leica C2, a Minox 35GL or a Ricoh FF-1. Sometimes I also bring a Leica Digilux 2.
All that stuff is not as heavy as it appears to be. It's perfectly alright to carry this bag a whole day.
Thanks
Carsten Schouler (LucisPictor) from Germany
I am really happy to see this bag and I am glad that I could finally get it up on the site. Keep them coming folks, I want more! Thanks for sharing this back with us Carsten.
Keep them coming folks, we need more submissions, so get your bag on Japancamerahunter.com. Send me a hi resolution image of the bag (please make sure it is horizontal) and its contents, with some details about yourself and what you shoot. Oh and don't forget your contact details (twitter, flickr, tumbler et al). Send the bag shots here.
Cheers
Japancamerahunter