In your bag 940, Robb Williamson
Robb has an absolutely massive and very detailed bag for us all. Check out this whopper.

I am a huge fan of Japan Camera Hunter and look forward to each new feature.  I'm an older (old-school) film shooter that has embraced digital with the advances.  My bags have changed because of this.
Here is my main camera bag and it's contents, which make almost every trip with me.
I love camera bags and have an entire closet full.  I have found that some bags are more discrete than others and some are easier to work "out-of "on the road.  My choice these days is for the largest Domke Photo Courier Bag with a brown ruggedwear wax cloth finish – the Large #F-833.  With a little bit extra padding on the bottom inside, It can go anywhere with me while protecting my gear and staying as light as possible.  With my start as a photojournalist 25 years ago, I have always been a Domke fan and this bag is my favorite they have ever made.
While I have other cases for a 35mm system, rangefinders,  Medium Format DSLR's, and lighting, the workhorse camera for me as a location shooter of architecture and places or landscapes is the Leaf Credo 80mp back on a technical camera.
This one bag can handle interiors and exteriors and all the travel assignments I can throw at it.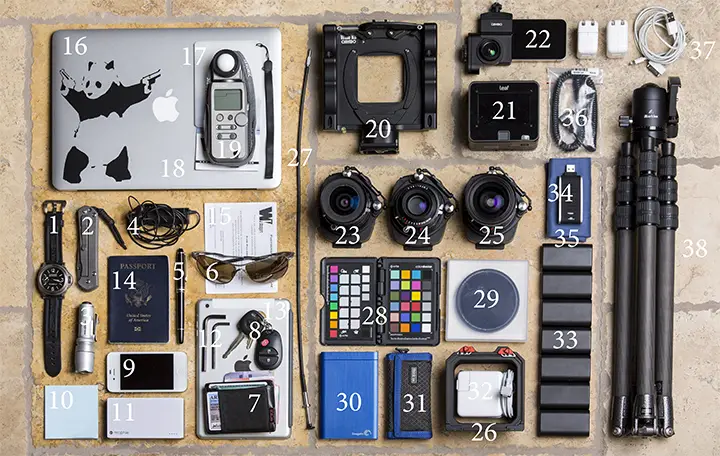 Here is the breakdown of the critical items inside it and on me:
1. Panerai Luminor Marina PAM 177 – Titanium manual wind watch that is waterproof for all elements and lighter than steel – rubber strap in the summer, switched to leather strap in other seasons.
2. Chris Reeve Large Sebenza Titanium lock-blade knife – sometimes swapped out for a multi-plier tool depending on the area of work.  Used more than you would think and with a concealed carry license always comforting to have when photographing in sketchy neighborhoods in some urban centers.
3. Surefire flashlight with low and high settings using a thumb click.  Can be used for checking camera settings at twilight or nightfall or for lighting up foreground in a long exposure.
4. Sony Digital Noise-Cancelling ear buds.  Uses a single AAA battery and essential for getting rid of background engine noise or crazy kids.  Sometimes I swap them for a pair of Bose Quiet comfort headphones, but I prefer to carry less weight and bulk, so the Sony's normally win out.
5. Simple Mont Blanc felt tip pen for notes and releases.
6. Oakley Titanium Crosshair Sunglasses with Polarized lenses.
7. Tumi card holder and money clip.  I try to leave all the extra stuff at home as much as possible.  This carries the bare essentials.
8. Keys to the 4×4 Toyota Tundra and studio.
9. Iphone 4s – Waiting for the upgrade to the iPhone 6 to come out – will likely upgrade to the 5.5" largest screen model.
10.  Post-it notes so you can write and stick them where you need them.  Better than a notebook for me.
11.  Mophie extra battery to power the iPhone, the ipad mini, and also the Cambo dedicated Black iPhone 4s I use solely as a viewfinder for the tech camera.  Carrying this battery allows me to use the brightest setting on the screen for shooting.
12.  Allen wrenches used for tripod and mounts.
13. iPad mini used primarily for long-haul flight entertainment with digital magazines, games, music, videos, and calendar planning.  Hitting the ground out of the airport, I use the ipad mini for my gps and mapping directions.
14. US Passport – used often – ready to add multiple pages for more room.
15. Simple Model Releases for anyone that is easily identifiable for corporate advertising clients.
16. MacBook Air (Latest Version Maxed Out for processor / RAM / harddrive SSD)
17.  LCC Card for shots with the shifted lenses on the tech camera.  Used with Capture One software to correct for color and lens vignetting.
18.  Business Cards
19. Sekonic L-358 – simple ambient lightmeter
20. Cambo Wide RS Technical camera with lots of room to shift or stich panoramic images with the digital back.
21. Leaf Credo 80mp full-frame medium format digital back – gigantic files with amazing color.  Easy to view new touch screen.  Most of the features of the Phase One IQ backs but at a lower cost with some unique advantages.
22. Black iPhone 4s used with a cambo viewfinder holder and wide Schneider lens for acurrate framing and bright screen using the tech camera.  Used with the Alpa finder App.
23.  Schneider 60/5.6 Digitar XL lens on Cambo tilt-swing lens panel.  Essential to controlling the plane of focus with the larger formats.  Rediculously sharp and with a huge image circle for architectural movements or stitching panoramics.  About a 32mm in 35mm equivalent format.
24.  Schneider 120/5.6 N APO-Digitar lens on Cambo short-barrel, tilt-swing lens panel.  Wickedly sharp with huge image circle.  About a 70mm in a 35mm equivalent format.
25. Rodenstock 40/4.0 HR Digaron-W lens on Cambo tilt-swing lens panel.  One of 2-3 wide angle lenses that work without any issues with 60-80mp sensors.  Sharp in the corners with room for fairly large movements.
26.  Cambo rear back extension for use with short-barrel lenses.  Allows large movements on longer lenses without vignetting.
27.  Good old fashioned cable release using the Leaf Credo's non-latency mode.
28. X-Rite Color checker and gray cards – needed for all architectural interiors and many exteriors.
29. B+W 10 stop Variable ND Filter with step-up rings.  I always carry Heliopan circular polarizers for my lenses primarily and add this filter to go with that set depending on the effect I am after showing motion or moving water in daylight primarily.
30.  Portable hard drive with USB3.   Replacing this with a new 500GB Lacie flash drive with thunderbolt very soon.
31.  ThinkTank photo CF Card Holder with 14 Lexar (16gb cards).
32.  Power pack for MacBook air
33. 8 Batteries (1 in the camera) for the Leaf Credo 80 digital back.  I usually go through 4 batteries per 8 hour day of shooting depending on my time using the rear screen.
34. USB3 CF Card Reader
35. Micro fiber cloths – great for cleaning and keeping loose items from scratching other pieces.
36. Sync Cord from lens to the Leaf Credo 80
37. Two charging plugs with cords for the phones, battery pack, and ipad.
38. Gitzo model GT 1542T Carbon fiber traveler tripod with Markins Q-Ball Q3i Ballhead with arca swiss quick release.  VERY compact for travel yet can support quite a lot steadily.  I  also swap to larger Gitzo tripods based on travel distance, stability needs, and if I have ease of transportation.  The tripod is carried in my hand or on a separate sling until I get to my location to shoot.
Not shown is a Hahnel dual charger and cord for the Leaf Credo batteries and a cleaning kit in a newswear pouch.  Those go directly into my clothes bag as checked luggage.  Any extra stuff in the Domke bag that I don't plan on using during a shoot goes into a safe place at the client's office, hotel or rental car.  I only carry exactly what I need to complete the work.  Otherwise, extra stuff can just weigh you down and tire out your body and enthusiasm.
Thanks for letting me share.  Hopefully this helps some photographers with their selection process.
Robb
Robb Williamson – Commercial and Editorial Location Photographer out of Mesa, Arizona, USA
Thanks for sharing your bag with us Robb. Wow, that is a lot of gear.
Check out the links and make sure you come and comment.
Keep them coming folks, we need more submissions, so get your bag on Japancamerahunter.com. Send me a hi resolution image of the bag (please make sure it is horizontal) and its contents, with some details about yourself and what you shoot. Oh and don't forget your contact details (twitter, flickr, tumbler et al). Send the bag shots here. Please understand that there is a long wait now as there is a backlog of submissions. Not all make the cut, so make sure yours is funny/interesting/quirky. And please make sure the shot is of good quality, as the ones that are not do not go up.
Cheers
Japancamerahunter