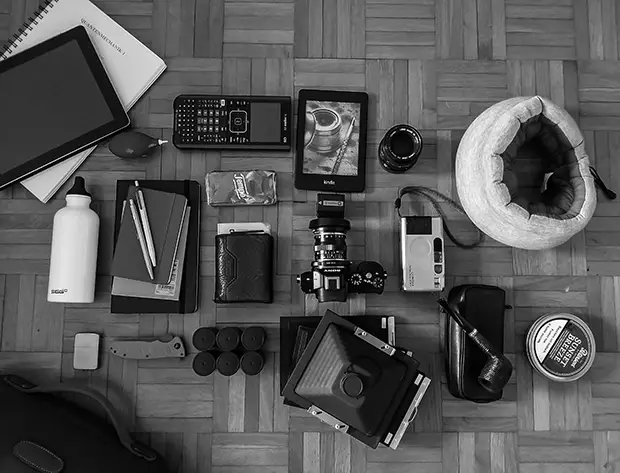 In your bag 932, Keren Wang
Keren shares with us his street setup. Which includes a super cool pinhole camera. Check it out.

Hey JCH! Now it's my turn to share my bag with you guys!
It does not show my DSLR equipment that I use less and less now, but rather the bag that I carry around everyday – my EDC. I am a 20 year old Electrical Engineering Student at the ETH in Zurich, currently working on my Bachelor. That's why nowadays I sadly don't get enough time to go out and shoot. Depending on the day, I might leave some of the stuff at home, as there is not enough space in my Billingham, if I want to take my Macbook with me. The Contax T2 you see in the photo – I bought it from you! It's an amazing little shooter. I develop the B/W Film myself at the uni's lab, that I am also currently organising/managing. We still get one or two guys a week that wants to develop film!
The rundown (from left to right):
-Ipad 4 & textbooks
-eyelead blower
-TI N-Spire CX
-Kindle Paperwhite
-Canon FD 50mm f/1.4 with Adapter(i also have some other legacy glass etc. depends. but I am a 35-50 guy)
-Ostrich pillow light (gotta take a nap once in a while)
-SIGG Travel Bottle
-Moleskines, notebooks
-Caran D'ache pens
-Skap wallet (that is falling apart)
-A7 with Carl Zeiss 35mm f/2 ZM & batteries
-Contax T2
-Zippo
-"Pocket" knife
-Hp5+, Agfa, Kodak
-Harman Ilford 4×5 Pinhole (then I also carry my Manfrotto)
-Savinelli Pipe & Tobacco (smoking kills!)
I have a Freitag bag – something very swiss. But then I found a second hand, almost new Billingham Hadley Pro for half price and now I am using that. It's much lighter than my Freitag and I like how you can take the insert with all my photo gear out and use the bag for other items.
Nowadays I am shooting a lot of street. First, it was more or less a dare, but now I really enjoy it. After seeing some Erick Kim videos, I started to let the people on the street to pose for me. Oh! And mastering the "I am not looking at you, but over your shoulder" trick is a must for street!
Some of my photographs can be seen here: www.kerenwang.net
You can also find me on Facebook at: www.facebook.com/wokeuponearth
Keep it up JCH! Very Best Regards,
Keren Wang
Thanks for sharing your bag with us Keren. That is a cool pinhole camera you have there.
Check out the links and make sure you come and comment.
Keep them coming folks, we need more submissions, so get your bag on Japancamerahunter.com. Send me a hi resolution image of the bag (please make sure it is horizontal) and its contents, with some details about yourself and what you shoot. Oh and don't forget your contact details (twitter, flickr, tumbler et al). Send the bag shots here. Please understand that there is a long wait now as there is a backlog of submissions. Not all make the cut, so make sure yours is funny/interesting/quirky. And please make sure the shot is of good quality, as the ones that are not do not go up.
Cheers
Japancamerahunter