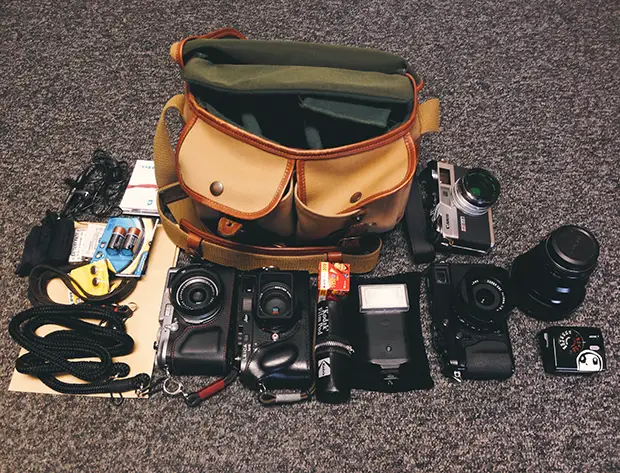 In your bag 931, Matthew Maber
Matthew is back after a very long sojourn. And he makes it sound like a meeting of G.A. GASaholics Anonymous. Come and check it out.

It's been a while since my last "In your bag" in 2012 (gosh this sounds like a confessional), since my last visit my bag has gone through a few changes and I've had a couple of communications with yourself. https://www.japancamerahunter.com/2012/04/in-your-bag-132-matthew-maber/
The Fuji X100 has been a gateway drug to film crack – I have sold the underused Nikon and kit and got myself a few more film cameras. I had the Yashica Minister II, but I have since been through a journey of a Canonet 28, a Canonet QL17 (acquired from your good self), a Miranda MS-1 as that is the camera I had as a young teenager, the Pentax is my dads and of course the mighty Leica M6. I found from the X100 that I love the tactility and immediacy of the 'analogue' controls, since then this has just increased the the mechanical feel of the M6 is even nicer. I chose the M6 for its light meter but Ive found I can guess exposure better and it certainly nice to look through the viewfinder and have this confirmed – the exposure triangle is even more understandable to me now.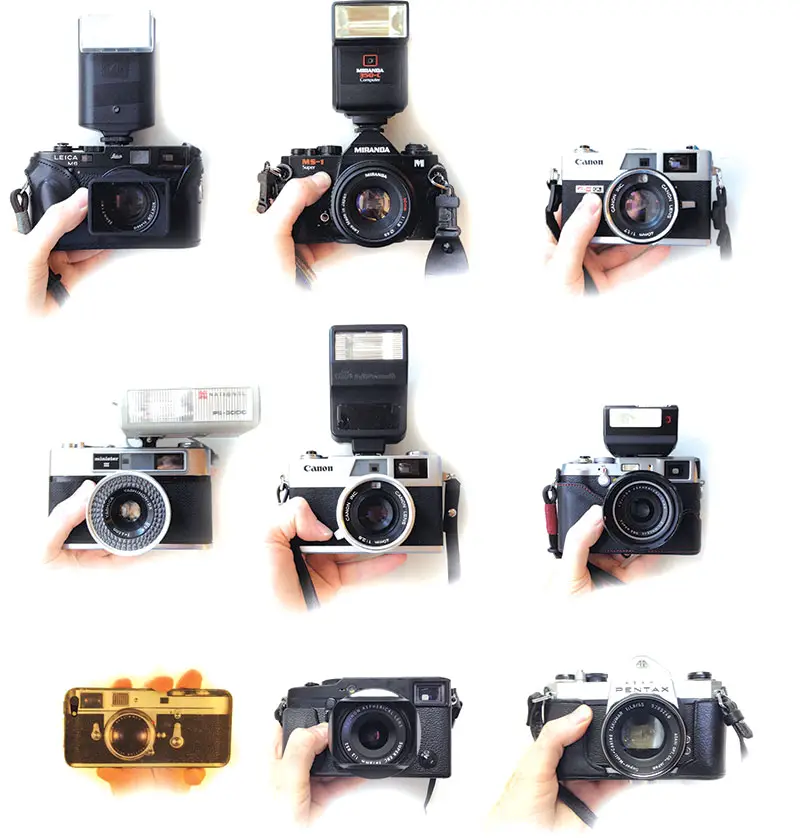 I had considered a Bessa and various other rangefinders but just decided it was best to bite the bullet and go for the camera I'd no doubt eventually buy anyway along with a cheapish (relatively speaking) 35mm of the Voigtlander  Nokton Classic with the same focal length as the X100 this makes them a great pair to switch between. I had discussed options with you but an opportunity came of for a good value decent M6 within easy reach so I took it. Ive since changed the red dot for a more discreet black one and also bought it with the Leica SF24 flash – which is SO easy to use.
Im not sure if it's psychological, but I do feel Ive become more brave since getting the M6 and that my street photography has improved noticeably, and if the whole bag doesnt come with me somewhere you can be sure the M6 and maybe a spare roll of film will – sometimes much to the chagrin of my arguably suffering girlfriend, a self confessed "Leica-widow" ;).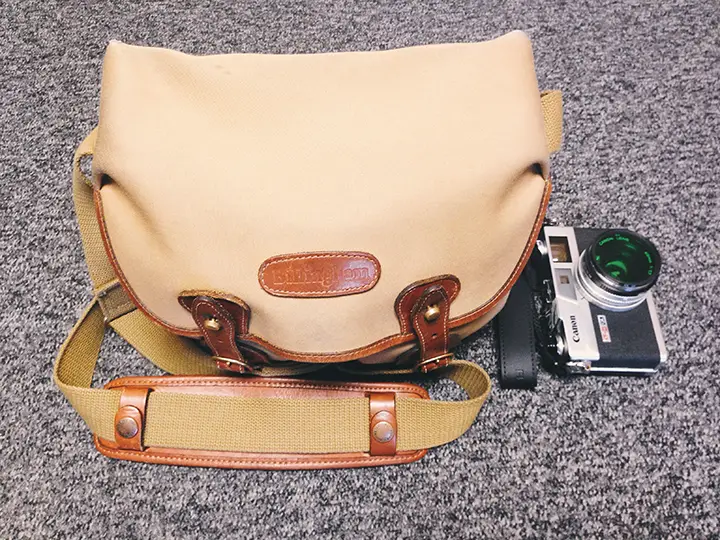 So my Billingham, which is looking a bit more used now, generally carries my X100, M6 (with lens hoods, the Voigtlanders is a 3D printed one from shapeways.com); a few rolls of film, usually Agfa Photo 200 (which I use at 400) from Poundland, can't complain at a quid a roll; Leica flash (used on both the Leica and Fuji); two neck straps and wrist straps; batteries; earphones; business cards; stickers; Luxi meter (which I've yet to use in anger) and lens cloth.
i will usually keep black and white film and the green filter with the Canonet QL17 and swap it out for the X100 depending on what Im doing or as at a recent friends wedding use all three (Ive yet to see the film back so fingers crossed).
The Fuji X-Pro1 is a very recent addition and is for work, though I am experimenting with the 18mm lens on the street and have the 10-24mm wide angle for special occasions and of course an M-mount adaptor to switch my trusty 35mm into a 50mm.
The Fuji flash is more of a back up now with the Leica one being so simple to use.
Pictures by the way are taken with VSCOcam on my iPhone, tweaked and using my current favourite filter, E5. The montage of my cameras is just taken with the iPhone (hence its odd yellow colour taken in bad light in a mirror with a sheet of paper behind it). My girlfriend and I are planning on doing a sheet with all our cameras in black and white – inspired by a similar image Ive seen on the internet but more personal.
I think thats it, thanks Bellamy
Matthew
Blog: http://www.mattmaber.com
Flickr: https://www.flickr.com/photos/somefool/
Facebook: https://www.facebook.com/mattmaberphotog?ref=hl
Instagram: http://instagram.com/mattmaber
Thanks for sharing your bag, Matt. Nice to see the QL ticking along.
Please check the links and make sure you come and comment.
Keep them coming folks, we need more submissions, so get your bag on Japancamerahunter.com. Send me a hi resolution image of the bag (please make sure it is horizontal) and its contents, with some details about yourself and what you shoot. Oh and don't forget your contact details (twitter, flickr, tumbler et al). Send the bag shots here. Please understand that there is a long wait now as there is a backlog of submissions. Not all make the cut, so make sure yours is funny/interesting/quirky. And please make sure the shot is of good quality, as the ones that are not do not go up.
Cheers
Japancamerahunter