In your bag 928, Imran Khan
No bag in sight, but a very classy medium format setup for your enjoyment. Check it out.

This is my gear of choice at the moment. I generally shoot landscapes with this kit. I work with various systems, from Canon 5D MKII to Mamiya RZ system, depending on what I am shooting. I am really enjoying working with film and the 645 Pro TL at the moment. It really makes me think about every shot I take.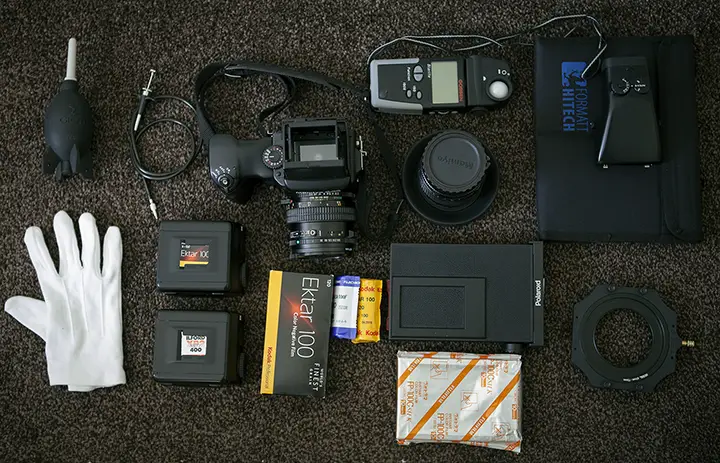 My bag consists of a Mamiya 645 PRO TL camera with a 80mm Leaf Lens and a 45mm standard lens. I carry 2 backs, one loaded with colour film and one with B&W film. I use instant polaroid from time to time to get an idea and I like to keep the Polaroids. Hopefully one day I will have a nice collection of Polaroids.
This Mamiya came all the way from Japan, I also sourced the second lens from Japan too.
A dedicated spot meter is essential when working with filters to measure the light in different parts of the scene in order to compensate with grad filters to find a balance (i.e. exposing for the ground then compensating by X stops for the sky)
You can't beat the waist level viewfinder when it comes to landscapes, the big bright view is to die for. The metered prism is also handy for when on the move.
I can't stress enough the importance of the rocket blower and the cotton glove when working with filters, there is nothing worse than getting dust and smears when on location.
I love your website and hope to see myself featured on it :)
All the best!
Imran
Nice setup Imran. Shame you didn't share some links with us.
Check out the links and make sure you come and comment.
Keep them coming folks, we need more submissions, so get your bag on Japancamerahunter.com. Send me a hi resolution image of the bag (please make sure it is horizontal) and its contents, with some details about yourself and what you shoot. Oh and don't forget your contact details (twitter, flickr, tumbler et al). Send the bag shots here. Please understand that there is a long wait now as there is a backlog of submissions. Not all make the cut, so make sure yours is funny/interesting/quirky. And please make sure the shot is of good quality, as the ones that are not do not go up.
Cheers
Japancamerahunter