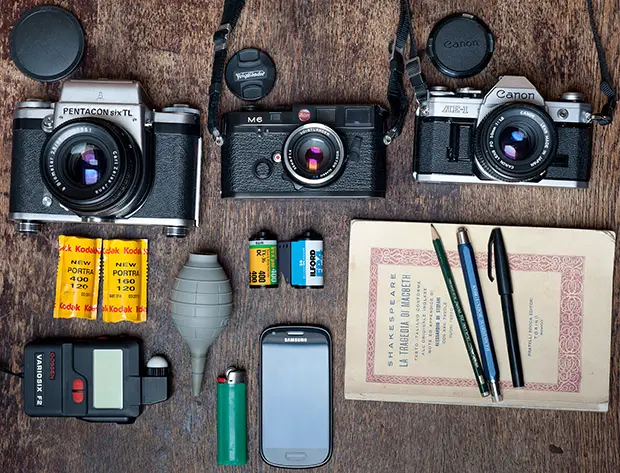 In your bag 925, Christoph Trabert
Christoph shares his lovely bag with us today. Well, gear really as there is no bag in sight. Still, you know what I mean. Check it out.

Hi Bellamy,
i'm following your project for quite a while now and thought i should give it a shot and send you a picture of what's in my bag. So here we go.
My name is Christoph and i currently live in Rostock at the baltic coast in northern Germany.
I'm 27 years old and i work as a professional photographer focusing on the documentation of events like concerts, music festivals and weddings, i do fashion and editorial reportages as well but my heart belongs to street photography. I came from drawing comics which i always do while being on the train to or from work, observing people and my surroundings.
my interest in photography started when i saw the movie Cidade de Deus in 2002 but i had to wait three more years for my first camera, a Nikon F-401, which my father gave me.
After i saw what came out of my first rolls (it wasn't total crap) i knew i'm in love with the medium.
I did an internship at an italian studio near Rome in 2006, started studying photography after that and realised that i'm more into pushing the button rather than putting my nose into books about technique. So i moved to Hamburg, worked as an assistant to other photographers for two years before i decided to go to Berlin and become a freelance photographer.
For my jobs i use a Nikon D700, for my personal work i prefer film cameras.
Right now, my bag consists the following cameras and equipment.
– Leica M6 for the streets
– Pentacon Six TL Medium format camera for a personal portrait project about the quarter i live in
– Canon AE-1 for everywhere i don't want to take my precious Leica like Open Air Festivals
– Variosix F2 Lightmeter
– My favourite film for portraits, the Kodak Portra
– Ilford FP 4 125
– Kodak Tri-X 400
– Lenspen (which i forgot to add to the photo)
– Blower (photographers fear dust!)
– A beautiful notebook + pens for my comics, which makes me look very intellectual. I purchased it in Bergamo, Italy
– Samsung Galaxy S3 mini
– Lighter and tobacco for smoking
Here are my contacts:
http://www.christophtrabert.com
https://www.facebook.com/christophtrabert.photography/
http://500px.com/fueco
http://christophtrabert.deviantart.com/
Cheers!
Christoph
Cool stuff, thanks for sharing Christoph. The Pentacon is a tank!
Check out the links and make sure you come and comment.
Keep them coming folks, we need more submissions, so get your bag on Japancamerahunter.com. Send me a hi resolution image of the bag (please make sure it is horizontal) and its contents, with some details about yourself and what you shoot. Oh and don't forget your contact details (twitter, flickr, tumbler et al). Send the bag shots here. Please understand that there is a long wait now as there is a backlog of submissions. Not all make the cut, so make sure yours is funny/interesting/quirky. And please make sure the shot is of good quality, as the ones that are not do not go up.
Cheers
Japancamerahunter