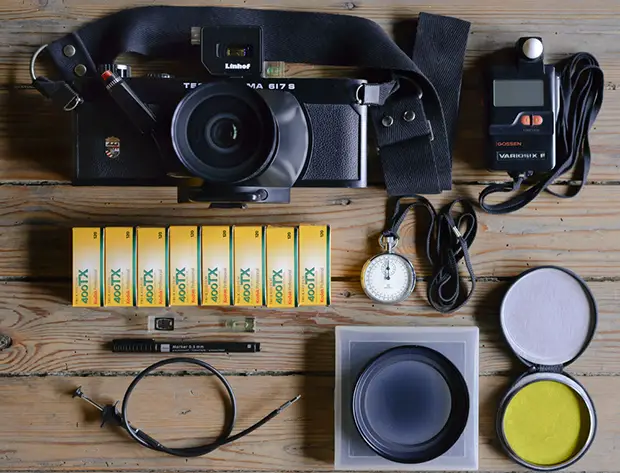 In your bag 901, Philippe Debeerst
Wow, Philippe is back and with another really epic bag. Come and check out a camera I have always wanted to use.

I was talking about the Technorama while posting 'In your bag No: 865', well here it is: the lovely beast Linhof Technorama 617S version II with the wonderful Schneider Super Angulon 90 mm F5.6, giving a 105° view.
This monster needs to be fed a lot of film (Tri-X of course) because it only shoots 4 6×17 cm negs on one 120 roll film. Being purely mechanical, it doesn't eat batteries… That's why you need a light meter, mine is a Gossen Variosix F.  As it is wise to shoot at an aperture of about F16 to F22 and the centerfilter is "taking away" 1 1/5 stops, long exposures are not uncommon (a tripod might be useful) hence the chronometer.
Actually, large format lenses are designed to perform at their best closed down till F16-F22. These apertures are needed to achieve an even sharpness and illumination while decentering the lens on an optical bench camera. The panoramic negative stretches till the edges of the optical circle.
A yellow filter is a perfect match with the Tri-x for landscape.
And do watch the horizon, a spirit level is no luxury!
The Technorama is caged in a Tamrack bag.
Greetings,
Philippe
That camera is stunning. I hope to use one myself one day.
Check out the links and make sure you come and comment.
Keep them coming folks, we need more submissions, so get your bag on Japancamerahunter.com. Send me a hi resolution image of the bag (please make sure it is horizontal) and its contents, with some details about yourself and what you shoot. Oh and don't forget your contact details (twitter, flickr, tumbler et al). Send the bag shots here. Please understand that there is a long wait now as there is a backlog of submissions. Not all make the cut, so make sure yours is funny/interesting/quirky. And please make sure the shot is of good quality, as the ones that are not do not go up.
Cheers
Japancamerahunter