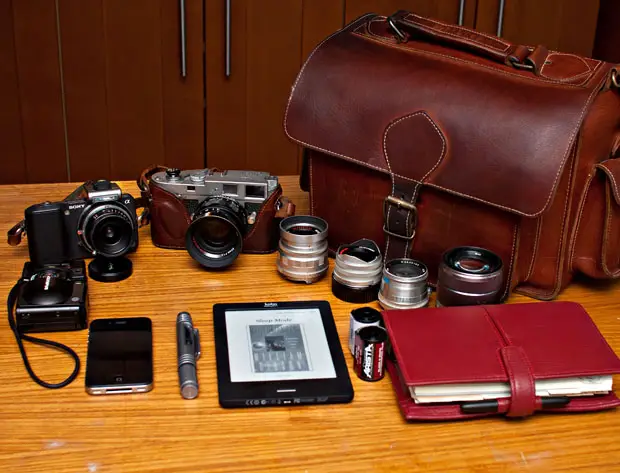 In your bag number 87, Jesse Hildebrand
Todays bag belongs to a proper professional, how's about that then? We have a bag all the way from Canada for you, and the picture is fantastic. So, lets have a look inside Jesse's bag…

My name's Jesse Hildebrand, I'm 31 and I'm from Ottawa, Canada. I've been taking pictures since I was in grade school, but have transitioned to semi-pro over the last decade. I shoot events, clubs, concerts, fashion and editorial professionally, but my real love is street photography. My work kit is kinda boring, so here's my every day kit, this comes with me pretty much everywhere I go.
– Leica M2 (CV 50mm Nokton f1.5 as default lens)
– Sony Nex 3 (CV 25mm Snapshot Skopar as default lens)
– CV 15mm Heliar
– CV 35mm Ultron f1.7
– Russian 50mm f2 (one of the early copies before they ran out of
confiscated Zeiss glass and started making their own)
– Sony 18-55 Kit lens
– Olympus XA
– iPhone 4
– Kobo E-Book Reader
– lenspen
– filofax organizer (the red leather thing)
– spare roll of Legacy Pro 100 and Arista Premium 400
The Sony Nex gets by far the most use, with the 25mm Skopar it's the perfect hip-shooting street combo. I've epoxied a hot-shoe bubble level to the top of the flash (only reason the flash is there, really) to help me keep thing level, really helpful especially because the Nex doesn't really hang nicely and I have to hold it level at my hip. The M2 comes out when I need 35mm or 50mm, as much as I like the Nex it's strength is wide lenses set to hyperfocal distances, I barely ever use the screen till the end of the day when I review my shots. The olympus is basically just in a side pocket as back up. The Sony kit lens is only sometimes included, and doesn't get a whole lot of use. I've started using Hipstamatic and Instamatic a lot more recently, so the iPhone has become a staple addition and the Kobo is one of the greatest additions to my kit. If I'm not taking pictures, I'm waiting (on a bus, in line, having coffee) and if I'm waiting, I'm reading. The filofax is an attempt to get myself organized, it's got all my upcoming gigs, business cards etc and I'm trying to get in the habit of writing down film/lens/settings info when I shoot film as a reference when I'm uploading to Flickr. Oh yeah… and my bag… I love my bag… a lot. I went through dozens of bags before I found the perfect one, and I can't see myself ever changing. It fits all the above kit with plenty of room to spare (I've added my Rolleicord or my netbook to the above and still had room). It's got a padded insert with dividers to keep everything safe and looks amazing. I wanted something I could wear to work, to events and more formal occasions that didn't scream photographer. You can read a full review of it on my website:
http://jbhildebrand.com/2010/gear/grafea-photo-camera-bag-review/ .
So yeah, that's the current iteration of "what's in my bag".
Cheers, Jesse Hildebrand
www.jbhildebrand.com
http://www.flickr.com/jbhildebrand/
Twitter: JBH_Photography
Instamatic: jbhildebrand
Keep them coming folks, we need more submissions, so get your bag on Japancamerahunter.com. Send me a hi resolution image of the bag (please make sure it is horizontal) and its contents, with some details about yourself and what you shoot. Oh and don't forget your contact details (twitter, flickr, tumbler et al). Send the bag shots here.
Cheers
Japancamerahunter