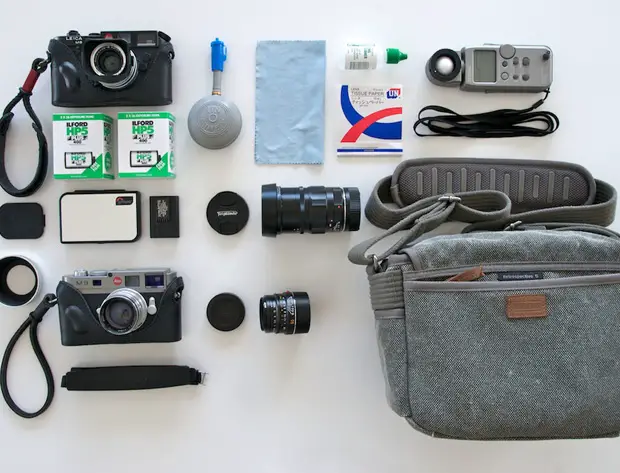 In your bag number 78, Jason Howe
Hello there my lovely bag fans. We have a cracker of a bag for you today. Come and check out what Mr. Jason Howe keeps in his bag…

I've been meaning to do this "Bag Shot" for some time, I am a follower of your Japan Camera Hunter which I enjoy very much. I'm currently trying to convince my wife on the merits of a Tokyo stopover when we next return to the UK…………….(you would be more than welcome).


Ok, so this is what I would call my "Street" Bag, although I do have quite a few lenses these are the ones currently spending the most time on my cameras. This setup goes with me almost everywhere and is loving referred to by my kids as "Dad' man bag"…….
I'm based in Tauranga in the Bay of Plenty, New Zealand. I am a a Rangefinder and Street Photography fan, In my spare time I run a website/blog of Street Photography, Cameras and Life in New Zealand, my work can be seen here – www.aperturepriority.co.nz
My first Rangefinder was a Yashica Electro 35 GSN, from the minute I purchased that camera there was always going to be a Leica M9 in my bag at some point. I've been using the M9 for 5-6 months now and it really is a dream camera for me. Interestingly
at the moment I am shooting most often with the 50mm Jupiter 3 f/1.5 (Borrowed from my Russian Bag). I've found this lens to be a dream on the M9 and its given me some wonderful shots. So, for the moment at least it's preventing far more expensive glass
from being mounted on my M9. I'm also a big film fan and have many film cameras, this love of film resulted in the purchase of the M6 which to me will always be an iconic camera. In my bag shot I have the 35mm Summicron f/2 ASPH mounted on the M6.
Bag Contents
Leica M9 – Zhou Black Leather Half Case, Gordy's Camera Strap (Regular/Lug Mount/Grey Thread)
Leica M6 – Zhou Black Leather Half Case, Gordy's Camera Strap (Regular/Lug Mount/Red Thread/Wrist Pad)
50mm Jupiter 3 f/1.5 – Serial 6311446 If you get a good one of these it's a wonderful lens.
35mm Summicron f/2 ASPH – Hood & Cap
50mm Leica Summarit & Hood
75mm Voigtlander Heliar Classic f/1.8 & Cap – This lens has been a revelation to me, I didn't expect to shoot the 75mm Focal length too often so I purchased this as opposed to the 75mm Summarit, I have not compared them directly but can't see how much better Leica Glass could be.
Sekonic L358 Light Meter – Affordable and dependable meter.
Lowepro PixelPak V1 Memory Card Wallet – 4 spare Sandisk 8GB Cards
Spare battery M9
40.5mm Screw in Wide Angle Lens Hood for 50mm Jupiter 3 f/1.5 – This hood really prevents almost all flare on this lens.
Leica Neck Strap – For occasions when you just need two cameras to hand…..
Ilford HP5 Plus 400 Film – My preference at the moment although I am about to start experimenting.
Blower Brush, Lens Cleaner, Tissue Paper & Microfiber Cloth.
And of course my "Man Bag" the impressive Think Tank, Retrospective 5.
In the relatively short space of time I've had this bag together it has given me a lot of joy.
All the best
Jason Howe
Thanks for sharing your bag with us Jason. Love the set-up and the description. I also have a Thinktank Retrospective bag and completely love it. It is cavernous.
Keep them coming folks, we need more submissions, so get your bag on Japancamerahunter.com. Send me a hi resolution image of the bag (please make sure it is horizontal) and its contents, with some details about yourself and what you shoot. Oh and don't forget your contact details (twitter, flickr, tumbler et al). Send the bag shots here.
Cheers
Japancamerahunter