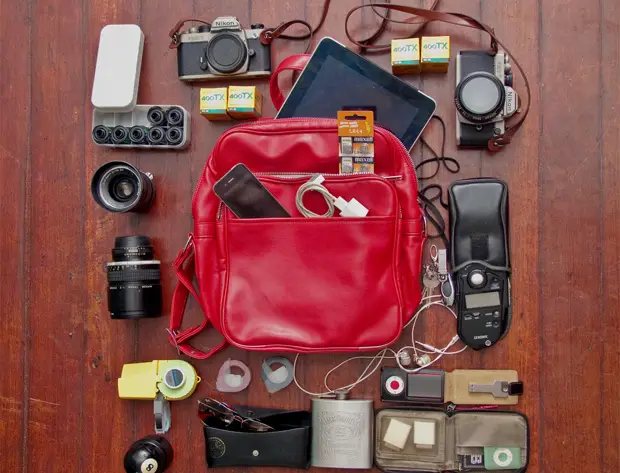 In your bag number 76, Juan
Now, today we have a massively cool bagshot. So cool in fact that I have been forced to add it to the post twice. Juan is a bit of an enigma, an ex-pro photographer who is shooting film again, there are scant details about the man himself. So, come and see what all the fuss is about.



★ Apple iPad
Until the third one comes out, I'm quite happy with this one as it does somewhat feel more solid and it does not have a camera (which does away with the temptation of shooting with it and effectively looking like a fucking idiot doing so).
★ Comme des Garçons messenger bag (2007 Fall Collection, if memory serves)
This bag is an almost exact replica of the first camera bag I ever used, it was a soft cowhide leather ditty from the late 60's-70's owned by an uncle that used to shoot with those pesky old Pentax and Olympus cameras with sticky shutters. So it goes without saying that when I first laid eyes on this particular bag on a shoot featuring the brand, given my affinity for the color red, I just had to have it. I admit, it is not exactly discreet, but its shortcomings have never really posed a problem for me so far.
To describe its utilitarian features… The bag has three divisions in its main compartment. A large middle compartment which contains the spare camera, two lenses (one on top of the other inside a long-lens LowePro insert), an eight ball lighter and the Fujifilm case, a strapped compartment for a small notebook (an iPad or a MacBook Air, in my case), and a slimmer (but wide) pouch where I keep spare batteries, chargers, Dymo, a spare iPod and other small loose items such as pens, cards and my passports. Then there is the back exterior compartment which keeps documents (surprisingly uncrumpled) and the front zipper that holds a lightmeter, keys and an iPod.
★ Twin Nikon FM/2T's
These are my standard street cameras, though usually on any given day, only one gets play as I rarely see the need to fiddle around with things as opposed to just photographing with whatever is readily available and nearest my hand which is usually the camera that is not inside the bag, which I almost never bring for short walks or trips.
★ Skull (in-ear) headphones made of some metal
For the life of me, I've forgotten the brand but I do remember getting them somewhere in New York. They don't have the clarity of the latest noise canceling Bose headphones or have the bass of the latest Beats by Dre, but they look way cooler.
★ Apple iPhone
Though it does sometimes finds itself in this bag, it is usually in my pocket. It's a great thing to have when you need to remember where the fuck you were with it's creepy geotagging feature.
★ Fujifilm film case
This is probably one of Fujifilm's best inventions, in my opinion. I don't know why nobody thought of it earlier. Maybe someone did, but as far as I know, this is the only one. This is hands down one of the simplest and smartest photo-accessories known to man.
★ Carl Zeiss 35mm f/2 AI-S
Though very sharp and features a very rugged construction, I find the focusing ring quite stiff and uncomfortable to hold in colder climates (without gloves). Though the build quality is superb, as can be expected of a Zeiss lens, it somewhat leaves me pining for a more modest Nikkor 35mm f/1.4 AI-S as a replacement.
★ Nikkor 135mm f/2 AI-S
This is one of the most beautiful lenses Nikon has ever produced albeit being somewhat inconveniently large. A pity they watered it down eventually. The closest Japanese competition to this lens for me is the the much larger Canon EF 85mm f/1.2 L which I use almost exclusively when photographing with my more commercially oriented 1-series Canons.
★ Nikkor 50mm f/1.2 AI-S
Though I prefer the 35mm focal length for everyday use, I find myself usually just using this lens. It's pretty sharp across most of the frame and gives lovely blur when such is warranted. These days though, I'm usually out on the street just before sunset and photograph in dim light with little splotches of light in the form of spots which I've been quite dissatisfied with as they show up as ghosts on the negative. Maybe I should consider breaking the non-existent piggy for a Nikkor 58mm f/1.2 Noct and bequeath this gem to my better half's FM2n… Nah.
★ Kodak Tri-X 400
This is the very first film I ever fell in love with when I was first introduced to 35mm photography many years ago. I've since made concessions and moved on to more readily available Neopan and Ilford (which is, in my opinion, almost at par with the pre-historic Kodak). Though on the subject of film, I was able to acquire dated stock of some Agfapan (which is seen on the diagram).
★ Eight Ball lighter
You gotta give it to the Chinese for this stuff. It's the perfect lighter to chuck into a bag and find almost immediately as the need arises as it's a perfect sphere amidst the jagged and rough contents of my bag. This need only arises when the Zippo in my pocket inconveniently decides to fuck up.
★ Dymo
This is one of those things that I took with me from early childhood. I love these fucking things. Dymo is how I tag my film (or whatever else that needs to be labeled). I still find this system to be better than the rather crude Sharpie, especially if you are to reuse the canister for reloading bulk film.
★ Apple Camera Connection kit
This is mostly for my better half whom I bequeathed my Canon G10 to. Which was used to photograph this mess.
★ Sekonic L-408
As with most of the stuff close to my heart, this one has been with me since the early nineties. I'm actually amazed that after all these years, this thing is still spot-on (no pun intended).
★ iPods
Traveling (local or otherwise) requires a lot of waiting and iPods provide enough entertainment to get you through any queue. It's also great as a voice recorder and a video camera, albeit VGA resolution, but it will play your latest podcasts, movies and music perfectly and the red one matches the bag.
★ Ray-Ban Outdoorsman
Having a stellar reputation in optical wear (among other things), this particular pair has just the right amount of amber and enough clarity to it that it makes for the perfect everyday pair, even for a spectacle wearer like me. That and it matches the bag.
★ Rolling paper and Flask (pour la route)
'Nuff said.
Holy cow, that is a bag and a half, and quite possibly the most interesting photo I have ever seen. This is fantastic. So, the gauntlet has been laid down, who is going to up the ante?
Keep them coming folks, we need more submissions, so get your bag on Japancamerahunter.com. Send me a hi resolution image of the bag (please make sure it is horizontal) and its contents, with some details about yourself and what you shoot. Oh and don't forget your contact details (twitter, flickr, tumbler et al). Send the bag shots here.
Cheers
Japancamerahunter