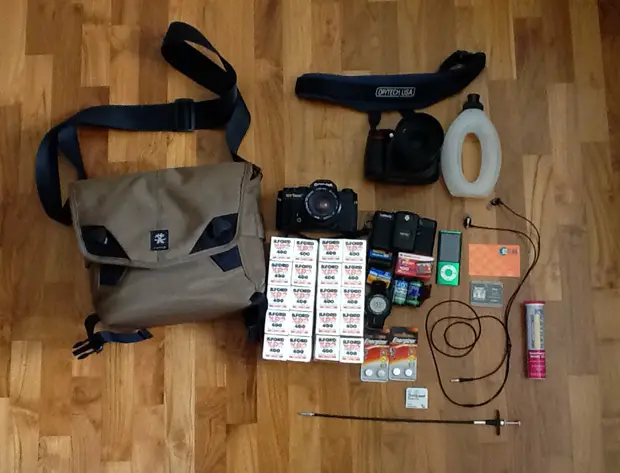 In your bag number 75, Shukri
Hey all, I got news for you….we have another cool bag! I love doing this set, and the more that I do the more I enjoy it. So here is todays bag, all the way from Malaysia…

My name is Shukri and I'm from Malaysia but I'm currently staying at Singapore
I shoot al sorts of stuff from street to landscapes, depending on what presents itself to me at the current time.
So without further ado, here's my bag :)
Bag: I use the Crumpler 5MDH in this photo which really suites me. I has space for two of my cameras + a couple rolls of film and various knick-knacks that I cart around with me.
Cameras:
Nikon D5000: This is my camera for "serious" shooting. I got it around a year and a half ago as my "combined" birthday present from all my relatives and because of that I'm contractually obliged to shoot any event that they tell me to :P
It's my go-to camera for almost everything and I keep it attached to me at all times using my Op-Tech Pro camera strap. It's amazing how light the camera feels with the strap which I really appreciate after a whole day of walkign around
Lomo LC-A+: In my efforts to "expand my photographic horizons: I got the LC-A+ for my birthday a couple of months ago. This was also my "gateway" to shooting film. Since then, I've never looked back. It's small enough for me to bring around everywhere I go and acts more of a "point-and-shoot" when I get too lazy to bring the Nikon around.
"Photographic junk food" pretty much sums it up for this camera. Really fun to shoot and see the results, but not really up to the standards of the DSLR. I keep it loaded with expired slides which I get X-Pro'ed since I'm really into the whole "Lomography" thing.
Hey, don't blame me, I needa take a break from the sterile photography world sometimes, you know? :)
Cosina CT-1 Super: Ahh, this camera. It was the cheapest one I bought it for, but I have a feeling that I love it the most :S
I got it 2 weeks ago in Morocco when my family went there for a holiday. We were walking around the huge market and I stumbled upon this one guy who had this literal pyramid of old cameras. He had some really great cameras (I could have sworn I saw a few Leica's in there) but every single one weren't working. Such a pity, really. So after 10 minutes of digging around the pile, I came across this gem. It was in great condition, nothing like the other ones surrounding it. I picked it up, checked how the finder and shutter looked like against the DSLR and everything looked and sounded great so I went ahead and bought it for only 40 USD!
In the past 2 weeks that I've had this camera, it really changed the way i think about photography. I was manual everything. Manual focus, manual exposure and manual winding. It really slows down everything and makes you re-evaluate the scene in front of you. Especially with only 36 frames to work with compared to the thousands you can get from digital
As you can see from the photo, It's always loaded with Ilford XP2 ;)
(But more on that later)
Film: For film I there's two different categories, "Lomo" and "Serious"
Ilford XP2: This oen falls under "Serious" but I use in both cameras. It's really versatile but lacks the character of "proper" BW film like HP5+ or Tri-X (Another favorite of mine). If you're asking how I got 20 rolls (It was actually 30 but already used 10), keep reading.
In Morocco, the guest house I was staying at was run by these two guys named Steven and Bruno. It was a really nice place so I started taking pictures as soon as I walked in. Bruno saw this and asked (In French since he didn't talk English) "Are you a photographer" to which I replied "Only for fun". The next day, saw me and asked if I used film or digital so I said that I use both. He walked back into his kitchen (Since he was also the chef) and came out a couple of minutes later with 30 rolls of this XP2!
The story goes something like this: A while ago, there was a photography workshop being conducted and one of the photographers was staying at the hotel. After it ended, the photographer had these rolls of film which he had no more use for so he gave it to Steven and Bruno. Neither of them shoot film so they had this stack of film just lying around. Then I came along and got all of them, completely Free-Of-Charge! :D
Film for Lomography:
Sensia 400
Provia 100f
Elitechrome 100
Elitechrome 160t
Precisia 100 CT
All of these would go into my LC-A+ and then get X-Pro-ed to get all those crazy colours a Lomographer like me loves! :D
Other stuff that lives in my bag:
iPod nano 5th gen (8GB): I take it everywhere I go. Music lets me fall into my own rhythm while shooting and keeps me occupied though the couple of hours going shooting
Kilpsch S4 headphones: They're extremely comfortable and I hardly feel them on even after hours of walking around.
Lexar and Toshiba 8GB memory cards: Never failed me once. Nuff said.
LR44 batteries: Just in case either the LC-A+ or Cosina need new ones
Garmin Forerunner 210: My running/everyday watch. I can also use it for Geotrackign my photos but most of the time I'm too lazy
Cable Release: For the LC-A+ and Cosina in low-light
Migrane Pills: Just in case.
Bottle + Nathan electrolyte tablets: Because Gatorade costs too much and I need that money for developing. Hehehe…
and finally,
ezLink Card: To get to anywhere in Singapore for cheap on Public Transport :)
So yes, that was my bag. I hope you enjoyed it and much as I did while laying it all out and telling my story :)
Keep Shooting :)
My contacts:
Lomohome: http://www.lomography.com/homes/skinnyflyingcow
500px: http://500px.com/ShukriShahizam
Facebook: http://www.facebook.com/skinny.flying.cow (feel free to add me)
Thanks for sharing your bag with us Shukri, it is great that you wrote this wonderful description for us.
Keep them coming folks, we need more submissions, so get your bag on Japancamerahunter.com. Send me a hi resolution image of the bag (please make sure it is horizontal) and its contents, with some details about yourself and what you shoot. Oh and don't forget your contact details (twitter, flickr, tumbler et al). Send the bag shots here.
Cheers
Japancamerahunter