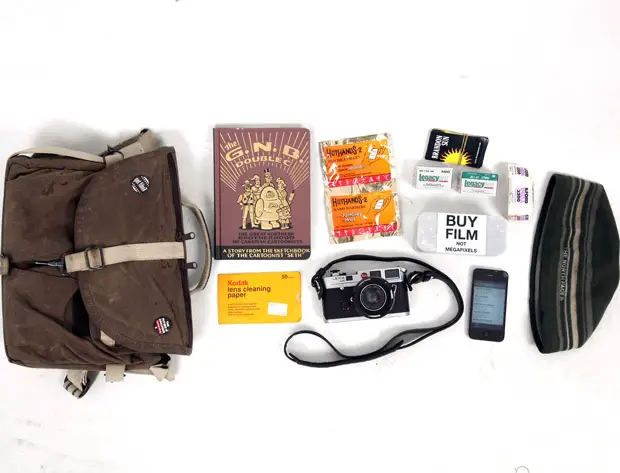 In your bag number 71, Colin Corneau
Good day everyone, I hope you are all well. I have another bag for you. This one belongs to one of our guest writers, Colin Corneau. This one features one of my favourite bags and a film case, so it is very cool to see it…

Hey all, my name is Colin Corneau. I'm a photographer for a mid-size (although I guess that's relative, depending on what you consider a city) daily newspaper on the Canadian Prairies. It's not too hard to find, just find the geographical centre of North America, and I'm about an hour or two west of that. Feel free to mention this column for a free pint of the beer of your choice at the local pub, here.
This is a position I've held for 16 years now, which is getting to be rare in this line of work. There's certainly no shortage of worries, change and upheaval in the newspaper industry the past decade or two but I'm lucky to have the career I've wanted since high school and be allowed to explore daily life in my community.
It's that word, "community", that's also sparked my interest in what is most commonly called street photography, and my re-introduction to film photography. When I started out in newspapers, we shot black and white film, made prints and developed it all ourselves. Now, everything is digital and has been for at least a decade. For that, I'm actually glad because I can learn about and explore film at my leisure and somehow that's made all the difference. Using film on deadline, when you don't get a second chance, is pretty stressful and has a way of eroding your love of the medium after a while.
Now, film is something I cherish and I can't imagine my creative life without it. It's probably why I chose film for all the street photography I've done for about the last 3 years. My submission for this feature today is what I carry around with me most days, even when I work. You just never know when you'll see something you just have to photograph.
• Domke F-803 Waxwear bag. Like most photographers I seem to collect bags but this is just perfect. Simple, uncomplicated and good looking. Just the right amount of pockets and the right design, it also doesn't blatantly look like a camera bag, too. One of these days I'll actually apply the 'wax' to this thing.
• Leica M6, with 1st generation 35 Summicron. I sometimes shoot with a beloved Nikon FM2 when the weather is really crap (and did for the first year or two of my street shooting, until I bought the Leica), but this is my standard. I made a decision to go light, small and well made. "Less is more" is a good rule of thumb, I think. Someday I'd love the ASPH version of this lens, but one look at my credit card balance usually banishes that thought for a while.
• Bikkuri film case. Bit of a plug for Bellamy here, but these things are great. Now I have my film together, and organized and protected, too.
• Film. I shoot mostly Fuji Neopan 400, or in this case its equivalent in Legacy Pro 400. Since this film is now extinct, I'm using up my stash. I've loved the results I've gotten with TMax 400 but may give Tri-X a whirl, too. In the winter months in this part of the world, I usually push my film to 800 so that's a consideration for me. Actually, I find I increase recommended development times by about 20% in order to get the contrast and 'look' I like, so maybe I always push it a stop.
• Speaking of winter, I toss in a couple of hand warmer packs. These are chemically activated packs that can warm your hands (or wherever you stick them) when it gets cold outside. I always tell friends who use cameras dependant on batteries to stash these and a couple rubber bands in their bag, so they can place them near the batteries and keep them from shutting down when outdoor shooting. I don't keep batteries in either my M6 or FM2, so it's a bit of a moot point for me.
• Also on a wintery theme, a hat or as well call this kind of head covering in Canada, a "toque" (pronounced "tooh-k"). My hair is usually messy so this covers that up, too.
• My iPhone4. I usually eyeball my exposures pretty well (same film, same environment, same light) but the Light Meter app is fantastic…highly recommend it. It really works and my exposures have been bang-on, too. This comes in handy when the film's done too, because I downloaded the Massive Development app to use in the darkroom…one of the best apps out there, far as I'm concerned. Really well designed.
• Business cards. Never had to use one but you never know.
• A book. Since I carry this bag with me almost always, I try to carry a book in the back pocket for when I sit down someplace. Right now I'm finishing up a graphic novel by a truly interesting cartoonist, the Canadian who goes by the author name "Seth". His latest is "The G.N.B. Double C" about a fictional alternate universe past where Canada revered cartoons and cartoonists. My other recent favorites are another Canuck cartoonist, Guy Deslisle from Montreal, whose graphic novels about his time working overseas in places like Burma, North Korea and Shenzhen are not only brilliantly drawn but show keen observation (a trait most photographers can appreciate).
• Lens cleaning tissues. I usually have a little bottle of fluid for that too, but lost it somewhere along the line.
So, there you have it. Small, compact but everything I need to make the images I want to make. Thanks to Bellamy for the chance to meet online like this.
Website – www.colincorneau.com
Blogs – www.reservedatalltimes.com , www.colincorneau.com/lighttable , www.cthiscthat.tumblr.com
Twitter – @ColinCorneau
A brilliant bag and a brilliant description. I really love to see the detail and thought that has been put into this bag-shot. Thanks for sharing this with us Colin.
Keep them coming folks, we need more submissions, so get your bag on Japancamerahunter.com. Send me a hi resolution image of the bag (please make sure it is horizontal) and its contents, with some details about yourself and what you shoot. Oh and don't forget your contact details (twitter, flickr, tumbler et al). Send the bag shots here.
Cheers
Japancamerahunter