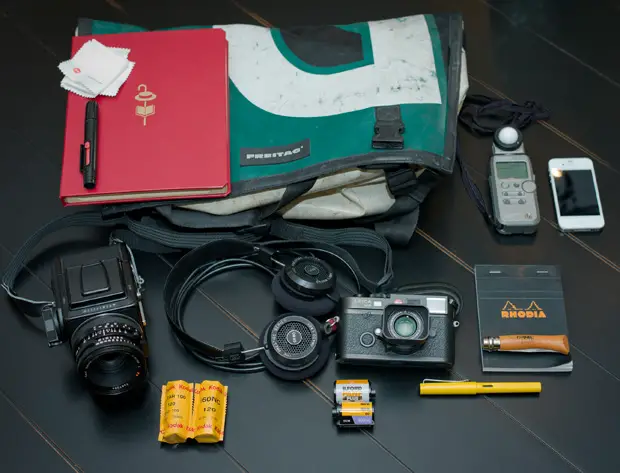 In your bag number 67, Cody Priebe
Todays 'In your bag' comes from Cody in Canada. Cody sent me a mail to show me his bag on Flickr and I asked him to send it here, so he has and here it is…

The cameras in the photo are a Leica M6 TTL and a Hasselblad 501c. These cameras are relatively new to me. I bought them this summer and sold my Nikon 700. I no longer own an auto-focus camera. Film has taken over my photography life, I carry a camera most places I go and my friends all refer to them as old cameras. I suppose they are. Photography is a creative outlet for me, I do not earn money from it but I do get endless joy from capturing moments and from discovering new methods and techniques. This is part of the reason I switched to using film. I never used film before this last summer. I want to learn how to get the picture right without having to correct it after on a computer.
The more I get involved with film photography the more I appreciate it. In film photography the light that is reflected off of people, buildings, tress etc are captured onto light sensitive film. So in essence, a part of the person or subject you are photographing is being captured and held. That is beyond cool. How can digital even compare to that. Digital is just a recomposition of what it looked like. boring.
Whats ahead: I have some chemicals in my basement sitting in the dark by my sink. I am going to try self developing and see where that takes me.
The single thing I enjoy about photography is the friendships made and the experiences shared. Is that a single thing or two things?
What is in my bag :
This is my current setup for walking around town.
Freitag messenger bag
Leica M6 TTL
Lens pictured: Summicron 35mm f2
Hasselblad 501c
Lens pictured: Planar C 80mm f2.8
Sekonic L-358
A lens pen and cloth.
The films I enjoy the most :
Kodak Ektar
Portra nc
Ilford Panf 50
I tend to also carry a couple comfort items:
Grado SR80 headphones
iphone
ipad (in the red case)
Lamy fountain pen and some paper.
Pocketknife.
What is missing? I am waiting for 2 Fujifilm hard cases I just ordered from Bellamy :)
I am excited to read the other In Your Bag articles and to hear other peoples stories about photography.
If anyone wants to connect on the web I am here:
http://500px.com/CodyPriebe
http://codylovesandrea.com/
http://www.flickr.com/photos/cod3man/
Cody Priebe
Sherwood Park, Canada
Thanks for sharing this cool bag and the lovely details. I really enjoy it when people actually talk about the history of their photography as well as the bag.
This is the sort of submission that I like, details about the gear and about why and where it is used. In the future if I get sent a gear list then the submission will not make it. Please take the time to share your world with us.
Keep them coming folks, we need more submissions, so get your bag on Japancamerahunter.com. Send me a hi resolution image of the bag (please make sure it is horizontal) and its contents, with some details about yourself and what you shoot. Oh and don't forget your contact details (twitter, flickr, tumbler et al). Send the bag shots here.
Cheers
Japancamerahunter