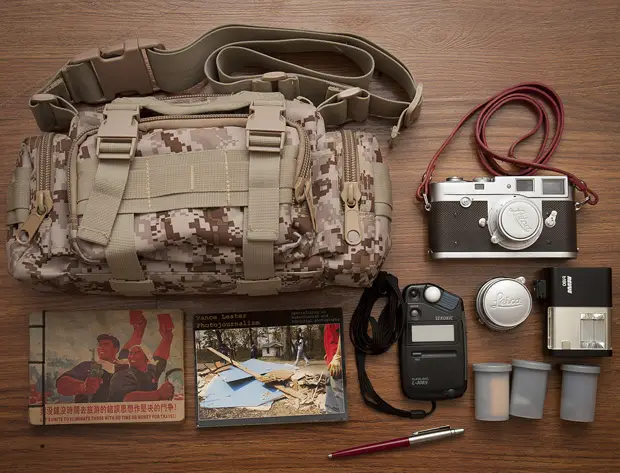 In your bag number 65, Vance Lester
Hi ther bag-lovers, we have a lovely bag for you today. Due to the amount of submissions that I have received recently I have decided to be a bit selective about what bags I feature. And this is one of them, the bag belonging to Mr. Lance Vester. Over to you Lance…

I am Vance Lester, A Canadian living in Beijing. I've been in China for three years and have been shooting film for the majority of it. I am a graduate of a Canadian Photojournalism school and my photography interests lie in the journalistic aspects. In the past two years, I've pretty much switched over to film for the majority of my work after being digital since 2005.
I love to travel and backpack around the world. Because of this, I've adopted a minimalist mentality to my lifestyle, photography included. Any extra weight while hiking up a mountain or taking a cross-country train will slow you down and wear you out. Through trial and error, I've found what works for me.
The Bag – It's a military waist pack that came with a backpack that I bought for a weekend trip. It is not ideal, but it was less than $10 and it is extremely tough. Once converted to a shoulder bag, it started working pretty good. Not too big, but compartmentalized so that everything has it's place.
The Camera – A Leica M2. Simple, classic, built to last. It's been around the world with me a couple times and it will be a few more if I have my way.
Lenes – On the camera is a Summaron 35mm f3.5 – old, hazy, but gives me some cool vintage pictures that stand out from other peoples work. In the bag, a collapsible summicron 50mm f2 that has its share of cleaning marks that give it the "leica glow". I'd like to add one modern sharp lens in the near future for those times when I don't want the dream sequence.
Film – I'll usually take three rolls for a typical day. Two rolls of Tri-x and one of Ektar 100. More if I know that I will be out all day or at an event. (Fast color is HARD to get in China, hence the Ektar)
Flash – A cheap one that was thrown in when a friend bought a Nikon FE. He didn't want it, I took it off his hands.
Light Meter – Sekonic L-308s.
Non Camera stuff – pen, notebook and business cards
This kit will get me through most situations that I find myself in. For the other times, I have a full Canon kit stocked with L lenses, but it sees less and less use lately.
Check out my work at:
www.photogeek.ca
www.vancelester.com
Thanks for sharing your bag and your travels with us Lance. Really nice to see someone documenting things with film.
This is the sort of submission that I like, details about the gear and about why and where it is used. In the future if I get sent a gear list then the submission will not make it. Please take the time to share your world with us.
Keep them coming folks, we need more submissions, so get your bag on Japancamerahunter.com. Send me a hi resolution image of the bag (please make sure it is horizontal) and its contents, with some details about yourself and what you shoot. Oh and don't forget your contact details (twitter, flickr, tumbler et al). Send the bag shots here.
Cheers
Japancamerahunter