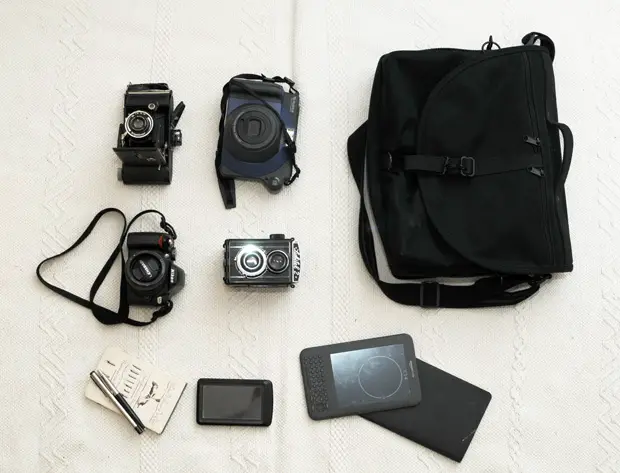 In your bag number 62, Kryštof Korč
Todays bag is coming from the beautiful Czech Republic, just for you. Kryštof or Chris as he is also known has sent us two bags, his serious bag and his daily bag. It is great to see the difference in the bags. Over to you Chris…

Hello, I am Chris from Czech Republic
shooting usually portraiture and stuff like you might maybe call fine art if you are that kind of person who does so
My serious bag is Domke F-2 filled with Nikon D300 and F90, most reliable and lovely cameras I've ever used, both of them with 50 prime attached (35 on D300). Than my most favorite lenses 135 DC and 10.5 fisheye, there is no situation when I would refuse to take even one picture with these two. SB-910 for auto, Metz 54 for manual, cause there is never enough light, and for some more light Fomei Panther 600Ws generator with head. Actually the generator and light stands are the only things I cant fit in the bag, and have separate one for them. The stands are Manfrotto 1052 BAC, wonderful things, they are flat, light, and even can fit one in another by special knob, so you can carry as many of them like one. Of course some gels, cause white light is boring, many spare batteries, cause charging is boring, cards and film for quite the same reason, and of course the most important things: tape, knife and flashlight.


Second bag is my daily one (top of page). I always carry Domke F-802 with Bessa / Lubitel / Instax / Nikon D60 + Lensbaby composer, its just nice to choose a camera for the day, never enough. Idea diary, my loved Cowon X7 as music / photo player, with tons of data on its huge disk, and finally kindle in sketchpad, cause I never found any good pouch for it, and actually I think these two things are inseparable.
In the end, sorry for the quickly-made photos and maybe language, but whatever, I just wanted to be a part of community.
Take care, take photos… Chris
P.S.Not much of an internet person, no pages at all, sorry
Brilliant, thanks for those bags Chris, it is a shame we cannot see the pictures that you take with all of this stuff.
Keep them coming folks, we need more submissions, so get your bag on Japancamerahunter.com. Send me a hi resolution image of the bag (please make sure it is horizontal) and its contents, with some details about yourself and what you shoot. Oh and don't forget your contact details (twitter, flickr, tumbler et al). Send the bag shots here.
Cheers
Japancamerahunter