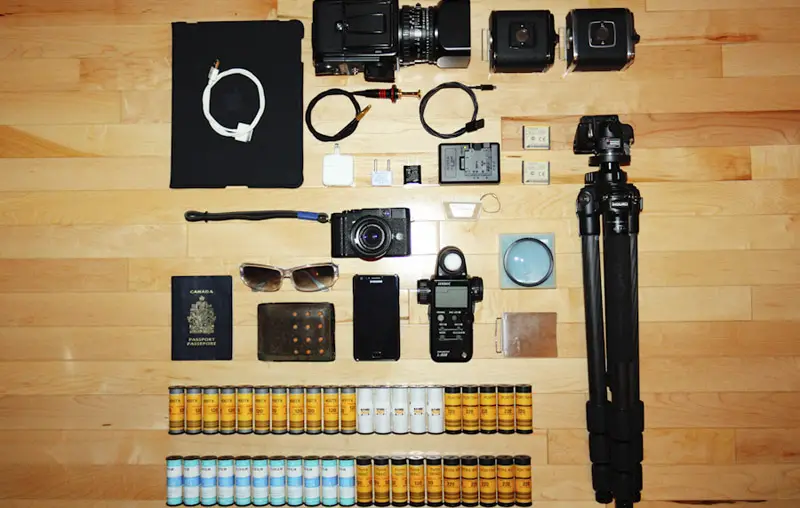 In your bag number 54, Jason Fan
The last one of the year and this one is pretty amazing. Look how meticulously this is laid out, it is amazing. Jason has sent this bag shot to us and he should be the one to tell us what he has in the bag:

My name is Jason Fan. Photographer based in Edmonton, Alberta Canada.
Departing on a holiday trip to Norway/Sweden/Italy for xmas/new years.
All the stuff jammed into my Lowepro Rover AWII camera bag for my Norway/Sweden/Italy holiday trip.
Apple Ipad + Cable + Charger
Hasselblad 501c + 80mm f2.8 CB Lens + Hood
Hasselblad 220/120 Film Backs
Cable Release
North American To European Plugin Adapter
Fujifilm X10 + Hood + Gordystrap + Charger + Two Extra Batteries
Etymotic Earplugs
Canadian Passport
J.Fold Wallet
SkyEyes Sunglasses
Samsung Galaxy SII Mobile Phone + Cable + Charger
Sekonic L-558 Light Meter
Hasselblad NL2 Closeup Lens + Extra Dark Slide
Induro C114 Carbon Fibre Tripod + Manfrotto 484RC2 Ballhead/Plate
Film:
11x Kodak Tri-x 400 120
5x Illford PanF 50 120
10x Kodak Portra 400 220
5x Kodak Portra 160NC 120
11x Fujifilm Provia 400x 120
Jason has a website
And a twitter
Thanks for sharing the bag with us Jason, and thanks for being the final bag of the year. Really glad to have you on here.
Keep them coming folks, we need more submissions, so get your bag on Japancamerahunter.com. Send me a hi resolution image of the bag (please make sure it is horizontal) and its contents, with some details about yourself and what you shoot. Oh and don't forget your contact details (twitter, flickr, tumbler et al). Send the bag shots here Send the bag shots here.
Cheers
Japancamerahunter