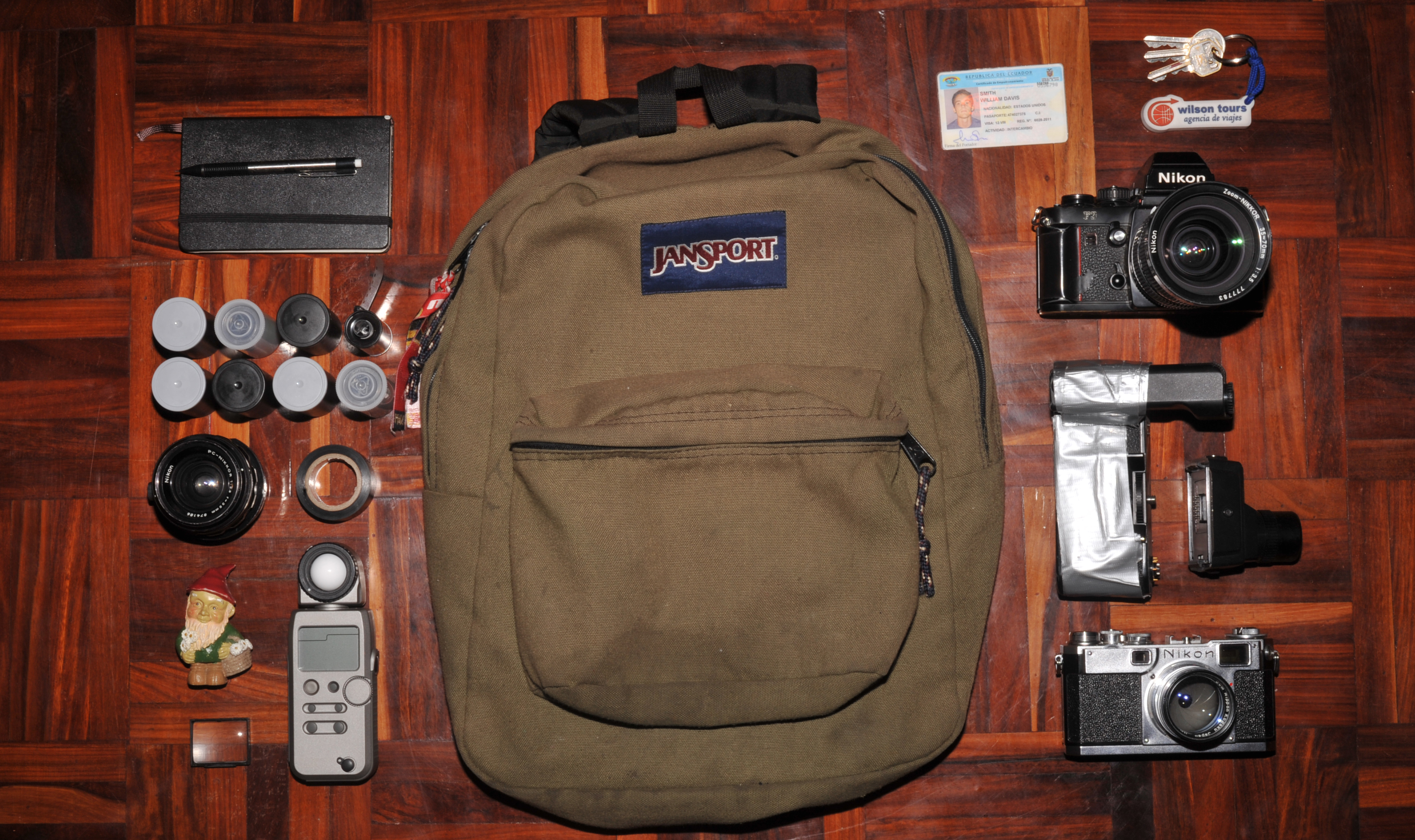 In your bag number 48, Chandler
Sorry to have kept you all waiting people, we have another bag coming your way. This time all the way from Ecuador! Yeah, that is right, Japancamerahunter has fans in Ecuador. Anyway, over to Chandler who is going to tell us all about it:
Hey guys! Im Chandler, 20, from the US/Ecuador.
Here's what I've got going on most of the time.
I put everything in a Jansport bag, which ironically is not even mine. I have a proper camera bag, but here in Quito it's really not smart to advertise what you have inside your bag.
Everything on the right side of the bag is what I carry in the big pouch.
-My lovely Nikon F3HP, dented, dinged, scratched, and etched on. It has been dropped countless times, and even though it has never stopped a bullet for me, it has never ever failed me. I plan on buying a second as soon as I get back to the states. I usually have my 50mm f1.8 lens (not pictured) or my 35-70mm zoom lens on it.
-My motor drive for the F3HP, which is currently held together with duct tape. The one weakness, the battery holder, snapped when I dropped it a while back, so the duct tape holds it in place. One of these days I'll drop a whopping 15 bucks and buy a new one.
-My F3HP foot for my flash, which is also not pictured.
-My Nikon S2 rangefinder and a (classic) 50mm f1.4 lens. Even though it's advertised as a f1.4 lens, the results wide open are pretty much useless. Everything else about this camera is great, though. I love the results and the feel of shooting with a rangefinder, I'm sure most the readers know, is really something else. Even though composition is really a stab in the dark sometimes, I really love how you capture the exact moment you want to, without waiting on the mirror of a SLR. This camera always gets quite a few comments when I carry it around.
On top are my ID and my keys, arguably more important than a camera. Oddly enough, I forget them more than I forget to carry my camera. After all, as Don McCullin once put it, if you don't carry a camera, you're not a photographer. Thus keys and ID's are of a lesser importance.
Everything on the left side (apart from the lens) of the bag I carry in the outside pouch.
-A Moleskine notebook, which is great for a number of reasons. When I shoot with my rangefinder, I like to note down the exposure number with aperture and shutter speed information.
-A mechanical pencil, self explanatory. This one always stays with the notebook and the cameras, though. I fear change when it comes to my photography setup.
-Film. Lots of it. I go through phases, but as a rule of thumb I only shoot Ilford Delta 100 or Fuji Provia. I'm trying Portra NC-160 (in Ecuador it costs $40 to develop slide film) right now and kind of like the results with the S2.
-A 35mm f2.8 shift lens. One of the older ones, this baby ghosts and flares like no one's business, but in preferable lighting conditions its decently sharp. I love taking pictures of buildings at night, so it really comes in handy.
-Electrical tape. It's always smart to have this stuff on you. I always find a need for it.
-A Sekonic L-358 light meter. The most exact piece of photographic equipment I've ever come across. This thing is great. Worth the price, even though it was a gift.
-A Beattie Intenscreen focusing screen for my F3HP. Really comes in handy with the shift lens.
-A pocket size garden gnome that my mother gave to me a few Christmases ago. I carry it with me wherever and whenever I travel. It's been to eastern and western Europe, the Balkans, Canada, and Ecuador.
That's about it. I took the picture with my D700, which I carry when I don't carry all of the stuff pictured. I don't mix the analog and digital, however; it seems like it should be a no-no. Also not pictured is my Nikon FA and my Agfa Ansco Readyset Royal no. 2, which I had to leave at home in the States while abroad, and my 17-35 f2.8 lens, which is getting repaired.
Check out what these cameras can do on my tumblr
Brilliant stuff Chandler, thanks for sharing the bag and your life with us. Very interesting view. Love the beat up old Nikon, really reportage.
Keep them coming folks, we need more submissions, so get your bag on Japancamerahunter.com. Send me a hi resolution image of the bag (please make sure it is horizontal) and its contents, with some details about yourself and what you shoot. Oh and don't forget your contact details (twitter, flickr, tumbler et al). Send the bag shots here Send the bag shots here.
Cheers
Japancamerahunter