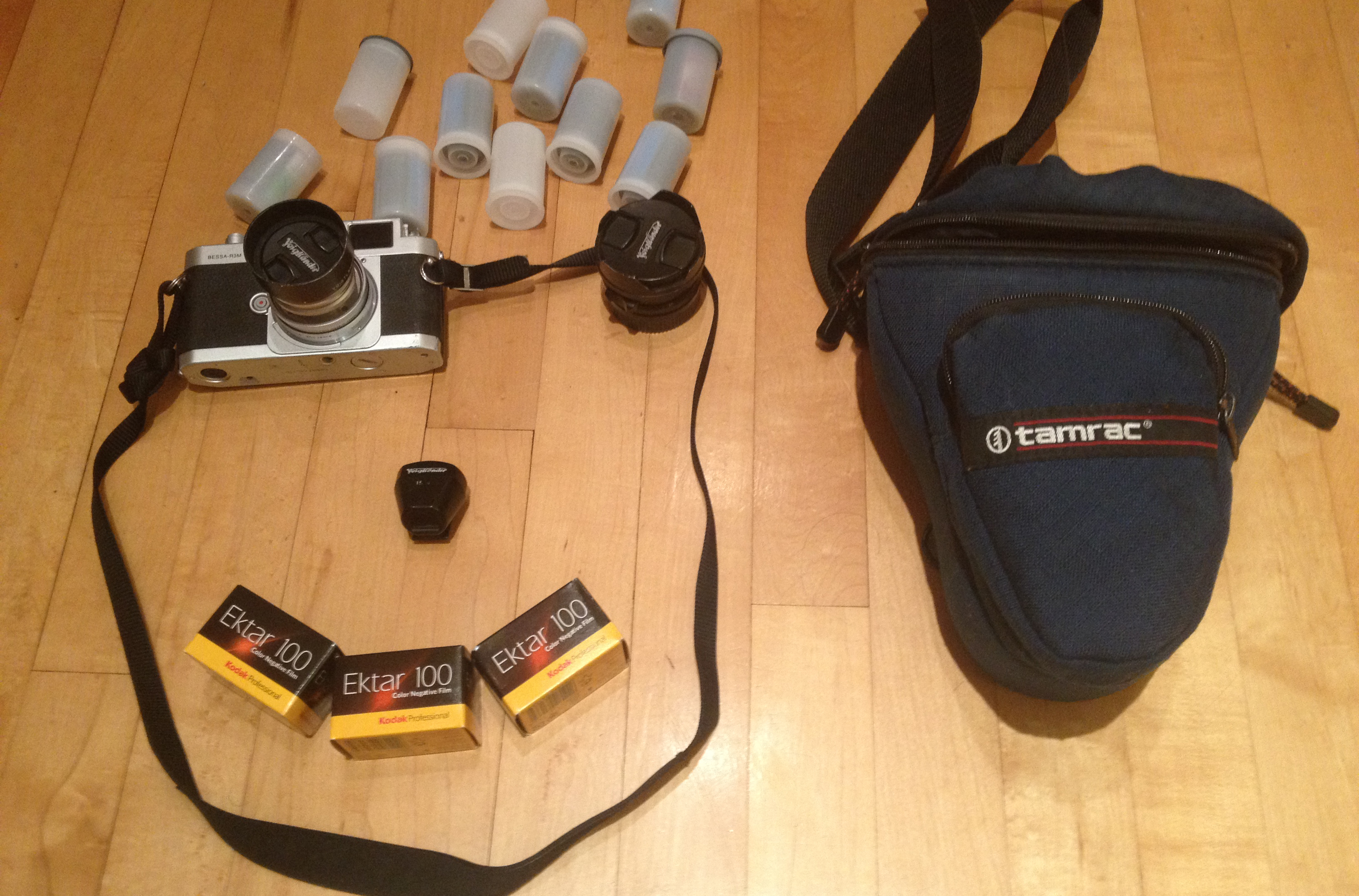 In your bag number 45, Gordon Boddington
Well well, we have a very funny little bag for you today. Gordon has sent us his bag and made it into a face for us. A great idea and something different from the norm. Good to have you on here Gordon, tell us more;
Hello my name is Gordon and I run photomfa.com a crowdsourced directory of photo labs that develop film and BelieveInFilm.com a photo sharing site for people who love film photography. You may have also seen awesome content on twitter with the #believeinfilm hashtag. It is my honor to present to you my Voigtlander Bessa R3M.
My left eye is made up of my Bessa and the Heliar Classic 50f2 that came with her. I'm a big fan of the Heliar 50f2 because of how wonderfully vintage looking the Heliar makes every scene I shoot with it appear. I describe it to non-photographers as making everything look like Life magazine.
My right eye is my Heliar 15f4.5. I bought the 15mm to photograph the inside of low-end condominiums but haven't shot a single one. The wideness of the 15mm is both a blessing and a curse because if I'm not careful my hands, feet or camera strap will be in the frame. Sometimes that is funny and ironic other times just plain awful. Similarly, metering with the 15mm can be difficult and fun because of how much area the lens will cover.
My nose is the Voigtlander 15mm viewfinder. I am not entirely sure if having a viewfinder for a 15mm lens is a good idea but I have found it useful. I like to think the 15mm has a very round, curvy way of interpreting space and the viewfinder is useful for taking that point of view and imposing it on very rectilinear spaces.
My smile is made up of Ektar because I really love it and I try to shoot a lot with it. It should be made up of new Portra 400 but I always shoot it as soon as it arrives. In winter, I usually shoot a lot of Tri-X and develop it in Rodinal. I like that no matter how lazy I am, I can get a decent negative from that combination.
My hair in real life usually looks like I've been testing an electric chair or I accidentally dropped something electric into the tub. To replicate that, I gathered up all the various rolls of generic drugstore film from the jackets I'm hoarding and made a mess with them.
Thank you for taking the time to read about what is in or around my camera bag.
Gordon
@filmdevelop
Thanks for having a laugh and sharing your bag and your site with us Gordon. I follow you on twitter and others should do, they are doing good things to promote film.
Keep them coming folks, we need more submissions, so get your bag on Japancamerahunter.com. Send me a hi resolution image of the bag (please make sure it is horizontal) and its contents, with some details about yourself and what you shoot. Oh and don't forget your contact details (twitter, flickr, tumbler et al). Send the bag shots here Send the bag shots here..
Cheers
Japancamerahunter