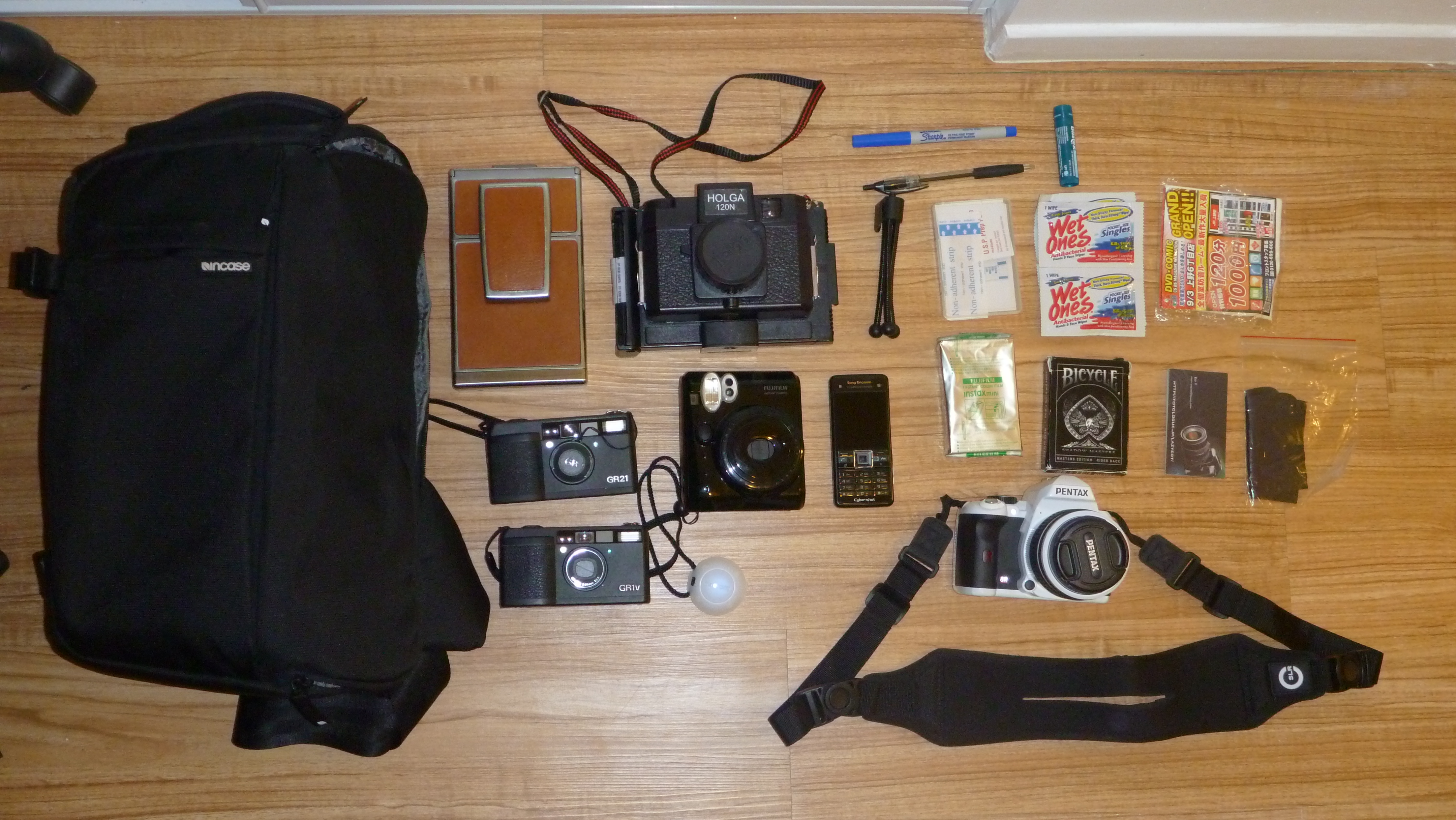 In your bag number 36, Eddy Tseng from the USA
久しぶり folks (long time no see). How are you all? I have been really busy with the Leica/Eric Kim workshop. It has been fantastic. But now back to pressing matters, we have not had an in your bag for an age. So here is another, and this one is special to me. The bag belongs to Eddy from the USA. Eddy bought a camera from me, to be specific, it was the GR21 in the picture. It was a bit a headache as I had to have the camera rebuilt for him, but he was the most charming and patient customer I have ever had, so I am more than happy to see him using it and happy with it.
So, without further ado, over to Eddy to talk about his bag:
My name is Eddy Tseng, about myself, I've been taking pictures for awhile, though I'm not a pro.
I usually do more street photography than scenic photography.I also like to take food photography. HAHA.
I love using film and instant film, cuz I'm more old school, and I like that vintage retro feel and look.
Here's my bag –
INCASE SLING PACK camera bag
– Used this bag for 2 years. It's sturdy, roomy, and semi waterproof. Plus, it doesn't look like a camera bag.
I carry this bag whenever I go out to shoot or travel. (Still looking for a "Perfect" camera bag)
Polaroid SX-70
– My favorite polaroid of all time. Looks awesome and takes awesome pictures. I don't use it that much,
but I do carry it with me just incase if I see something awesome and wanna capture the moment.
HOLGA 120N x INSTANT BACK
– I love using this camera, though it's hella fragile. I love it when I carry it around and people asks me "O dam, what camera is that!?"
Mini tripod
– comes in handy sometime when I want to take self-portrait with the ladies (muhaha you know what I mean?)
Sharpie and pen
– A must have in your bag
Chapstick
– another "a must have in your bag"
Mini- First aid kit
– Shit happens all the time, so this is ANOTHER "a must have in your bag"
Wet ones
– Sometimes some places you go don't provide no toilet papers, or you want to wash your hand or face but there's no water, these babies will save your day.
Tissue
– I use it to pick my nose.
RICOH GR21 & 1V
– Just got the GR21 from Bellamy (THANKS BRO!). I've been using GR1V for awhile. Love it, love it, love it. One of my favorite camera of all time.
FUJIFILM instax mini 50S PIANO BLACK
– A fun lil instant camera to use. The ladies love it. I pretty much carry it everywhere I go. I just toss it in my truck, and bust it out whenever I need it.
SONY Ericsson C902 Cyber shot
– A nice lil phone. I don't like smartphones (for some reason). This phone has a 5mp camera, and I usually take food pictures with this lil thing.
instax instant film
– gotta reload your gun when it runs out the bullet, eh?
Bicycle Cards
– Bust out some magic tricks to entertain the kids and the ladies.
My business cards
Lens cloth
– ANOTHER "a must have in your bag"
PENTAX k-r WHITE
– I call it, STORMTROOPER. I usually dont carry this boy around unless if there's some special event.
NOT IN THE PIC
– my lil notebook that I use to write random crap in it.
– Some extra films (KODAK PORTRA 400)
My fotologue
My tumblr
My flickr 
What I love about Eddy's bag and description (aside from the fact that he bought a camera from me) is that he is so totally honest. He clearly loves what he does and really loves the gear that he has got. Very nice. Thanks for sharing with us Eddy.
Keep them coming folks, we need more submissions, so get your bag on Japancamerahunter.com. Send me a hi resolution image of the bag (please make sure it is horizontal) and its contents, with some details about yourself and what you shoot. Oh and don't forget your contact details (twitter, flickr, tumbler et al). Send the bag shots here Send the bag shots here..
Cheers
Japancamerahunter