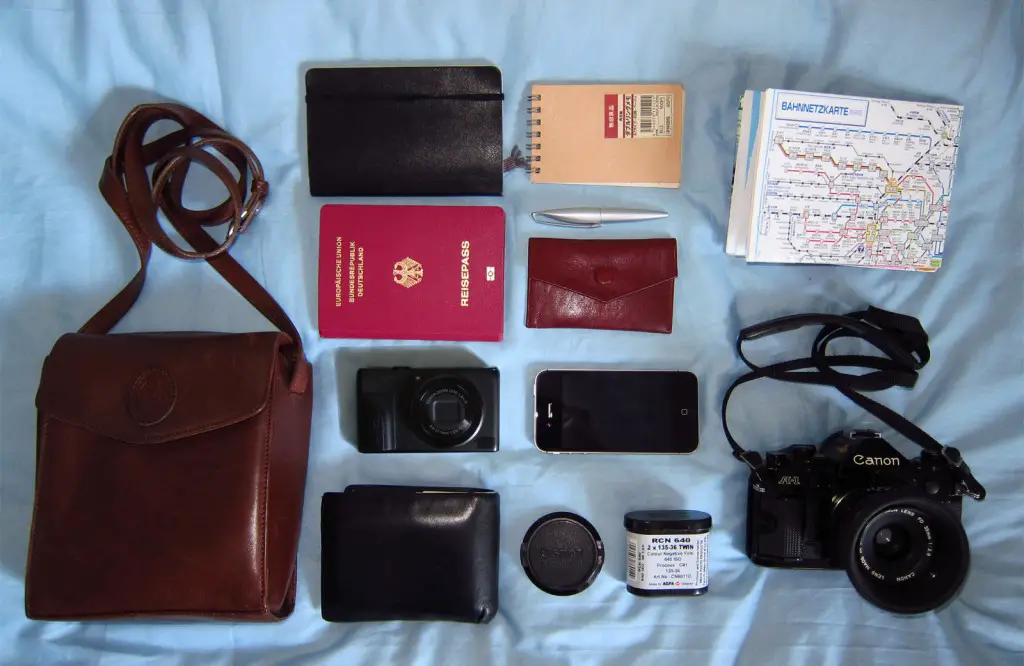 In your bag number 33, Lars Thielen from Germany/Tokyo
Hello Internet,my name is Lars Thielen and I currently live in Tokyo, studying Japanese abroad for a year. Although my major is music education back in Germany I somehow got into black & white analog photography courses at our arts department in 2009 which got me taking photography more seriously. Currently I don't have the setup for doing the full process analog photography features (developing film, contact sheets, printing) but that doesn't keep me from shooting film, of course. Shooting in Tokyo is a dream come true not only because I'm heavily influenced by photographers shooting in Japan (no name dropping here, due to my yet spare knowledge on photographers and their photobooks) but also because interacting with people here is so much fun and a total contradiction to my experience in Germany.
My Bag is a leather handbag by Disser, found at a flea market. Fot it size it has 4(!) compartments so that everything is well ordered, has a very nice pattern inside and the feel of the leather surface is just superb. You can already guess that my SLR doesn't fit inside this bag, which is not a problem because I usually have the camera around my neck for instant use. And if I carry the camera like the bag (around shoulder and neck), it hangs above the bag so they don't get in each other's way.
Cameras
– Canon A-1 with Canon New FD 35mm f/2.8 and Rubber Hood
– Canon S95
– iPhone 4S
My A-1 is my main camera, being loaded with Fuji Presto 400 mainly. The lens will soon be replaced by the f/2 version, the rubber hood is perfect for it's size and function (protecting from flare and absorbing shocks). The Rollei film case shown below can hold up 2 spare films which is enough for my work flow out there (loving the fuji film cases for bigger trips and keeping an order in the fridge, though). The lens cap is not on the lens most of the time, but in the bag. My black taped S95 has the "G2" rubber grip by flip back attached, which eliminates the slippery and bad holding problems I used to have
with it. I use this camera for my current and ongoing project "misty landscapes", usual snapshots and a yet not released video project. In my opinion it's the best pocket camera out there so far (next to the Ricoh GRD series, which unfortunately lacks a decent video mode). But I'm not 100% satisfied with it (sensor size, AF speed/problems, no refocus while recording video).
Of course I not only carry camera affiliated things in my bag, so here's what I usually carry around
– Moleskine Calendar/Notebook
– Passport
– Portemonnaie
– Muji Spiral Notebook (for customised Meishi-cards)
– a small pen (of course)
– Meishi/Suica case
– Map of Tokyo (just in case)
and of course I am entangled in the social media, too:
misty landscapes
flickr
Twitter
Lars
Thanks to Lars for sharing this bag with us, it is really cool to see a passport in there, as I am always fascinated by passports from other countries. Love the old leather bag too. Very cool.
Keep them coming folks, we need more submissions, so get your bag on Japancamerahunter.com. Send me a hi resolution image of the bag (please make sure it is horizontal) and its contents, with some details about yourself and what you shoot. Oh and don't forget your contact details (twitter, flickr, tumbler et al). Send the bag shots here Send the bag shots here..
Cheers
Japancamerahunter