Bag shot number 3 folks, and this time it has some rather amusing additions
This bag belongs to Max, who is from Singapore, but this bag can be found in Perth, Australia.
Here is a little more from Max himself:
Hi, I'm Max, I love photography, I love cameras, I love beautiful light and faces and the little moments where everything comes together for a split second or two and the immediate environment suddenly freezes and lights up, before wandering off into their own dimensions once again.
I wanted to (still do actually) make a career out of photography (or something related to it), but I'm just not sure what area/genre I'll fit into and whether I'll survive, so I'm currently studying my second favourite interest – physiotherapy.
I'm originally from Singapore, but am living in Perth at the moment and have an elder brother working in Japan, so I visit Japan quite regularly as well. I just love the atmosphere in Japan, especially in winter (although it freezes the crap out of me.
I used to shoot digital, but recently switched to film and it's been quite satisfying so far.
Max has a Flickr account, check it out.
Now for the bag….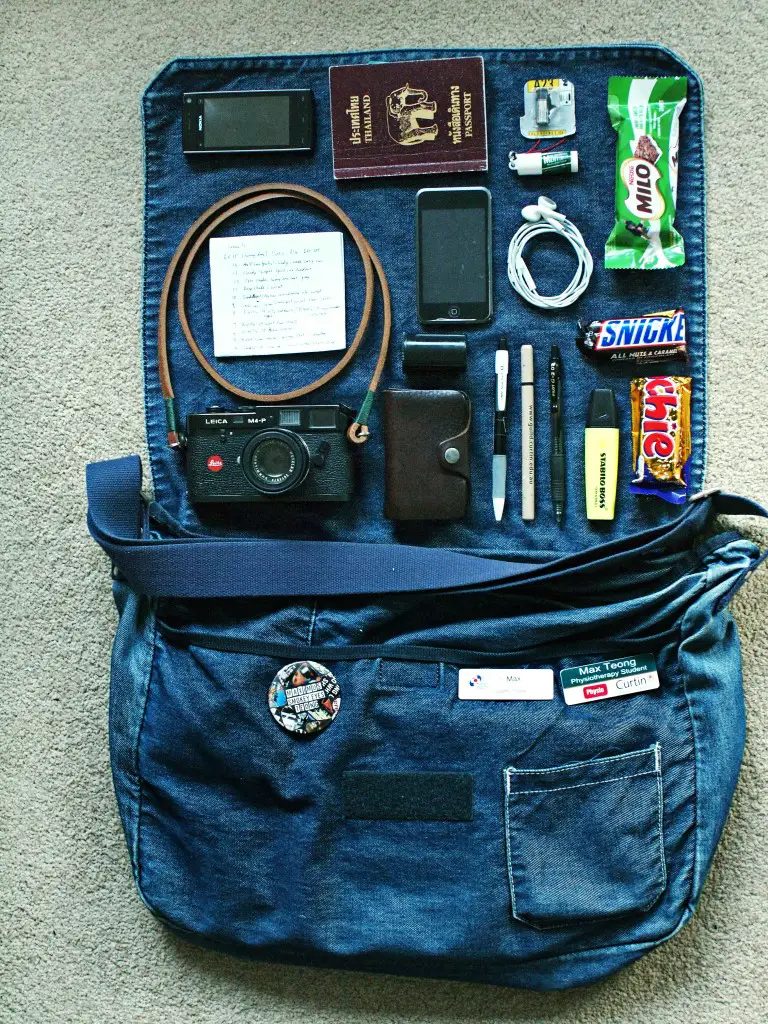 WHAT'S IN MY BAG (From top to bottom, left to right):
– Mobile phone
– Notebook that looks like a Thai passport that I got from Thailand for around 1 AUD
– Spare car remote battery – I always keep it with my since my car remote first died on me 2 years ago and I was unable to start my car without the car alarm going nuts (because the remote has the immobilizer device)
– Lip balm – my best friend gave it to me during my most recent trip to Japan, and it's still in my bag, because winter just passed here in Perth (Australia) and sometimes it still gets a bit cold and dry.
– Milo cereal bar- tastes better than it looks
– Gordy's leather strap
– Sunny 16 EV index written on the back of a folded used envelope
– iPod touch – got it as a birthday present 3 years ago, still working good as gold
– Earphones – I don't keep them plugged into my iPod, because 2 earphones have died on me because the wire near the jack got breached where it folds (you know when you coil your earphones around your iPod)
– Spare film
– Half-eaten Snickers bar – ate it along the drive home from work today, because I felt like chocolate, but didn't feel like Crunchie.
– Leica M4-P with 40mm Summicron-C and original rubber hood + Series 5.5 filter
– Wallet that I have been using for the last 5 years – still has the leather smell and I recently burned my name into the underside of the front flap with sunlight through my Canon FD 50/1.4 lens, just for fun.
– My gf's pen – I think I forgot to return it to her after borrowing it during a lecture.
– Free wooden pen my gf got for me from my university guild house because I mentioned that it looked pretty cool
– Pilot G2 – all-time favourite pen
– Highlighter – just coz you never know when you'll need it. hahaha!
– Half-eaten Crunchie bar – ate half of it in my car on the way home from work yesterday
The badge farthest left is a badge a friend made for me for my birthday last year (or the year before) when her mum coincidentally brought a badge-making gadget home from work (this friend is pretty darned good at making hand-made cards).
The badge in the middle is my magnetic sports trainer nametag that I wear when I am sports training (part-time job).
The badge farthest right is my magnetic student physiotherapist nametag that I wear when I am out on my clinical placements (which I currently am).
Hidden from view is a pack of cigarettes – I have weaned myself off those skinny little buggers about a month of two back, but still have the occasional craving.
My bag itself is from GAP. It's pretty old. I inherited it from my previous housemate's brother who left it in the house when he moved out. I've been using it for the past 3 and a half years and it looks like it still has quite a few years left in it. It's big enough to fit all of what you see, plus some extra lecture notes, a notepad, my laptop, and maybe a spare cardigan.
Another great bag, another interesting insight into what makes a photographer tick. Thanks for sharing this with us Max.
Keep them coming folks, get your bag on Japancamerahunter.com. Send me a hi resolution image of the bag and its contents, with some details about yourself and what you shoot. Oh and don't forget your contact details (twitter, flickr, tumbler et al).
Cheers
Japancamerahunter