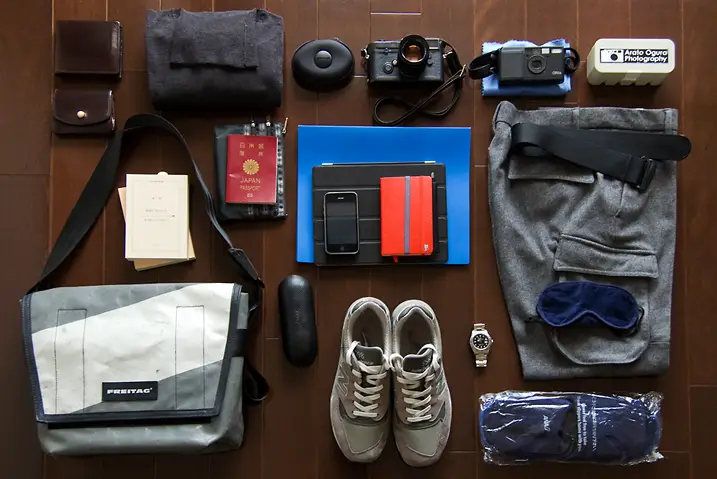 In your bag number 27, Arato from Japan
Greetings from Japan, another great bag shot for us. This time it is something special. This is a bag that belongs to a good friend of mine, who has impeccable taste in gear, Mr. Arato Ogura. This man is also partially responsible for my ridiculous gear addiction, as he has one of the finest camera collections of anyone that I know. Today's bag is special in that it is not so much a camera bag, but a travel bag, which makes it really interesting. Oh, and sound the trumpets, this is our first bag from Japan! Over to you Arato:
Hi folks, my name is Arato – I travel few times a year on business, and I sneak out meetings and trade shows whenever I can and enjoy shooting street snaps on black & white film.
Here's my things that I carry onboard, clockwise from that M6 on top.
Camera : Leica M6 & 50mm F1.4, Ricoh GR1s
Both are my 10+ year old mates, trustworthy and never lets me down.
The film case is from Fuji, available from JapanCameraHunter.
Pant : Dressterrior Wool Cargo
Nothing special, but with handy large pockets to hold a passport and tickets. Nylon webbing duty belt from Eagle Industries.
Eye mask & slippers : All Nippon Airways
Stole'em from ANA business class.
Shoes : NewBalance 998
Ultimate cushion and support, my first choice footwear for running to/from airport terminal gates.
Bag : Freitag F12 Dragnet
Made from used truck tarps. Liking the size and uniqueness (each bag is different), picked up from the Freitag store in Cologne Germany.
Paperbacks : Japanese classical literatures and/or English mystery novels.
Coin case & wallet : made by Hans Oster (Danish leather craftsman).
Sweater : Paul Stuart merino turtle
I'm a sucker of fine natural fiber, particularly wool. Bought this merino sweater which costed like cashmere 12 years ago, still very soft and the warmth is second to none.
headphones : Shure SE530
The silicone ear buds perfectly isolates the jet roar, and yeah the "noise" of crying baby two rows behind you.
and in the center,
iPad 2, iPhone, and a Moleskine notebook with a Lamy Safari ball point pen.
That's about it, and hope you guys enjoyed my IYB shot.
Happy shooting +++
Name : Arato
Location : one the move
Occupation : professional camera buff
Flickr : http://www.flickr.com/photos/arato
Check out Arato's flickr to see some absolutely ridiculous gearporn, seriously you will have to wipe the drool from your screen.
Thanks for sharing this cool bag with us Arato, it is interesting to see how people deal with travel in their own style. I hope that you will share another one of your lovely bags with us in the future.
Keep them coming folks, we need more submissions, so get your bag on Japancamerahunter.com. Send me a hi resolution image of the bag (please make sure it is horizontal) and its contents, with some details about yourself and what you shoot. Oh and don't forget your contact details (twitter, flickr, tumbler et al).
Cheers
Japancamerahunter