In your bag 263, Dilraj Singh
I have a repeat bag for you today, well kind of. Dilraj was featured as number #136 and now he is back with a new setup. And it is a pretty cool one. Come and have a look.

Hello All. I've done this once before! I was featured before as bag #136, but since then I've changed a few things around. Just to reintroduce myself, I'm Dill, 19 years old and from the UK. Previously I was using a fairly basic setup consisting of a Canon EOS 50D, an EOS-3 film camera, 50mm 1.4, and a 20mm 1.8. I've since realised that setup was a bit inefficient, so I decided to split it up a little.


I use a Think Tank Streetwalker mainly for the professional side of things such as fashion and weddings (on the very odd occasion!) The Street Walker houses a:
Canon EOS 1Ds Mark II (great skin tones for fashion, but poor low light performance)
Canon EOS 100/EOS-3 (The 100's a great little af camera, very quiet, I swap it over with the 3 sometimes)
Canon EF 16-35mm F2.8 L
Tamron 24-70mm F2.8 DI VC USD (Originally wanted the Canon version but is now discontinued. Beautiful lens though, the VC is really helpful at those slower shutter speeds)
Canon EF 50mm F1.4 (Nifty Fifty, stays on the EOS 100/3 at all times!)
Sunpak Flash (To be replaced by the 580EX II)
Canon NP-E3 Battery (Always need a spare when using a 1 series camera)
Giottos Rocket Blower
Memory card holder
CPS membership card
Spare batteries (Energizer Lithium and Panasonic Infinium's)
Lenspen
Jacobs Digital lens cleaning tissues
And a load of 35mm film.
Manfrotto 190CXPRO4 + 496RC2 Ball Head (Carried separately)
Also have a few bits coming soon, such as a Fujifilm lens cleaning kit, and a SanDisk Image Mate USB 3.0 reader that I'm excited to use.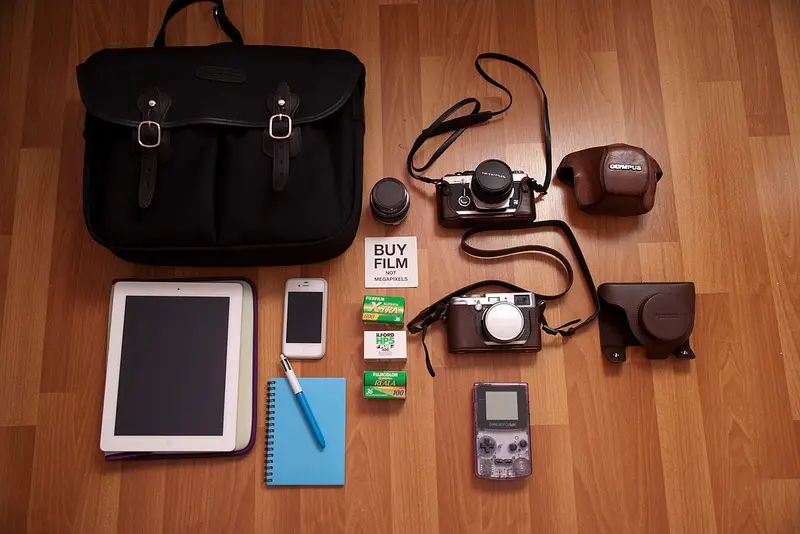 My second bag is a Billingham Hadley Large (All Black). A nice spacious bag, that's comfy for everyday use. So far I've got a couple of cameras and a few other bits in it. I'm expecting any time soon, a black Nikon FM + 50mm F1.8 AI that I'd love to include in my bag shot but unfortunately I've not got it yet! The Hadley Large houses:
Olympus OM-2N MD (Favourite film camera so far by miles, going to see how the FM shapes up to it when it comes through)
Zuiko 50mm F1.8
Zuiko 100 F2.8
Brown vintage ever ready case for OM-2N
Fujifilm X100
Brown leather case for X100
Superia 800, HP5, Expired Reala 100 (Currently)
iPhone 4S
iPad 2
Paperchase Notepad + Bic 4
Last but never least, my trusty old Game Boy Color, which is often loaded with Super Mario Land
So there you have it! This is what I'm currently housing in my camera bags. My Think Tank setup is likely to stay the same for a while, but my Billingham setup will be forever changing due to my addiction of buying Film Cameras. Once again I'd like to thank Bellamy for giving me the opportunity to show my bag(s).
Peace!
Flickr: www.flickr.com/photos/lightworksuk
Tumblr: www.thenameofthegameislightworks.tumblr.com
Thanks for sharing your bags with us again Dilraj, it is great to see how things have changed. The Gameboy colour is an awesome touch, I used to have one of those.
Check out Dilraj's old bag and his links and make sure you come and comment.
Keep them coming folks, we need more submissions, so get your bag on Japancamerahunter.com. Send me a hi resolution image of the bag (please make sure it is horizontal) and its contents, with some details about yourself and what you shoot. Oh and don't forget your contact details (twitter, flickr, tumbler et al). Send the bag shots here.
Cheers
Japancamerahunter