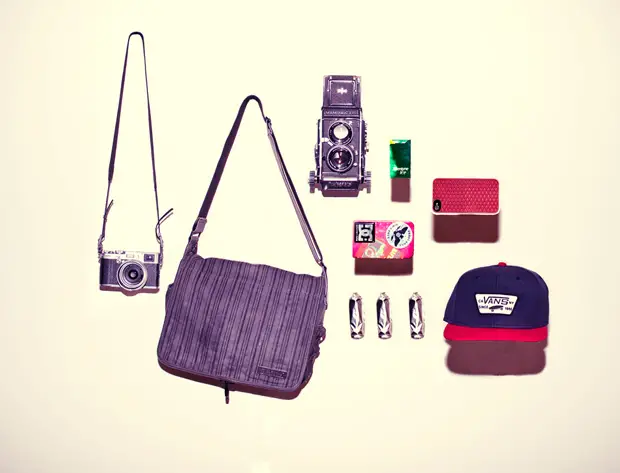 In your bag number 248, Christian Hafer
A super simple bag shot for you all today. This one is super duper cool. I love the layout and the style. Certainly a bit different from what is normally featured on the site. Come and see what Christian has in his bag.

First off love the site and its a daily habit. I wanted to submit my current street bag I have been rocking for the last few weeks to shoot around Philadelphia and other metro area I get to.
My name is Christian Hafer and I shoot sports and photojournalism in Philadelphia, Pa. I am starting to get back in to street photography so built up this simple kit to cruise around the city. I have bounced from seven states in my 27 years from Chicago to Colorado so my influences are expansive as is my style. I hope. Currently I am prepping for a 3-4 month road trip across the US in a VW Vanagon to photograph what I find. Anyway here is my submission!
Bag – Dakine messenger bag. I waxed the canvas and added a water proof liner for protection. Also added a simple divider from another bag.
Camera 1 – Trusty X100. I bought this on a whim and love it with a passion. I take it everywhere I go.
Camera 2- Mamiya C330. This was a gift and probably the best in a while. Sharp and amazing images from this beast.
iPhone – With the Vans case. Use a number of apps including a light meter.
Gum – Cute girls like fresh breath. Plus asking to take a photo is rare so smell nice.
Hat – Vans snap-back. Its summer protect your dome.
Film – Anything from Ilford Delta to Lomography film… doesnt matter.
Portable HD – I carry a portable hard drive (160GB) my brother made to back up quickly. Mostly for remote locations.
Not in photo – Moleskine notebooks. Headphones. Oakleys. Pens. Ipad sometimes. Henry Rollins books. Cliff bar.
Check out my stuff:
Tumblr – http://outliervisuals.tumblr.com/
Website – http://christianhafer.com/
500px – http://500px.com/ChristianHafer
Instagram – @Outliervisuals
Twitter – @Outliervisuals
Thanks for sharing your awesome bag with us Christian. I love this shot, so simple and concentrated.
Check out the links and make sure you come and comment on the bag.
Keep them coming folks, we need more submissions, so get your bag on Japancamerahunter.com. Send me a hi resolution image of the bag (please make sure it is horizontal) and its contents, with some details about yourself and what you shoot. Oh and don't forget your contact details (twitter, flickr, tumbler et al). Send the bag shots here.
Cheers
Japancamerahunter