In your bag number 205, Suraj Bhamra
We have a cool bag for you today. Not just because it is a bag that I own too, but because it has a massive Mamiya RZ67 inside. Come and see what Suraj has in his bag.

What's up Bellamy/JCH readers? My name is Suraj, I'm a 22 year old photographer from Detroit, Michigan. I love shooting photos and also teach a local photo class on weekends although I work my weekdays away as an electrical engineer. I'm also really into working on cars and between photography and cars, my free time gets eaten up pretty quickly.
Well I'm sort of a camera junkie and collect cameras. I have around 15 cameras and a ton of lenses, flashes, filters, etc so this is just a small sample of that collection. This is what I shoot with daily.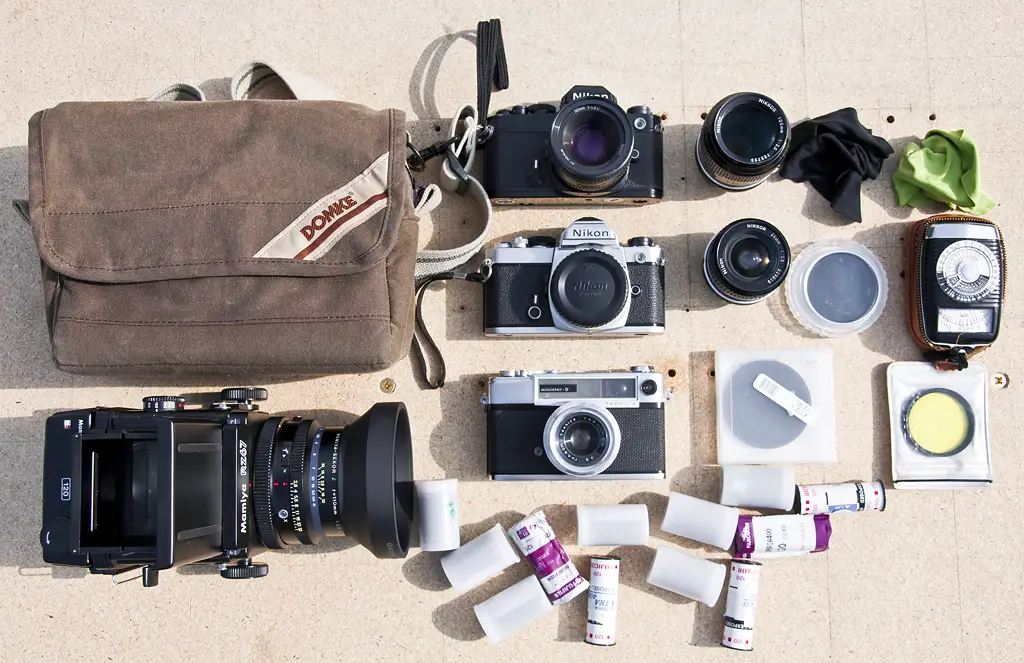 I guess the most logical thing would be to go down each column starting from the top left. First off everything I need fits nicely into my Domke F-5XB. It keeps me from bringing too much gear and is a really nice bag, I really love it.
Next is my beloved Mamiya RZ67 with a Mamiya Sekor 110 2.8 lens. I really enjoy shooting with this camera, the images I get from this camera are pretty stunning. It also happens to be one of my more recent purchases (picked it up only a couple months ago).
Most of my 35mm photos are shot with my Nikon FMs. The black one is loaded with color film while the silver one gets black and white. The all metal construction of these cameras is really awesome.
Below those is a camera I do not use a lot, but has a lot of sentimental value, a Yashica Minister D rangefinder. This camera was my grandfathers and he left it for me when he passed away. It's a camera I only use rarely but I thought I would share it with you since it is a camera with a lot of emotional ties.
My digital setup is a Nikon D90 which was used to shoot this photo. I have a few lenses and an SB600 flash with it, but I am noticing I have been using it less and less lately.
Other stuff I usually bring are my 50mm 1.8 (on the black FM), 105mm 2.5 Ai converted, 24mm 2.8 Ai-S, B+W 093 IR filter, Sony circular polarizer, Hoya yellow filter, a couple cleaning cloths, a Dejur Dual Professional light meter, and of course plenty of film!
Hope you guys enjoy my bag I really love this blog and I am happy to be a part of it. I just got a website up and running and feel free to add me on Facebook!
Site: http://www.surajbhamra.com
Facebook: https://www.facebook.com/suraj.bhamra
Thanks for sharing your bag with us Suraj. I have the same Domke, so it is nice to see one on here. Nice cameras too.
Check out Suraj's links and make sure you comment too.
Keep them coming folks, we need more submissions, so get your bag on Japancamerahunter.com. Send me a hi resolution image of the bag (please make sure it is horizontal) and its contents, with some details about yourself and what you shoot. Oh and don't forget your contact details (twitter, flickr, tumbler et al). Send the bag shots here.
Cheers
Japancamerahunter