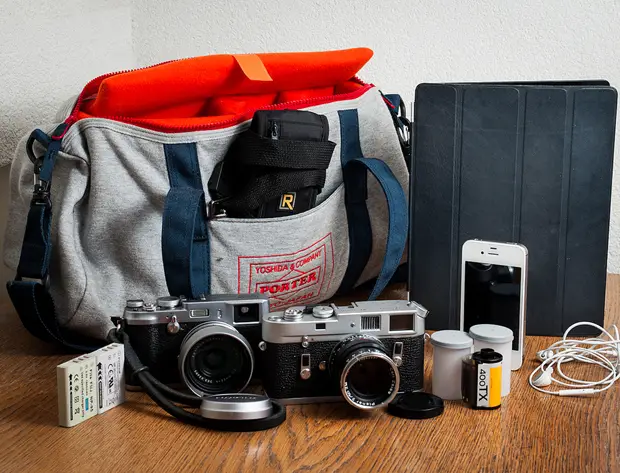 In your bag number 195, Yorrick Zijlstra
It may be a Sunday, but todays bag is not resting. It is a cracker of a bag from Holland, and the layout is stunning. Come and see what Yorrick is keeping in his bag…

Hi & welcome to my bag
My name is Yorrick, a media student from Amsterdam. Although my study mainly focuses on film studies, my other great passion is photography. I started with photography when I was 16, and since I'm part of the newer generation I never really had anything to do with analog photography apart from having my pictures taken by my dad with his film camera when I was a kid.
Recently, though, I started to read into analog photography, and a month ago I made the jump in to buying a Leica M4. I still love to shoot with it every day.
So what's in my bag?
Apart from the stuff pictured in this photo I have a Nikon DSLR with 14mm/35mm/24-70mm/70-200mm lenses and some lighting equipment I use for portrait shoots etc. But this bag is all about leisure and fun, and that's where the street equipment comes into play.
The bag I use: A Head Porter dufflebag, with an Ebay camera insert. I love that I'm able to use it as a camera bag and a goto bag whenever I want to.
Cameras
Fujifilm x100 – My digital street camera. It's super compact with great image quality. Although it has its quirks, I adore shooting with it.
Leica M4 & Zeiss Planar 50/f2 – This is what photography is about. Small and discrete, though a substantial feel to it. The Leica is my first film camera and I'm kinda new into the world of analog, but I love it to death.
Film & Memory cards
The film I use is Tri-X 400 but I'm still trying to find out what suites me best, so if you have any suggestions let me know.
The memorycard in my x100 is a sandisk extreme pro 95mb/s, which you do need to be able to power up the beast in a reasonable time.
Straps
To carry my cameras I use a Blackrapid RS-4 and a Gordy wrist strap.
Tech
I obviously carry a phone. In my case that's an iPhone which I occationally use as a lightmeter as well with the PhotoMeterPro app. Very basic, but looks and works good.
Another thing I never leave home without is my iPad. Together with the camera connection kit its a must for every photographer on the go. Watch your photo's on the larger screen and do minor tweaks in an app like snapseed.
Etc.
And then there's some stuff I never use but still want to carry with me all the time: lensecaps. I tend to forget they're on my cam so I leave them off.
Furthermore there are some Apple earphones and spare batteries in a sidepocket.
Hope you guys enjoyed reading and looking at my bag and let's connect!
My photo's are to be watched on my website (that's currently under construction) and flickr at:
http://yorrickzijlstra.nl/ & http://www.flickr.com/photos/yoecko/
Twitter and Facebook are to be found at:
https://twitter.com/#!/Madcoldt & http://www.facebook.com/Madcold
Thanks for sharing your bag with us Yorrick, I love those Porter bags, they look great. An your shot is beautifully put together.
Make sure you check out Yorrick's links and you comment too, because it is lovely when you do.
Keep them coming folks, we need more submissions, so get your bag on Japancamerahunter.com. Send me a hi resolution image of the bag (please make sure it is horizontal) and its contents, with some details about yourself and what you shoot. Oh and don't forget your contact details (twitter, flickr, tumbler et al). Send the bag shots here.
Cheers
Japancamerahunter