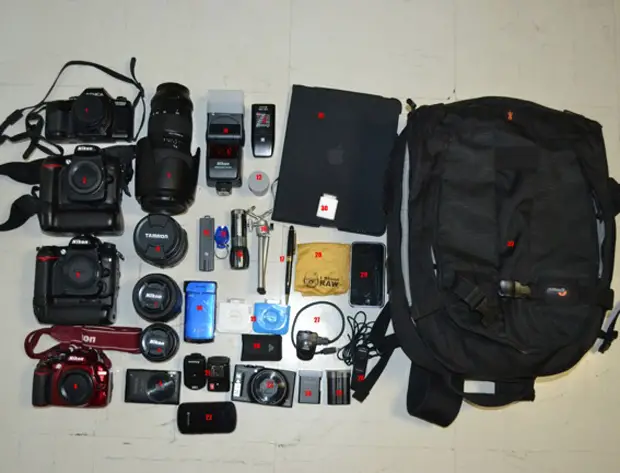 In your bag number 189, Barry Ellery
Right, I am off to Hong Kong, but before I go I have another lovely bag for you…and this one is meticulously labelled and laid out. Come and see Barry's bag.

Konnichiwa JapanCamera Hunter my name is Barry Ellery; I'm from Columbus, Indiana but I live and work in Japan. I'm a amateur photographer still trying to master the art of photography and like many instead of learning one camera system completely I'm quickly buying another one.
I mostly shoot with digital cameras but I want to go back to shooting film for a while. Although carrying all this equipment around with me daily is heavy I enjoy it because whenever I find someone looking at buying a new camera I let them fiddle around with my equipment and since most of my cameras are Nikon's I do love shooting with a Cannon if I can get my hands on one.
I go to work pretty early in the morning just so I can have the afternoons to explore and go shooting, and during the weekends I'm off somewhere on a train to explore what Japan has to offer.
I really enjoy street photography and you will find me hanging around Shiybuya train station. I usually carry my bag with me at all times or it's close by somewhere.
My job allows me to travel around Asia so like a tourist I find myself just snapping photos quickly and my Flickr account is full of photos of the places I been. Lately as I find myself looking though the thousands of photos I have loaded I can clearly see I didn't have a clear understanding of what a good photograph should depict. This is why I'm going back to film so I think before I press that button.
Inside my bag you will find:
#1, Yashica TR 7000 Aka 107 MP (Film Camera) 50mm 1.9 Lens
#2. Nikon D90 with MB-D80 battery pack
#3. Nikon D7000 with MB-D11 battery pack
#4. Nikon D3100 (Limited Edition hence the red color)
#5. Tamron AF 7-200 Marco F/2.8
#6. Tamron SP 1-50mm F/2.8
#7. Nikkor AF 18-55 F/5.6
#8. Nikkor AF 50mm 1.8
#9 Cannon Powershot ELPH 300HS (for those night club shots or self portraits )
#10. Nikon SB600 Speedlight Flash
#11. Yashica CS-140 Flash
#12. Extra Flim
#13. Laser Pointer (For Night Lighting)
#14 Pen Light to see what i'm doing at night
#15. LED light (For Night Lighting)
#16. Small tri pod
#17 Pen
#18. CMOS DXG Handycam (I don't know why)
#19. Milo battery chargers for my iPhone
#20. Nikon Remote Control
#21. Cowboy Studio Remote Flash receivers
#22. Wireless device for my iPad and iPod Touch
#23. Nikon Coolpix S8200
#24. Extra battery for my D3100
#25. Extra batter for my D7000
#26 Nikon MC-DC2 Remote Release Cord
#27. Nikon GP-1 GPS receiver module
#28. I Shoot Raw lenese cleaner
#29. iPod Touch
#30. SD adapter for Ipad
#31. IPAD
#32. Lowepro camera bag
My Flickr
http://www.flickr.com/photos/[email protected]/sets/
Thanks for sharing your bag with us Barry, this is a whopper of a bag. Good to hear that you are going to give film a go, the best of luck.
Check out Barry's Flickr and make sure you comment too.
Keep them coming folks, we need more submissions, so get your bag on Japancamerahunter.com. Send me a hi resolution image of the bag (please make sure it is horizontal) and its contents, with some details about yourself and what you shoot. Oh and don't forget your contact details (twitter, flickr, tumbler et al). Send the bag shots here.
Cheers
Japancamerahunter