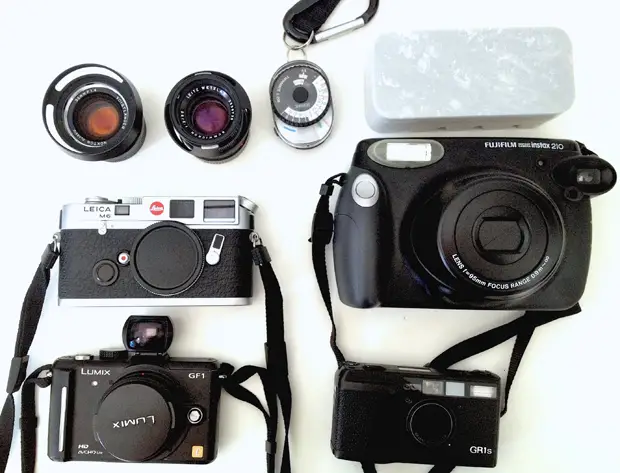 In your bag number 187, Gabriele Lei
OK, todays bag is a bit special, because it is not only about a bag, but also a book. Gabriele has released a book to aid the people affected by the recent earthquake in Italy. Read on and find out a bit more.

Hi guys, hi Bellamy, my name is Gabriele (Gafo for friends) from Italy, daily reader of the blog.
I'm a 26 y.o street/freelance photographer born and raised in Modena, a small city in middle-north of Italy.
I've been started shooting street photography since I saw some black and white images taken by a photographer (unknown to me at the time) called Daido Moriyama. I was stunned by the blacks..never saw something deeper.
It was 6 years ago.
Now I don't usually shoot in my town except for commissioned works, for street photography I prefer foreign venues.
This shot shows my bag before leaving Italy for Tokyo:
-Bag is a Black Domke FX-3 (not in the picture);
-Chrome Leica M6, my first Leica and my main camera;
-Leitz 50mm Summicron 3rd gen. made in Germany;
-Voigtlander 35mm f/1.4 SC;
-Ricoh GR1-S, super compact camera, be sure to chech Bellamy's article about Ricoh GR family;
-Lumix GF1 + Lumix 14mm f/2.5 for some "postcards" from Toyko for friends;
-Fuji Instax as instant camera, love Fuji for its wide format;
-Sekonic light meter, always with me when I shoot film;
-Fuji film case for Bellamy (Thumbs UP!!);
-Black iPhone 4s 32Gb;
-Film: dozen of Fuji Instax, few Kodak Tri-x 400, lots Fuji Neopan 400, this is the film where I feel at home.
In Tokyo I collected serveral street scenes with my iPhone and due of the big earthquake that hit my city and nearby villages few days later I published a small Instagram book supported by italian instagram users (instagramers).
All the pictures are made with iPhone camera and all edited with the same Instagram filter (Lo-fi) so, no photoshop cheats =)


I called it 春の思い出 which means Spring Memories, referring to the real happy times past in Tokyo before the destruction of the earthquake.
For every copy sold of the book I will send part of the money people hit by the quake, so please, share it =)
You can view a preview of the book here:
http://it.blurb.com/books/3292074
Thanks Bellamy for this occasion,
see you guys on the streets!!
G.
Thanks Gabriele for sharing your gear, but most of all thanks for sharing this book.
Please check out the book and show your support, this is for a good cause. The earthquakes in Italy have been widely overlooked, but they still need people's support.
Keep them coming folks, we need more submissions, so get your bag on Japancamerahunter.com. Send me a hi resolution image of the bag (please make sure it is horizontal) and its contents, with some details about yourself and what you shoot. Oh and don't forget your contact details (twitter, flickr, tumbler et al). Send the bag shots here.
Cheers
Japancamerahunter