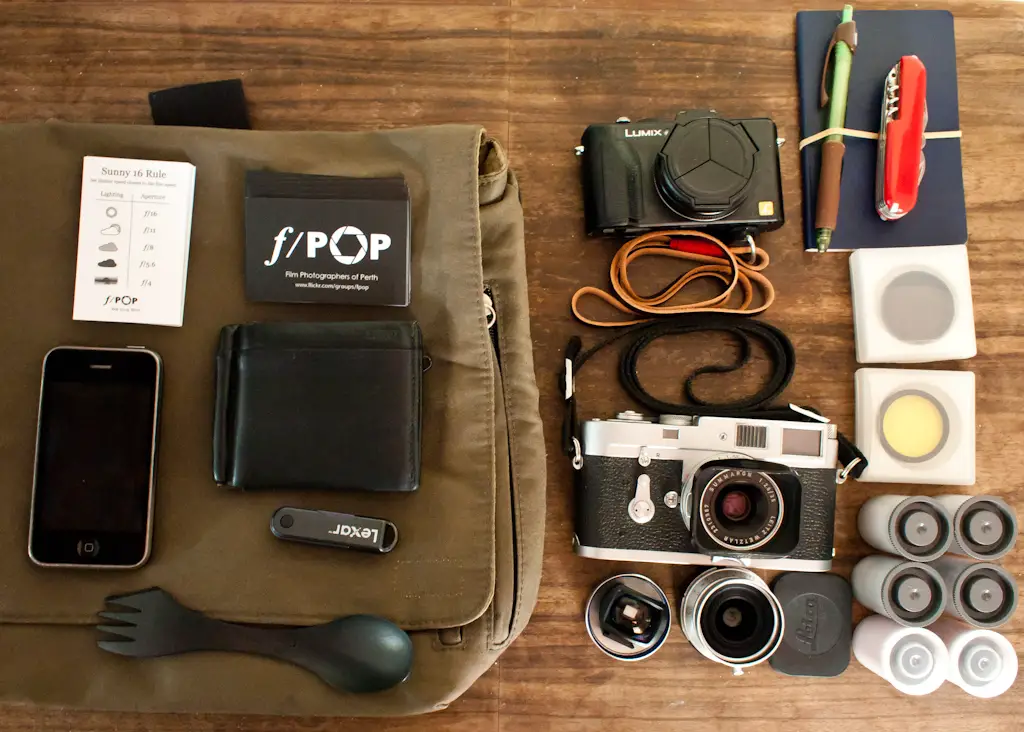 In your bag number 18, John from Australia
G'day folks, looks like we have another bag submission, this time from the beautiful Perth, in Western Australia. John is a follower of Japancamerahunter and of Tokyo Camera Style. Thanks for the support John. Now, lets have a look inside his bag.
Over to John:
G'day – though I'd submit my bag – My name is Jon Hammond and I'm from Perth, Western Australia.
I like to capture every day life but also enjoy taking landscapes with my 4×5 when time permits.
* I'm the admin for the flickr group – Film Photographers of Perth or f/POP as we like to be known it's a really solid little community of a bit over a hundred with many knowledgable members. We normally meet up once a month and a fair few
of us have our own darkrooms.
* I also have recently started Perth Camera Style in homage to Tokyo Camera Style
* I have my own darkroom at home and develop and print my own b&w and develop my own c41 colour.
* I shoot everything from 35mm up to 4×5. Camera's I regularly use are my Leica M2, 2 x Mamiya 6's (with 50 + 75mm), Rolleiflex, Polaroid 110b modified to take Fuji Pack film and a Modified Speed Graphic with a variety of lenses (I can send in a pic of my LF kit and pack if you're interested)*Yes, John, we are. Send it in*
* My website is: www.jonhammond.net (undergoing a redesign at the moment)
* My flickr
* My Twitter
This is my everyday kit:
Bag: Waxed Canvas Country Road bag – after going through so many camera bags this is the one that suits me perfectly daily.
– Leica M2 with 35mm f/2.8 Summaron as well as a Voigtlander 25mm f/4 Snapshot Skopar and 25mm external finder
– B+W 39mm ND4 & 022 Yellow filter – pretty useful because I find myself shooting 400 Speed film mostly
– Pansonic Lumix LX5 with a homemade leather strap – handy to snap photos for Perth Camera Style when out and about.
– Fuji Neopan 400 is THE black and white film – I love it combined with ID11. I shoot a little colour with some Agfa Vista 200.
– Moleskin Notebook + Pen
– Swiss Army Knife + Spork – can never be too prepared.
– Leather wallet I've had for the last 15 years + iPhone 3Gs + 8gb Memory Stick
– f/POP cards to hand out to fellow film photographers (with the Sunny 16 rule on the back to help others out :)
Wow, what a bag and what a set. Thanks John, this is great! Another brilliant bag for you all.
Keep them coming folks, we need more submissions, so get your bag on Japancamerahunter.com. Send me a hi resolution image of the bag (please make sure it is horizontal) and its contents, with some details about yourself and what you shoot. Oh and don't forget your contact details (twitter, flickr, tumbler et al).
Cheers
Japancamerahunter