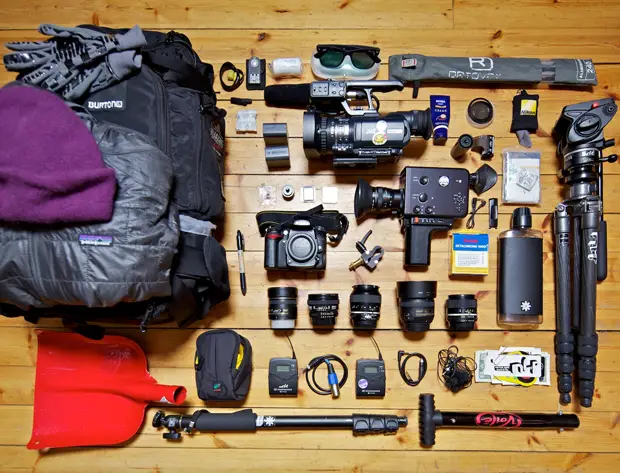 In your bag number 176 – Teemu Lahtinen
Todays bag is awesome, for the simple reason that it has a shovel in it. Come and see why.

Hello!
Here is the photo of my camera bag. I shot it to see what I have to carry around in the mountains and is there something I could live without.
I am professional photographer and videographer shooting mainly snowboarding in the mountains. I live in Finland but travel 3-4 months of year. This was shot in Norway on a day I was mainly concentrating on shooting video and Super8. Lenses for Nikon DSLR are selected to keep the video in mind and the whole setup concetrates on being as light as possible since I have to be able to snowboard in steep and challenging alpine terrain. On some other day the bag contents are leaning more towards photography with different lens choices and analog cameras but this time I had these with me:
-Burton F-Stop bag
-Nikon D7000 with AF 10,5mm 2,8, AF 20mm 2,8, AI 35mm 1,4, AF-S 50mm 1,4 and E 100mm 2,8
-Nizo 481 Macro Super8 +extra Ektachrome film
-JVC GY-HM100 videocamera with Audio Technica AT875 mic and Sennheiser lavalier-set
-Gitzo G1158 with FLM leveling base and Manfrotto 701 head, Velbon monopod with small Manfrotto ballhead, Nano clamp
-Voile shovel, Ortovox probe, rescue foil, bandage
-Rayban sunglasses, Burton gloves, Patagonia Nano Puff jacket, extra beanie, misc. items
-Lomography color negative film for my pocket camera Olympus XA
http://northlightpictures.com/blog/
http://www.flickr.com/photos/teemulahtinen/
http://www.facebook.com/northlightpictures
Cheers!
Teemu Lahtinen
Thanks for sharing your amazing bag with us Teemu. It is huge, but at the same time it seems like everything is there for a good reason. Check out Teemu's links and make sure you comment.
Keep them coming folks, we need more submissions, so get your bag on Japancamerahunter.com. Send me a hi resolution image of the bag (please make sure it is horizontal) and its contents, with some details about yourself and what you shoot. Oh and don't forget your contact details (twitter, flickr, tumbler et al). Send the bag shots here.
Cheers
Japancamerahunter