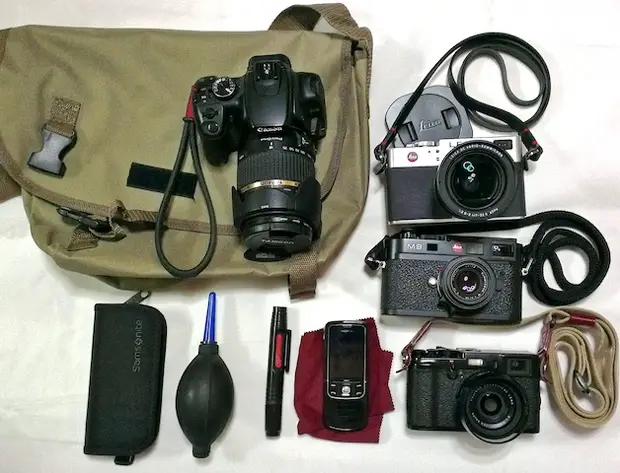 In your bag number 172, Jimmy Tong
Todays bag has a whole range of different gear, all of it digital. Though Jimmy does have a longing for film…

Hi my name is Jimmy. I am an amateur photographer living in Singapore. I became crazy about photography at a young age (5?) when I played with my dad's Rollei A110. Well, I spoiled it during the process :p
Got my first SLR, a Minolta 404 more then 12 years ago, my first system camera setup. When the Canon 10D DSLR came out, I joined the digital band wagon. I tried out different genre of photography and found that I love landscape/travel and street. I was also involved in black and white processing but stop ever since. Who knows I might want to go back again in the near future. There is something about black and white film that I could not explain in words. I guess those who shoot film will know what I mean.
Ok, back to my bag. It is a super cheapo canvas messenger from the army shop. Cost me $5. I use a padded insert (not shown) to protect my gear.
1. My old faithful DSLR, Canon 400D with Tamron 18-270mm travel lens, oh yes the Gordy wrist strap. I sold off most of my good lenses to finance the Leica M9 (more on that later). This camera rarely see action now a days as I do not use DSLR ever since I venture into rangefinder. I still keep it for its versatility and you never know it might come in handy when you need the 270mm.
2. Leica Digilux 2 – Mine you, this is an 8 years old 5mp camera which still have the sharpest IQ that beat most modern point and shoot these day. This camera comes with all the analog adjustable setting just like the rangefinder. I just love it.
3. M9 black with Streetstrap from Bellamy. I sold all my Canon lenses to finance it and I have no regret. It is mounted with 35 Summicron for now.
4. Fujifilm X100 Black edition. Just love this camera, a solid performer in low light and macro photography. It totally replaced my DSLR the moment I got it. It goes everywhere with me now although I can sense that the M9 is going to take over its place:)
5. Lastly just a Nokia phone, with a 2mp camera :)
6. Lenspen and memory card storage bag.
Of course I do not bring all my gear out. Most of the time it will be either the X100 or the M9 or both. Add me to your facebook: www.facebook.com/jimmytbc
Thanks Jimmy for sharing your bag. You really started early huh? I hope that you get back into film again, I am sure you will love it. Check out Jimmy's facebook page and make sure you comment.
Keep them coming folks, we need more submissions, so get your bag on Japancamerahunter.com. Send me a hi resolution image of the bag (please make sure it is horizontal) and its contents, with some details about yourself and what you shoot. Oh and don't forget your contact details (twitter, flickr, tumbler et al). Send the bag shots here.
Cheers
Japancamerahunter