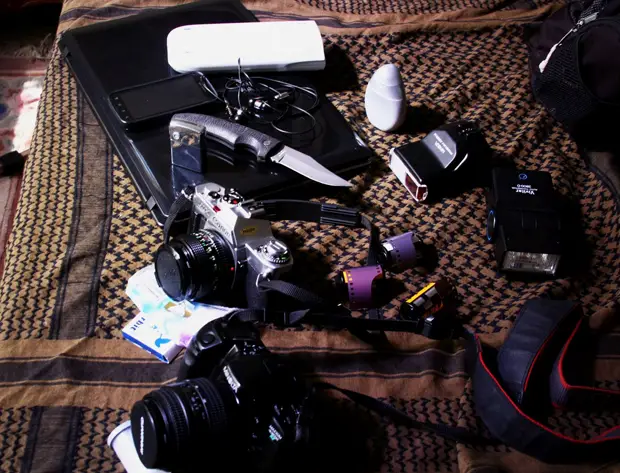 In your bag number 166, Danny Belong
Hey there bag lovers, another lovely bag for you today. This time we have a bag with some rather different cameras, certainly not the usual fare. Oh, and there is a massive knife in there too!

My name is Danny Belong and im a 19 year old BioChem student at San Jose State University in San Jose California. when my nose isnt glued to some study guide or buried in some lab manual, im out shooting photos or working on cars. This was shot with a canon 40D with the 28-135mm f/3.5 kit lens. My type of shooting can vary from day to day, because i shoot whatever really! My bag i use is just a simple school bag being that i am a student, but i do have the Lowepro Fastpack 200 when im not at school and just shooting whatever.
pictured from top left down is:
-17in ASUS (my life really revolves around this thing, has my schedule and photos) 500GB FTW!
-Ti-84 silver edition…yes only adds to the fact that im a total nerd
-Motorola Atrix(decent camera on this phone, but really bad color fringing in low light situations and yes i have taken many photos with this camera)
-headphones
-Gerber Gator (i always have a knife on me, but this one stays in my bag 24/7)
-Zippo (there have been many accounts when this was needed for non-smoking purposes)
-Mio water flavor enhancer (again just something i find necessary everyday)
My Canon AV-1 with 35mm f/2.8 w/UV filter
my "everyday" camera, this stays in the bag because its smaller than the minolta and the canon 40D.
underneath the AV-1 is just some gum and tissues
Next camera is the Minolta 430si. it's very nice camera from the late 90's this is what i use when im tired of the DSLR but dont feel like using the AV-1. its pretty rare that i use this camera, but there is always a roll of film in it whenever it needs to be used. it is usually sitting out in the car, hidden of course! but sitting out there in its own bag just in case.
the film shown here is just 1 color roll which is Kodak Gold 100 ISO, and 2 black and white films, Kodak TMAX 100 and an Ilford HP5 400 ISO.
the 2 flashes shown is for these cameras because with film, sometimes i just want to shoot, and if i have my 100 speed film in there and its night, then im screwed, but with the flash…you get the picture. this kit varies from day to day because of the way my schedule is, but most often then not i always have a camera on me. I am a firm believer in the saying that the best camera is the one you have with you. Dont let your lack of a proper camera stop you from taking a photo. if you have to use the dinky little 3MP flip phone camera, then use it. just make sure you compose it the right way.
how to reach me:
I have a flickr account that need to be updated badly. http://www.flickr.com/photos/dbphonatomy
and instagram @mr_dbelong
or at that twitter thingy @DanBeJay
thanks guys/gals!
Thanks Danny for sharing your bag and you life. It is nice to see someone using a Minolta, they are great cameras. Check out Danny's links and make sure you come and leave some comments.
Keep them coming folks, we need more submissions, so get your bag on Japancamerahunter.com. Send me a hi resolution image of the bag (please make sure it is horizontal) and its contents, with some details about yourself and what you shoot. Oh and don't forget your contact details (twitter, flickr, tumbler et al). Send the bag shots here.
Cheers
Japancamerahunter