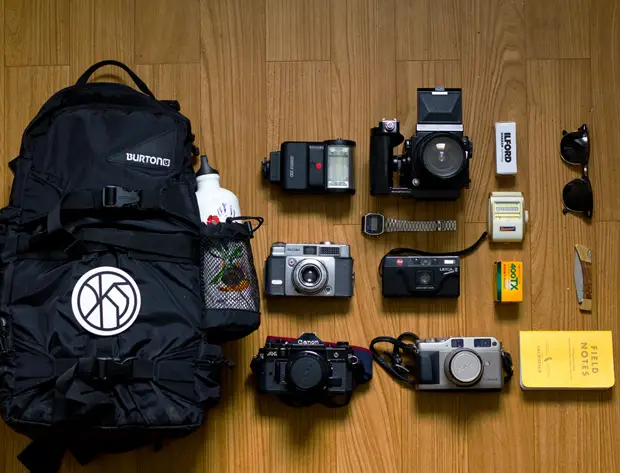 In your bag number 164, Max Huber
We have a massively loaded camera bag for you today. I am not sure how Max carries this thing around, but he must have a very strong back. Check it out.

Hi,
I'm a graphic desinger currently in my last month of finishing my bachelor degree.
I started getting into photography when I found an old Dacora camera at my grandpa's about 1 year ago. Since then I've been hooked.
I'm solely shooting film and try to use natural light as my main source when shooting. I recently started trying to get into shooting street,
which I really enjoy and already notice some improvements in my style of shooting.
Because I use(d) to shoot a lot during skateboarding trips I'm pretty comfortable carrying my gear in a backpack, but I'm looking for some
smaller shoulder bag, since I prefer traveling light lately.
In my bag:
– Burton Backpack + Water bottle (very essential)
– Stickers of an independent magazine I publish with my colleague (www.daskleineschwarze.tv)
– some cheap flash
– Dacora Camera from the 1950s, it was my granpa's and it is a fun little toy to shoot with
– Canon A1 SLR with a 50mm/1.8, this was my main in use camera the last year
– Bronica ETRS medium format, trying to shoot more medium format from time to time
– Casio watch
– Leica Mini, mostly use this point and shoot when I'm going out at night
– Contax G1, my latest addition, I've just been shooting with this for 2 weeks and still totally loving the camera and the 28mm lens
– Some film, I'm mainly using Ilford XP2, it's a C-41 B/W film I really like or any other Ilford
– Vintage light meter, cheap but effective
– Shades. always need those
– Knife, my granpa always used to say: "A man without a kinfe is no man."
– Field notes sketchbook
My photos can be seen on my blog: collectingbeautifuls.tumblr.com/
An some projects on my website: www.wearecellardoor.com
cheers and thank you
Max Huber
Thanks for sharing your bag Max, I am amazed by your selection of gear, that is a lot of stuff to carry around. Check out Max's links and make sure you comment, we love it when you do.
Keep them coming folks, we need more submissions, so get your bag on Japancamerahunter.com. Send me a hi resolution image of the bag (please make sure it is horizontal) and its contents, with some details about yourself and what you shoot. Oh and don't forget your contact details (twitter, flickr, tumbler et al). Send the bag shots here.
Cheers
Japancamerahunter