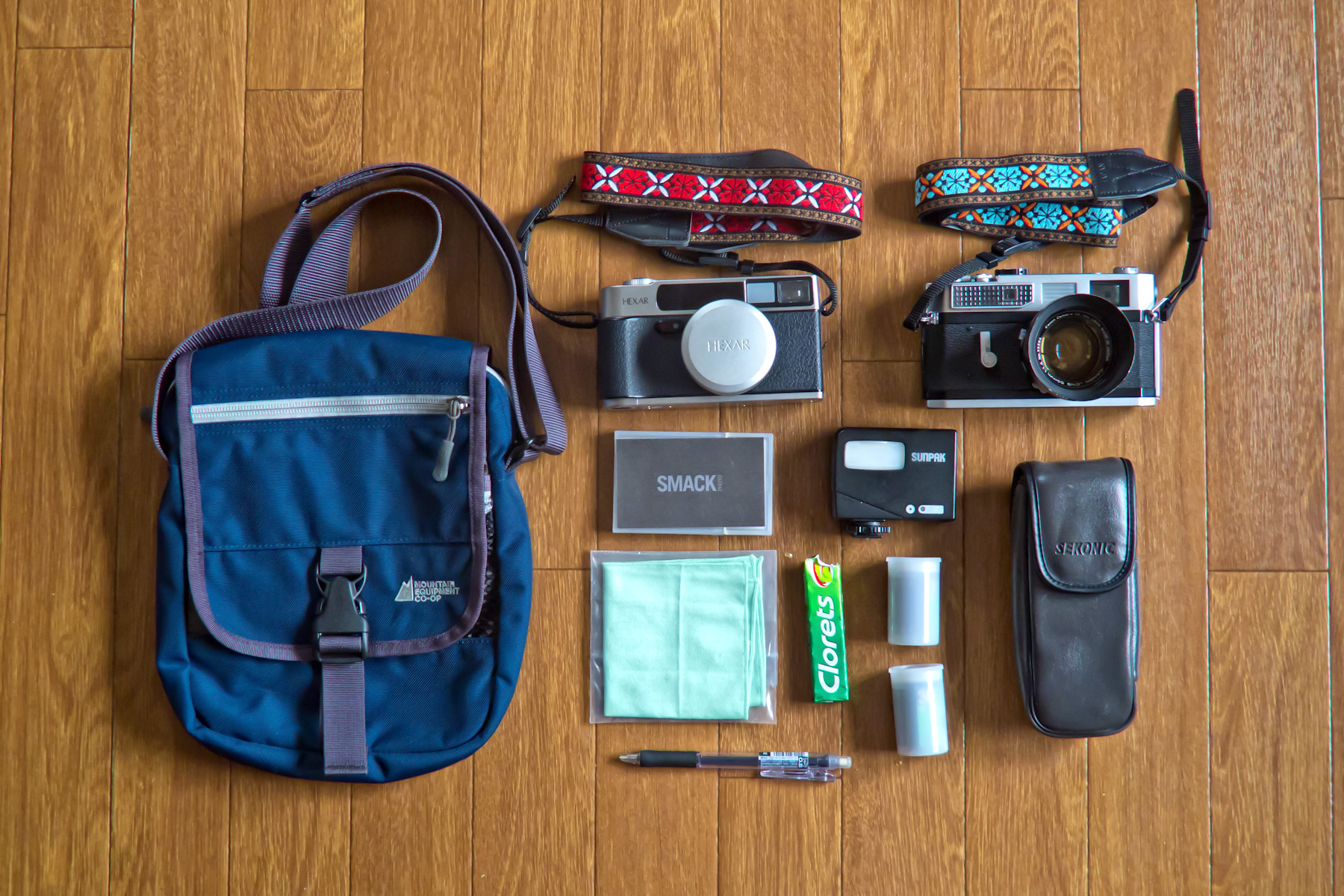 In your bag number 16, Trevor from Canada
Well well folks, we have been doing this for a couple of weeks now and it has certainly been an interesting ride, lots of cool people, lots of cool bags. Now we have a submission from a friend of mine, Trevor Williams. Trevor is a Canuc, but he lives in Japan and works as a photographer. Trevor actually has two bags, but today we are going to look at his personal carry bag. Lets let Trevor explain…
Here is my "lite" bag that travels with me everywhere. I take it with me even if I am going to the grocery store because you never know who or what you will see along the way. Always having a camera with me makes me view the world in a different way.
I use a travel bag that is very flat. The contents of this bag are things that I always have with me. Business cards, pencil, lens cloth, gum, a pocket flash, and a variety of film. It looks like a lot to fit in the bag but one of those cameras is always out and ready to shoot and depending what cameras are with me, the Sekonic L-358 may be left at home. If it is with then it is hanging around my neck for easy and quick use. I used to bring a big Lowepro backpack full of too much stuff but lately I prefer to travel with minimal gear. It is just easier in crowded spaces and way more comfortable for me. The cameras here are a Canon 7 and a Konica Hexar(which is awesome, so buy one from Bellamy). Some of the other cameras I also use are an LC-A, Leica Minilux, Konica C35, Olympus Pen which are all compact cameras that easily fit in this tiny bag. 2 cameras don't fit in this bag so I am
forced to always have one in my hand, or on the passenger seat of my car, or near by and ready.
I am a Canadian Who has been living in Japan for 10 years. I am a general camera freak who shoots anything with a shutter. If you want to know more about Trevor and what he shoots, you can visit his about.me page and follow him on twitter.
about.me
Twitter
Flickr
Thanks to Trevor for sharing his bag, it is lovely to see two of my favourite cameras side by side, they look great.
Keep them coming folks, we need more submissions, so get your bag on Japancamerahunter.com. Send me a hi resolution image of the bag (please make sure it is horizontal) and its contents, with some details about yourself and what you shoot. Oh and don't forget your contact details (twitter, flickr, tumbler et al).
Cheers
Japancamerahunter