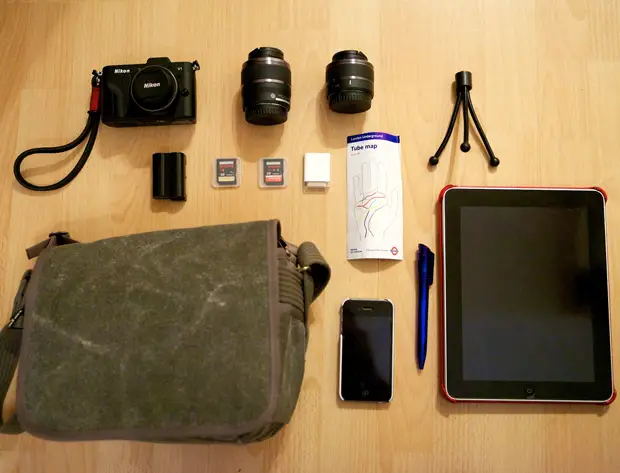 In your bag number 150, Gary Perlmutter
A totally digital bagshot for you all today! Gary is a street photographer from London and runs a very minimal setup, so lets see what Gary has inside his bag…

Hi
I have attached a photo of the contents of my camera bag:
I'm Gary Perlmutter from London, England. To earn a living I photograph weddings and portraits with my Canon SLR gear, but whenever I have spare time I love nothing more than taking the Underground (Tube) into London to do some street photography. This I mainly got into when I switched from film to digital some years ago. If I have a street style, it's for me finding visual jokes and capturing the humour in everyday life. Currently I shoot with the Nikon V1 as I find its small size, EVF and super fast auto focus perfect for street photography.
In my bag:
ThinkTank Retrospective 5 Camera Bag (May get the new 7 when it comes out as the iPad is a tight fit in the 5)
Nikon V1 fitted with 10mm f2.8 prime lens (I shoot street mainly with this lens)
Nikkor 30-110mm Lens
Nikkor 10-30 Lens
Spare Nikon battery (although one lasts me all day!)
Spare SD memory cards
SD adaptor for the iPad
Tube map, for helping me find my way around the Underground
Mini tripod (very light)
iPad (it's the mk 1, hope to upgrade to the 3 at some point)
iPhone 4
Pen
The whole kit is very light, although I don't always take the iPad with me.
Links:
www.gazonthestreet.com
http://gazonthestreet.tumblr.com/
http://www.flickr.com/photos/gp_photography/
@gazonthestreet
Gary has recently put a piece about his love for the Nikon V1 on Steve Huff's site. Check it out here.
Many thanks
Gary
Thanks for sharing your bag Gary and thanks for your thoughts about this camera. Check out Gary's links and make sure you follow him on twitter. You can also get yourself some of that Camera Karma by leaving some comments.
Keep them coming folks, we need more submissions, so get your bag on Japancamerahunter.com. Send me a hi resolution image of the bag (please make sure it is horizontal) and its contents, with some details about yourself and what you shoot. Oh and don't forget your contact details (twitter, flickr, tumbler et al). Send the bag shots here.
Cheers
Japancamerahunter