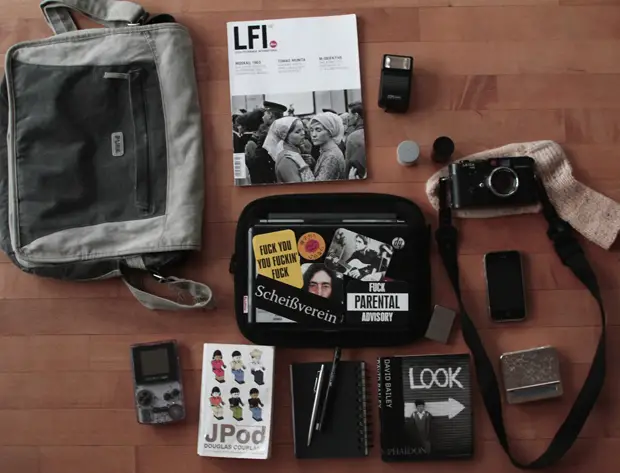 In your bag number 139, Niklas Josefsson
Todays bag is from a young yet passionate photographer from Germany. And wait…is that a gameboy? Wow, I have not seen one of those for a while. Check it out…

Hey folks, hey Bellamy,
I'm Niklas Josefsson from Germany. I'm 17 years old ( some may say too young to have a real clue about photography) but I'm passionate about it. I started with photography about 2 years ago. I went through a couple of DSLRs, Nikon aswell as Canon, but it never felt right. After watching Week's 'Documenting the human condition' and reading his .pdf ( he should be payed by Leica; most effective ad they ever will get…) I bought my Leica.
Saying I shoot 'life' seems pathetic, but it's the only description I could think of. I can't have my camera with me all the time, but I'm trying. Street Photography kind of became my passion. Sadly I am slow and lazy if it comes to developing my rolls…
The stuff on the picture is everything ( besides a 80l backpack for clothes) I carried with me on my holiday trip. Carrying this stuff everyday is a pain, but I had to. I'm describing the stuff clockwise.
The bag I am using is a normal bag I use everyday. I figured out that I don't need a special camera bag.
One of my travel lectures. I like reading the LFI, because of the fantastic pictures, but it is just a very expensive ad for Leica…
An old Nissin flash. Loaded with normal, weak batteries. I'm only using it for portraits of friends. I'm not a fan of flash photography.
A roll of Portra 400 ( my prefered color film) and a roll of APX100 ( my prefered B/W film). The only rolls i have left from the trip.
My beloved M6. It's from 1985, haven't been to Solms since then. I love this camera and I will keep it for the rest of my life ( even though my meter is broken…). I'm currently saving up for a Leica glass, but the 35mm Nokton is giving me satisfying results aswell.
( The sock is my case for the Leica. I know, kind of stupid, but I don't like leather cases)
I like Instagram. 'Nuff said.
I absolutely have know idea how to call this thing. I'm using it when I'm to lazy to roll a smoke by myself. The Zippo connects to this.
David Bailey's 'Look'. Very interesting portraits, but not my style.
Sketching book, a Parker pen and sketching fine liner. Sketching is my second passion.
JPod by Douglas Coupland. The weirdest, but most hilarious book I've ever read.
A GameBoy is the best way of encountering boredom.
My 3 year old netbook. Had seen more abuse than the Leica, but it can't take it… I think I need an update, a Macbook would be nice.
I'm not updating my sites very frequently, but I got some negs' waiting for beeing scanned.
Flickr: http://www.flickr.com/photos/niklas-josefsson/
Blog: http://nijophotography.wordpress.com/
So, thanks everyone for looking in my bag
Niklas
Thanks for sharing your bag and your thoughts Niklas. I love the sock case for the camera, that is awesome. Don't knock yourself, keep on shooting and stay positive about what you do, you have a bright future ahead. Check out Niklas's links and make sure you comment to earn your Camera Karma.
Keep them coming folks, we need more submissions, so get your bag on Japancamerahunter.com. Send me a hi resolution image of the bag (please make sure it is horizontal) and its contents, with some details about yourself and what you shoot. Oh and don't forget your contact details (twitter, flickr, tumbler et al). Send the bag shots here.
Cheers
Japancamerahunter