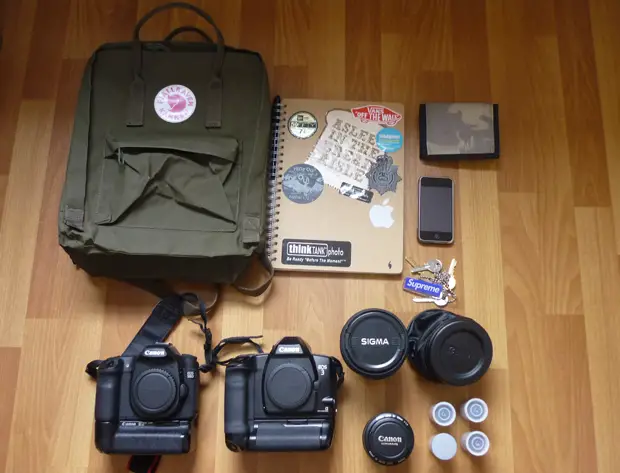 In your bag number 136, Dilraj Singh
Hey ho rainy day, but despite the fact that the heavens have opened, the show must go on. An on it does with the latest bag, this time from another rainy land, the UK. Come and see what Dill keeps in his bag…

Hi all. My names Dill, and I'm from the UK!
I've always had a interest in photography but was never able to fund it, up till around 3 years ago. I originally started off with a Pentax K100 and a Olympus OM20 but decided to change my whole system since then. I shoot on both film and digital, but I prefer film. My main interests are fashion and street photography. I tend to use digital for fashion and film mainly for when I'm shooting in the streets.
Recently I acquired a Fjallraven Kanken, which houses some of my gear! I tend to only take one camera and lens at a time. On a typical day, I'll just be carrying my EOS-3 and a 50mm 1.4, a few rolls of film (Mainly Superia 400 or Pro 160NS), my wallet, iPhone, and a notepad.
(Sorry about the terrible photo, was taken with a 5 year old Lumix!)
My gear:
Canon EOS 50D (w/BG-E2 grip)
Canon EOS-3 (w/PB-E2 grip)
Canon EF 50mm f/1.4
Sigma 20mm f/1.8
Fujifilm film
Fjallraven Kanken (Forest Green)
Paperchase notepad
iPhone
Wallet
…and my house keys!
I hope you've enjoyed looking at my bag, and thanks to Bellamy at JCH for giving me the opportunity to post my bag!
Flickr: www.flickr.com/photos/lightworksuk
Tumblr: www.thenameofthegameislightworks.tumblr.com
Thanks for sharing your bag with us Dill. It is not often I see people carrying around a Canon SLR anymore, and even less often that I see someone with two of the things. You must have a strong back :)
Keep them coming folks, we need more submissions, so get your bag on Japancamerahunter.com. Send me a hi resolution image of the bag (please make sure it is horizontal) and its contents, with some details about yourself and what you shoot. Oh and don't forget your contact details (twitter, flickr, tumbler et al). Send the bag shots here.
Cheers
Japancamerahunter