In your bag number 132, Matthew Maber
Lordy lord, we have a double whammy for you today. 2 bags for the price of one! That is correct, Matthew is going to show us both of his bags today…

Here's my camera bags – I live in the UK and have two bags, one for mainly shooting portraits and gigs and the other for keeping with me all the time and trying to shoot street.


My 'pro' bag is my ThinkTank Retrospective 10 which is very spacious and holds my Nikon D90, Tamron 28-75 f2.8, Nikkor 35mm f1.8 (favourite lens) and Sigma 10-20mm. Also is some flash triggers, rain cover, strap, flash, batteries in the moo box and gels.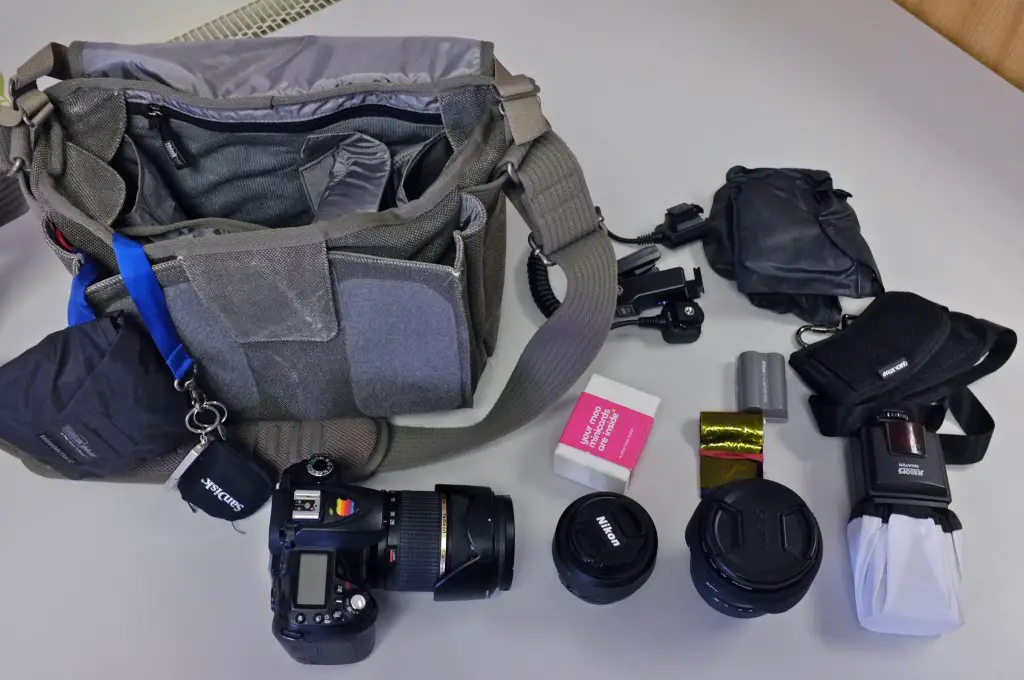 The Nikon hasn't had much use though since I got my lovely Fuji X100 to encourage me into shooting street. This is my everyday, cary everywhere bag and is a recent eBay bargain Billingham Hadley Small.


The Fuji X100 has a HorusBennu Half case, HorusBennu thumb grip, black soft release, black hood, Gordy wrist strap and separate Cam-In neck strap to which Ive attached clips so I can snap it onto and off the Fuji. Im finding http://www.fujixseries.com/ a great community for Fuji X'ers.


Ive recently a acquired from eBay a Yashica Minister III (searching for a Canon Canonet QL 17 at the moment) to try some film photography and that has the X100's neck strap an a Playstation 3 wrist strap. Im shooting black and white at the moment and enjoying the mystery.
Theres also my moo cards, spare batteries, lens cleaner and remote shutter cable.
My website:
http://matthewmaber.com/
Flickr:
http://www.flickr.com/photos/somefool/
Twitter:
https://twitter.com/mattmaber
Thanks
Thanks for sharing your bags Matt, it is great to see such a range of different gear for different purposes. Check out Matt's links and go and follow him on twitter, you know it is a good thing.
Keep them coming folks, we need more submissions, so get your bag on Japancamerahunter.com. Send me a hi resolution image of the bag (please make sure it is horizontal) and its contents, with some details about yourself and what you shoot. Oh and don't forget your contact details (twitter, flickr, tumbler et al). Send the bag shots here.
Cheers
Japancamerahunter