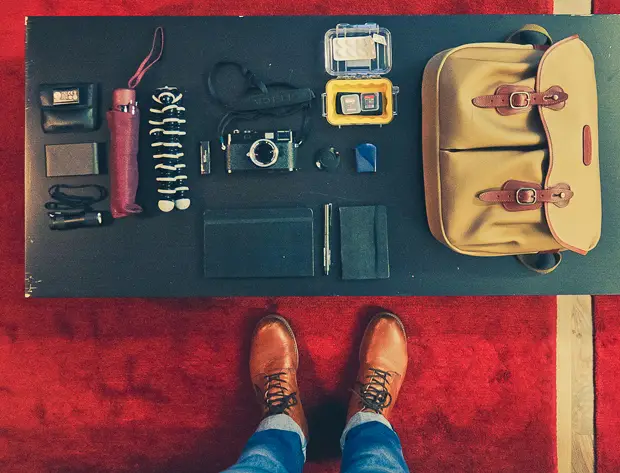 In your bag number 117, Jussi Hellsten
Today we have a super awesome bag. Why is it so awesome I hear you ask? Because it has feet in it! Thats right, you can see Jussi's boots! How cool is that? So, let's let Jussi tell us all bout his bag…

I'm Jussi Hellsten, Helsinki (Finland) based photographer/film editor currently working at a Finnish production company, Pohjantähti-Elokuva. Even though photography in not my main profession, it's where my heart and soul is.
I mainly photograph events like music shows and weddings, but from the beginning of the year 2012 I started a year long project where I photography Helsinki to become more familiar with it. You can find the project here: www.helsinki365.com. Helsinki is not the city I grow up. I've moved there cause of my career. So this is my way to become more familiar with my "new" home town. Also it's my personal test to see, if I'm able to produce photographs on those days, when I don't feel like it.
Because I photography most days of the week, I needed a small camera with superb quality. On assignments I use Canon 5D mark II as my main tool, but I'ts way too big to carry with me always.
So, starting from top left I have extra battery, business cards (to promote my Helsinki365 project), flashlight and umbrella (it's getting lighter cause of the spring, but we have some have showers, either snow or water, up here in north, so these are essential), small Gorillapod, USB memory stick, my main tool Leica M9-P with Zeiss 50mm Sonnar f1.5 (I also have 35mm Zeiss Biogon f2, but that's mostly home), two Moleskin notebooks (one for me, one for meetings with clients), pen, waterproof Peli case where I keep always headache pills, extra memory cards (Sandisk 2x 16GB), earplugs for music gigs and all this I fit inside my Billingham Hadley Large.
That's about it!
Keep shooting folks!
Cheers,
Jussi
Portfolio: zomg.fi
Flickr: flickr.com/photos/jussihellsten
Blog : helsinki365.com
Twitter : twitter.com/jussihellsten
Facebook: facebook.com/jussihellstenphotography
Thanks Jussi for your fantastic bag and your awesome boots. It is lovely to see someone do this, it makes the bag seem more personal. Check out Jussi's links and follow him on twitter.
Keep them coming folks, we need more submissions, so get your bag on Japancamerahunter.com. Send me a hi resolution image of the bag (please make sure it is horizontal) and its contents, with some details about yourself and what you shoot. Oh and don't forget your contact details (twitter, flickr, tumbler et al). Send the bag shots here.
Cheers
Japancamerahunter