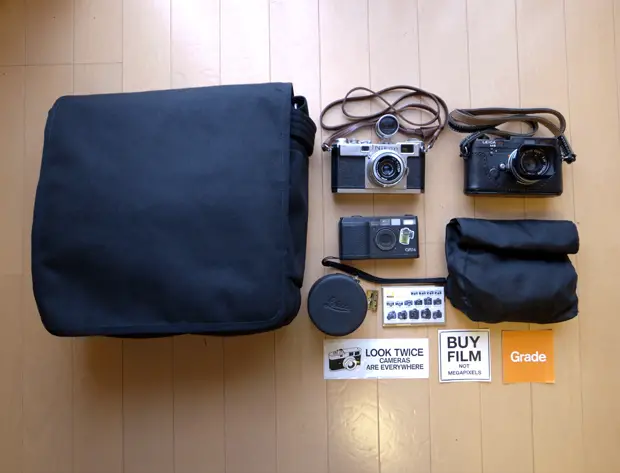 What does JCH carry in his bag?
Well, I post a lot of other peoples bags, but not often do you get the chance to have a look inside my bag. So, this is your chance to see what JCH has been carrying lately.

Hey all, how are you? Well, I don't really think I need to give you a self introduction, you all seem to know a lot about me anyway, and anything you don't makes me more mysterious :)
It was a rainy day and I decided to take a picture of my current bag for you all, because I often get asked what I shoot with. So here you go, here is my current set up. I say current as my bag changes almost daily. I have about 10 camera bags and multiple cameras so I change my setup pretty often.
My current bag:
ThinkTank Retrospective 20 black
I love this bag, it is really well designed and thought out. The bag is inconspicuous and has enough space to hold tons of stuff. Although in my heart I am a Domke man, when I am going somewhere that needs me to be a little dressed up this back covers all of the bases. I would heartily recommend this bag to anyone.
Nikon S2 rangefinder with 3.5cm f/3.5 W-Nikkor-C lens, finder and Luigi strap
I was very lucky to be given this camera as a gift. The original owner did not use the camera and it had been sitting on a shelf for a while. It was dusty and dirty. I gave it a clean up and polish and it came out as good as new. The movements are perfect and the lens is stunning. The 3.5cm lens is one of the earliest available for Nikon rangefinders and is a very simple 4 element 3 group design. I have been experimenting with colour film with this lens and it gives stunning old world effects whilst remaining very sharp. I am having a great deal of fun with this camera.
Leica M6 with 35mm Chrome Summicron f/2 ASPH lens, Ginichi Coco leather case, Map original strap and Ginichi soft release
This is my baby. My M6 was completely rebuilt by one of the best private repair men in Tokyo. It is smoother than you could imagine. The lens is pretty much the perfect lens in my opinion. It is so sharp and constantly blows me away when I look at negatives. The case and the soft release come from the company that I used to work for, and for me add a beautiful classic look to the camera.
Ricoh GR1s
I love this compact and I always keep one around. This particular camera was one that I bought for a customer but I found that it was not acceptable to sell with good conscience, it is beaten and battered and the motor is on the way out, but when it goes I will get it repaired and keep it. A great camera to have in your bag.
The black bag
In this bag you will find all kinds of wonders. Actually you will find a cleaning cloth, a duster, rolls of neopan and a small pocketknife (screwdrivers can be very helpful).
Leica Case
This is the case for the Summicron, but I use it to keep the MS Optical Perar 28mm lens that I have with me at all times. I love this little lens and I am having a lot of fun using it.
Nikon card case
Back when I worked in the industry I was very lucky to get some pretty cool gifts, and one of them was this. A card case from Nikon showing a series of cameras from 1950 to 2008. I keep my JCH cards in here.
Gradeselect stickers
I love the Gradeselect stickers and I carry some with me all the time to give to people or to stick on things that I think are in need of a good sticker. You can get yours by going to gradeselect.
That is the bag I have been carrying recently, but it often changes. Some people have asked me why there are no film cases in there. I only carry them when I am going somewhere that I know will require a lot of film. Usually I only shoot the rolls that are in the camera and carry a couple of spares.
Thanks for looking and thanks for your support. JCH is getting bigger and it is all because of you. Please don't hesitate to ask me questions and leave comments, it is good for your camera karma.
Would you like to see your bag on Japancamerahunter.com? Send me a hi resolution image of the bag (please make sure it is horizontal) and its contents, with some details about yourself and what you shoot. Oh and don't forget your contact details (twitter, flickr, tumbler et al). Send the bag shots here.
Cheers
Japancamerahunter