Get Featured: Francois Nadeau
Thoughtful street photography from one of our regular bag contributors. Come and have a look.

My name is François Nadeau and i'm a photographer and a music composer (tv, documentary,etc) from Montreal, Quebec. I love photography and I have been doing it since my childhood. Very young my parents gave me a camera. During my teens, I had a darkroom at home. My favorite readings was going thru the National Geographic and looking at those beautiful pictures. Photographer Steve McCurry had a huge influence on me.
After stopping for a numbers of years to concentrate on my music  career, I have come back to my first love lately in my life. Right now, it is my main objective and passion. I do commercial work, live concerts and doing some international assignments. I love cameras. I have tons of them!! Digital and film. My fridge is full of all kind of films.
I shoot mostly digital for my commercial works as well as for landscape, macro, etc. Main camera is a Canon 5D MIII. But i love shooting film especially for street photography. I usually go around with a digital , either a Olympus O EM1 or a Fuji x20, and a film camera. Depends on how i feel that day, i can take with me my Canon A1, Nikon FM2 or something like my Olympus XA2 or Yashica Electro 35. In the morning,  It's more difficult for me to choose which camera i'm gonna take than choosing socks!
I'm mostly a outdoor guy. And we have a lot of that in Quebec. I would rather spend my time in nature. But I live in the city for work and I do love street photography. Everyday, I am fascinated to see all those people living in what I call the Human Zoo.
For me, street photography is pretty much a sociological work. What's fascinating is how and why have we chosen to live in this agressive environment, of glass and steel. Trying to hide from the sun and fresh air. Do we really like to hide ourself underground? And being that close together? Yet, there is so much solitude. I have discover, while i was taking pictures, that most of the people in it seems to be lonely and just lost in all this. I cannot imagine those images in colors. But somehow, you can find beauty and this is a ongoing project for me.
Thanks Bellamy to letting me share my passion.
Links:
http://aminumerique.com/
http://www.facebook.com/aminumerique
http://twitter.com/AmiNumerique
http://www.flickr.com/photos/mister_digitum/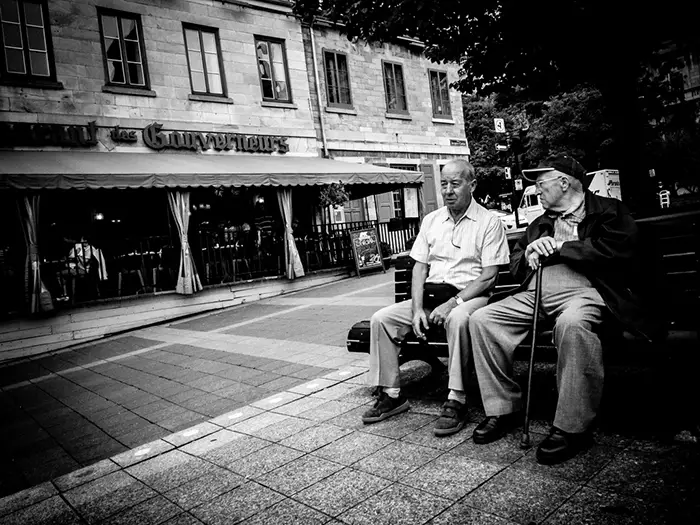 Come on, share with us what you have and get yourself featured.
Click on this link and send in your project/work: Get Featured. *I am looking for mainly projects, not individual images*
Oh, and click here to see a few of the photographers that have been on the site before https://www.japancamerahunter.com/?s=featured
Thanks for sharing your work with us Francois.
Please make sure you come and comment. Polite and constructive critique is welcome, offensive and disrespectful comments will be removed.
Thanks
JCH