Get Featured: Duran Levinson
David shares with us his band photography. And for some of us who grew up in the 90's in the UK, there might be some familiar faces.

All of these images are related in that they were all taken last Friday night (a few months back now) within about 3 hours of each other. I was photographing a band called the Happy Mondays in Manchester. Maybe you've heard of them? They're from Manchester and so am I.
Although i am fairly new to photography ( i started in April 2013 ) i have spent years pouring over rock'n'roll photographs in books and somehow those images are permanently etched in my mind.
I am a guitar player and i taught myself during the mid 1970's. Part of this involved studying endless photographs by the likes of Ethan Russell and Gered Mankowitz who were the main photographers for the Beatles and the Rolling Stones.
Somehow, subconsciously those images are locked in my memory and i know all the elements that make up these shots.
After much trial and error I have finally mastered the live situation photography. It is very challenging in that you can't use flash ( not that i would want to ) and the lighting is often poor and unpredictable and the subjects are usually constantly on the move.
The Happy Mondays especially are a very mobile band. There is always a lot of movement on the stage.
The pictures i have chosen all capture various stages of the evening and some of the people involved.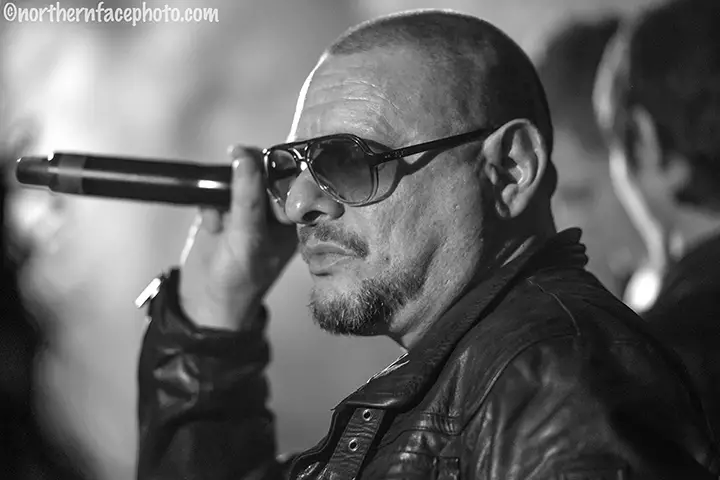 This Shaun Ryder the lead singer. It's hard to catch him with the mic away from his face so i had to be patient. Very shallow DOF also in low light means accuracy is a must. He was always surrounded by dry ice which didn't look great.

This is Bez, Shaun's sidekick and the bands dancer. He's always on the move. I used continuous focus to keep track of him.

This is one of the guys from a support band. He didn't pose this and just sat down in the chair and wasn't aware of the t shirt behind him. I focused and then shouted his name just prior to pulling the trigger so it is quite natural.

This guy is a local quite famous skateboarder and he's got a great look. I got him into the corridor outside the dressing room. I think he knows how to have his photo taken.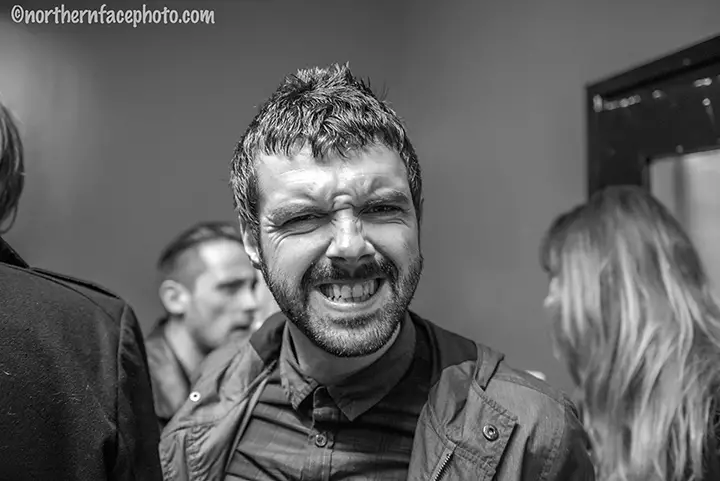 This guy is from another support band. He's a wild character. I just pointed at him knowing i'd get some sort of reaction.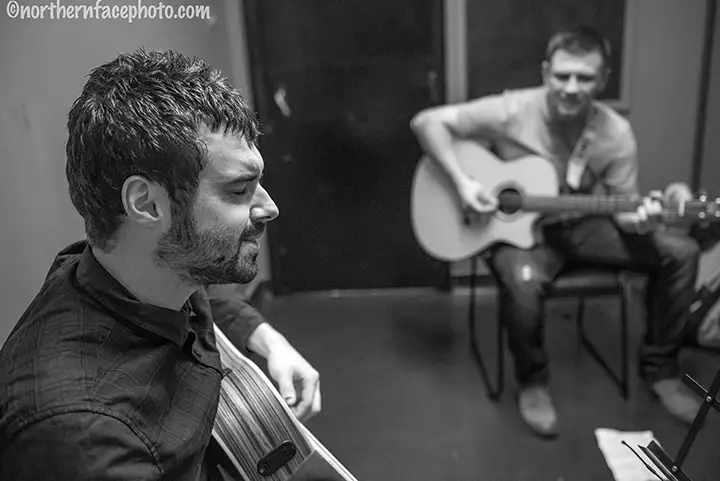 One of the supports rehearsing in another room. I've seen thousands of these shots in books so maybe this is just my interpretation of those but it works for me.

The concert promoter with the weight of the evening on his shoulders. Maybe a cliche mirror shot but i like it.

Support band. I grabbed them into the corridor and directed them. I really like the DOF and the way that the main guy is sharp and the others aren't.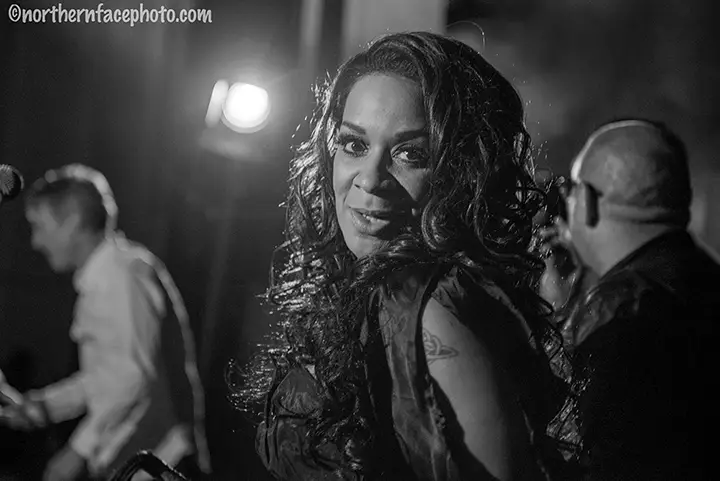 This Rowetta the bands girl singer. Again i like the DOF with her sharp and two other band members blurred in the back. And her looking right at the camera gives it a good look.

A member of one of the support bands in the dressing room. Again a mirror shot with shallow DOF but a good subject and a good look. Got a bit of a 1950's look to this one. I did set this up and directed him but it has natural look.
You can see more of David's work on his sites:
www.flickr.com/northernfacephoto
http://www.pbase.com/northernfacephoto/street_photography
Thanks for sharing your work with us, David. A blast from the past to see some of those faces, I went to see them in the Black Grape days. I am actually amazed they are still alive. I though Shaun wasn't allowed to sing Happy Mondays songs any more.
Come on, share with us what you have and get yourself featured.
Click on this link and send in your project/work: Get Featured. *I am looking for mainly projects, not individual images*
Oh, and click here to see a few of the photographers that have been on the site before https://www.japancamerahunter.com/?s=featured
Please make sure you come and comment. Polite and constructive critique is welcome, offensive and disrespectful comments will be moderated.
Thanks
JCH