Get Featured: Ben Palmer
Ben shares with us his fascinating work and his thoughts on photography and life. Some very interesting images and definitely some food for thought, Come and check it out.
I'm Ben Palmer. I come from a nondescript and irrelevant suburb of London. I was always stimulated by history and travel, later I realised the photographs themselves were half the appeal.
Like my favourite photographers, I prefer not to talk about myself. I'm often misinterpreted so I avoid conversations concerning what I contribute artistically and whether it's relevant or valid. Despite sometimes containing intended layers and implications, my photos are not conceptual or political as such.
A lot of my life I've unwillingly forgotten or would like to forget, let's say it's been unconventional. With a repressive memory I struggle to process my thoughts and I'm regularly distracted by coincidence, geometry, sociology and other psychological factors. Therefore my threshold for concentration is low and scrutiny makes me uncomfortable. I've been described as lots of things, a Marxist, an Essentialist, but it doesn't matter. Ignorance is bliss, life's already complicated, so I draw the line at having an inclination towards taking photos and I'm contented with it.
Photography is no different from fishing or gambling, for example. Despite the result it's an occupation and sometimes you get a decent souvenir. It can be as simple or technical as one finds rewarding.
I require expression like anyone else.
What's revered as pastimes to others I find mostly underwhelming and pointless but photography helps me to pause and process. It affords me a review of memories I otherwise forget. The framing of an exposure is therapeutic too. When I read that Henri Cartier-Bresson also liked his negatives edge showing (to prove he didn't crop) I was relieved.
Photography, at it's best, can freeze moments of re-affirming human interaction. These make the difference between living vicariously through art and actually participating.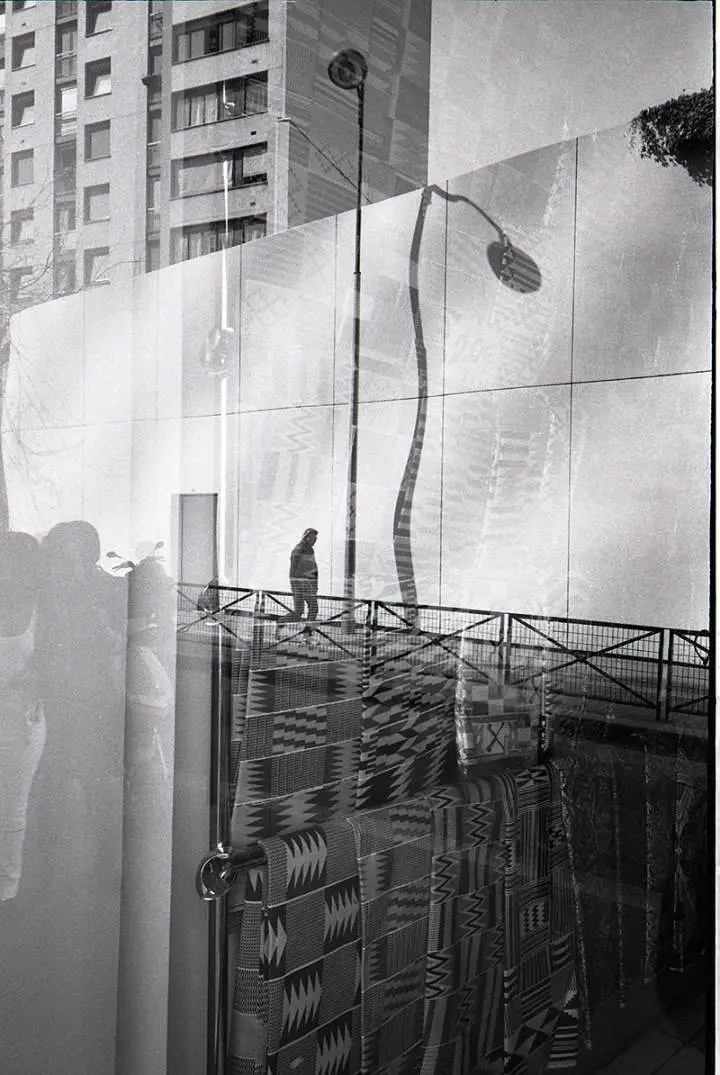 Life is beautiful, tragic and inexplicably odd enough by nature, cinematic in it's own right. Postproduction, for me, is unnecessary and I hope viewers would reward slightly more of their attention knowing a photo hasn't been used as a canvas for painting over. What does it for me most is how a camera can afford an already interesting scene an additional intangible texture. For example the fibrous sheen of fabric shot at night with a flash, the contrasts, double negative patterns.
I enjoy the darkroom because I can claim honest credit for the entire photographic process and wholeheartedly say the photos are mine. If there's a blemish it's not a big deal, I'm not Mario Testino so one shouldn't expect flawless photos.
I don't possess the foresight, nor do I truly understand, the clamour for projects. I shoot what comes my way and am grateful to have been there. I vaguely but rationally categorise later for anyone else who may look, there's no need to lie. I don't object much if someone else wants to convince people I shot for a project. If it's that important to them.
I've used a Canon A-1 and tried many old & new SLRs, a Bolshevic Leica clone, Contax T2, Yashica T5, Ricoh GR1, I always hand them back for my battered Mju2. At the moment I favour a Konica T-4.
I've tried every 35mm film there is, Tri-X is my cuppa Tea -I'm not afraid to emulate the work that got me into photography in the first place.
Many of the places I shot you will recognise. I hope you will find some of my photos self explanatory, amusing and also notice some of their hidden aspects.
Thanks for sharing your work and your thoughts with us, Ben. I think you have eloquently put forward a a way of expressing yourself that is similar to the way I feel about my photography. Great work.
Come on, share with us what you have and get yourself featured.
Click on this link and send in your project/work: Get Featured. *I am looking for mainly projects, not individual images*
Oh, and click here to see a few of the photographers that have been on the site before https://www.japancamerahunter.com/?s=featured
Please make sure you come and comment, polite and constructive critique is welcome.
Thanks
JCH