Film Review: Scotch Chrome 1000
3M's Scotch brand is virtually synonymous with tape so I was a tad surprised to find a little box tucked away in the JCH freezer labeled Scotch Chrome 1000. We've recently moved office so while packing up our knick knacks, I stumbled upon this curious emulsion for the first time. So many questions swirled around the noodle. ISO 1000 slides? Who used this $h!t? Expired since 1995? How should you shoot it now?
A dive into this peculiar film's background unveils quite a tumultuous and pivotal time for photographic film. If Scotch Chrome 1000 piques your curiosity as much as it did mine, scroll on down and learn yourself something about an interesting chapter of film photography history.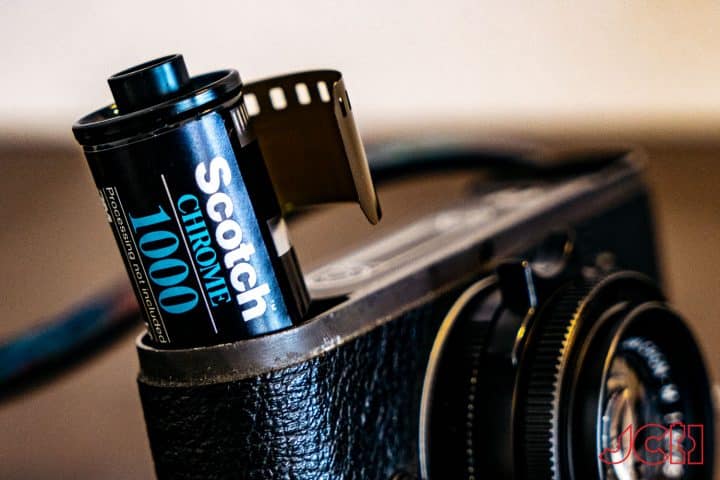 Scotch made film?
3M, the American super company from Minnesota, is arguably most well known for its sub-brand Scotch. As in Scotch tape. Like Xerox for copiers or Google for search, the brand became synonymous with the product and manifested itself into a household name. Based on that, 3M decided to use the Scotch name for film production after acquiring a little film production company called Ferrania.
3M and Ferrania
Ferrania was/is again an Italian filmmaker based in Ferrania (Liguria), Italy founded in 1923. They were producers of photographic film, papers, and photographic equipment, even some cameras. By the 1960s, Ferrania had become a highly respected company and a major presence in Europe with production of cinema products and photographic film for use by consumers and medical professionals alike.
Ferrania's success caught the attentive eye of mega company 3M and in 1964 they acquired Ferrania S.p.A. in a stock purchase valued at $55 million and renamed the company to Ferrania 3M. It was 3M's largest acquisition in its 62 year history.
OG Ferrania produced B&W cine and still films such as the legendary P30 (check our review of it here) but as Ferrania 3M, it pivoted to OEM. They became a significant producer of so called 'private label' consumer color films for both retailers and traditional B&W film producers needing a color film to repackage under their own brand. In other words, they made their name making a name for other names ;) Examples are the Scotch brand , Fortecolor film (Konica), Polaroid, Lomography (CN100), the Boots UK pharmacy chain color films from 1973-2003 and even AgfaPhoto color negative and slide films from 2005-2009. At this point, any trace of Ferrania roots could only be found in the humble "Made in Italy" imprint.
End of an era
The final blow to the Ferrania brand of old came on November 14, 1995, when 3M announced the unprecedented restructuring. The head honchos decided to spin off the data storage and imaging businesses into a new company (Imation) and discontinue its audio and videotape businesses. Film packaging changed once again and placed even more distance between Ferrania and the consumer.
Imation's relationship with Ferrania was short-lived as it only lasted until 1999 when the Italian operations were sold to an investment company. While this allowed for the Ferrania brand to be resurrected, it was already too late. A double pronged attack proved overwhelming. Digital photography had began its Thanos onslaught on film and they lacked the sufficient resources and marketing prowess to take on the big four of Kodak, Fuji, Agfa and Ilford.
However, reflecting on the positives, the Ferrania 3M years are remembered by those who worked there as being full of great professional opportunities. 3M fast-tracked the L.R.F. building to allow for extensive research and development, and provided high-quality training and other programs for their new Italian crew as well as upgrading the machinery and processes of the original factory.
As a result, they produced the world's fastest daylight-balanced color transparency film in 1983, Scotch Chrome 1000 – a milestone that was never surpassed.
Scotch Chrome 1000 in professional use
Advertisement photographer extraordinaire Jody Dole was a prominent proponent of Scotch Chrome 1000. "I was using grainy film, the cheapest I could find," Dole reflects. The unique graininess, and how he photographed a vodka bottle and glass, plus "total dumb luck," landed him a $90 million Smirnoff advertising account. "That really launched my career," Dole said.
Below are some samples from Dole and other photographers as well as some words on their choice of going with Scotch Chrome 1000 taken from the pages of a 90's Pop Photo magazine. According to Dole, Scotch Chrome 1000 is the "only slide film that you can push without gaining contrast or undesirable color shifts."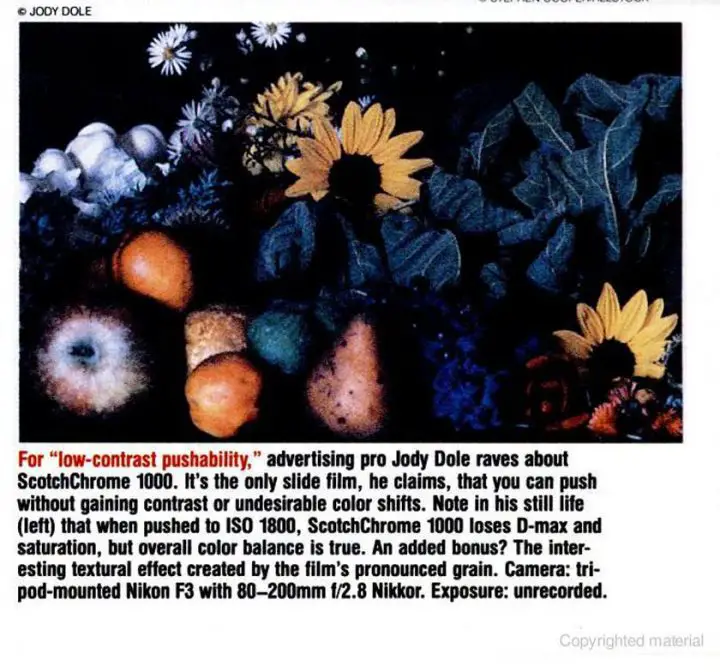 A closer look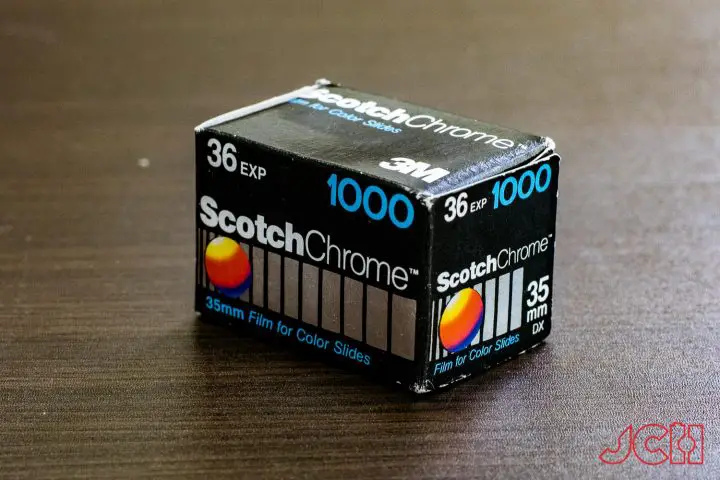 I love the packaging design. The black box with the color choices all work for me and that blocky 90's look is cool. I'm also a sucker for metallic foil labeling on boxes.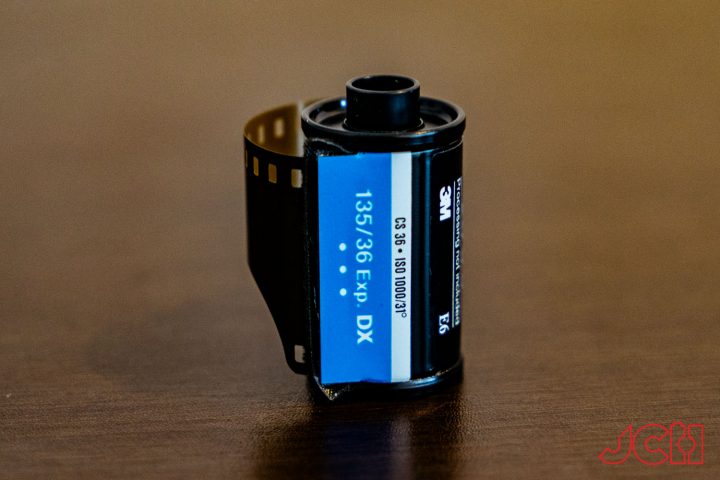 The canister too is simple but cool and complements the outside box perfectly. Color is understatedly used for vital information and text is spaced out efficiently and easy to read.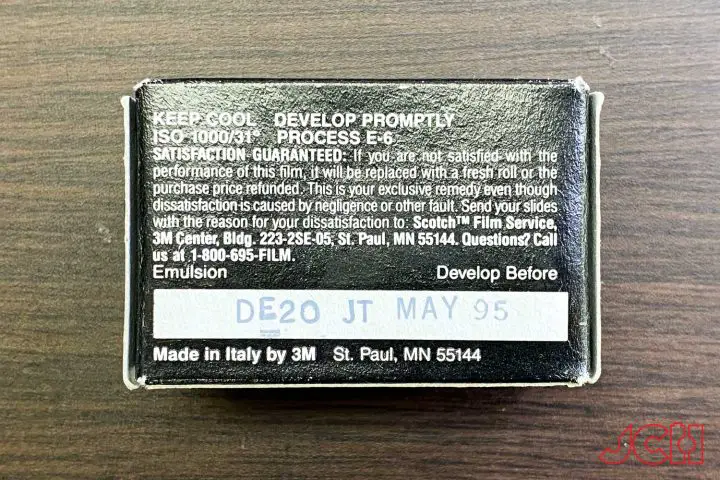 As this roll has been expired for over 15 years, I knew there was probably no way I could shoot it like Dole pushed or even at box speed. While it is known to have been in a freezer for the last 5 years while we had it, we have no idea of how it was kept before that. The rule of thumb for shooting expired film is adjusting a stop for every decade, but I decided to just go with a gut feeling and try giving it a go at 640.
Scotch Chrome 1000 Sample Images
The following images were shot at ISO640 with a Leica M6 and 35mm Summicron v4. Lab developed at Photo Ueno and scanned on a Plustek Opticfilm 8200i.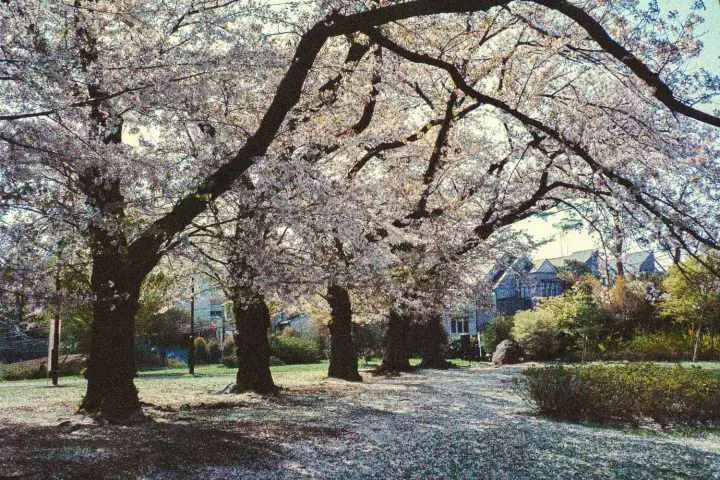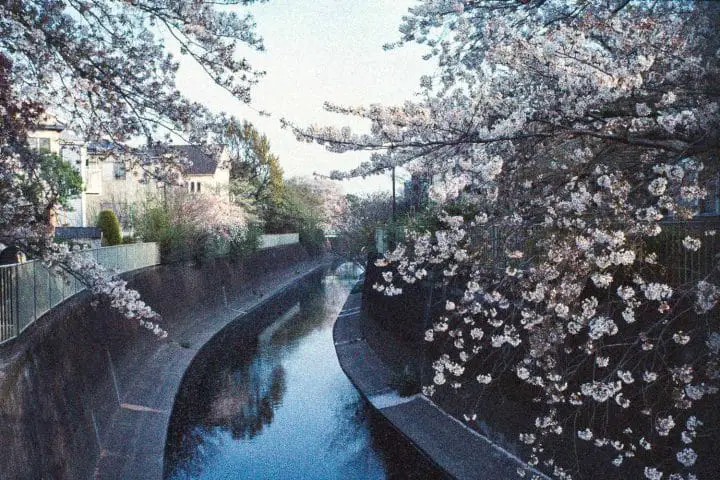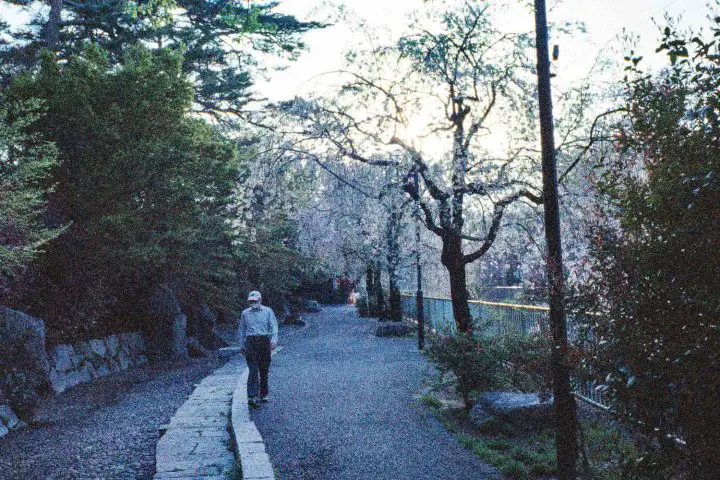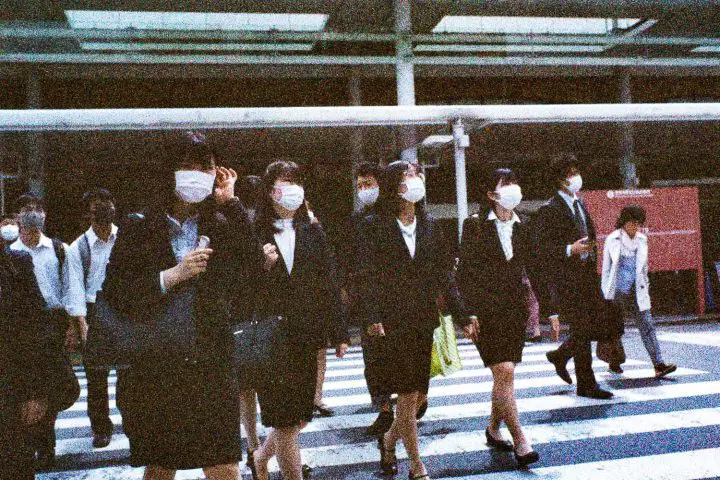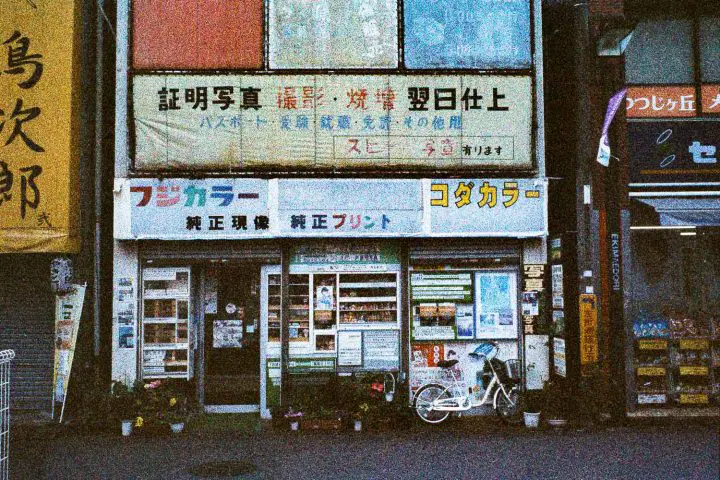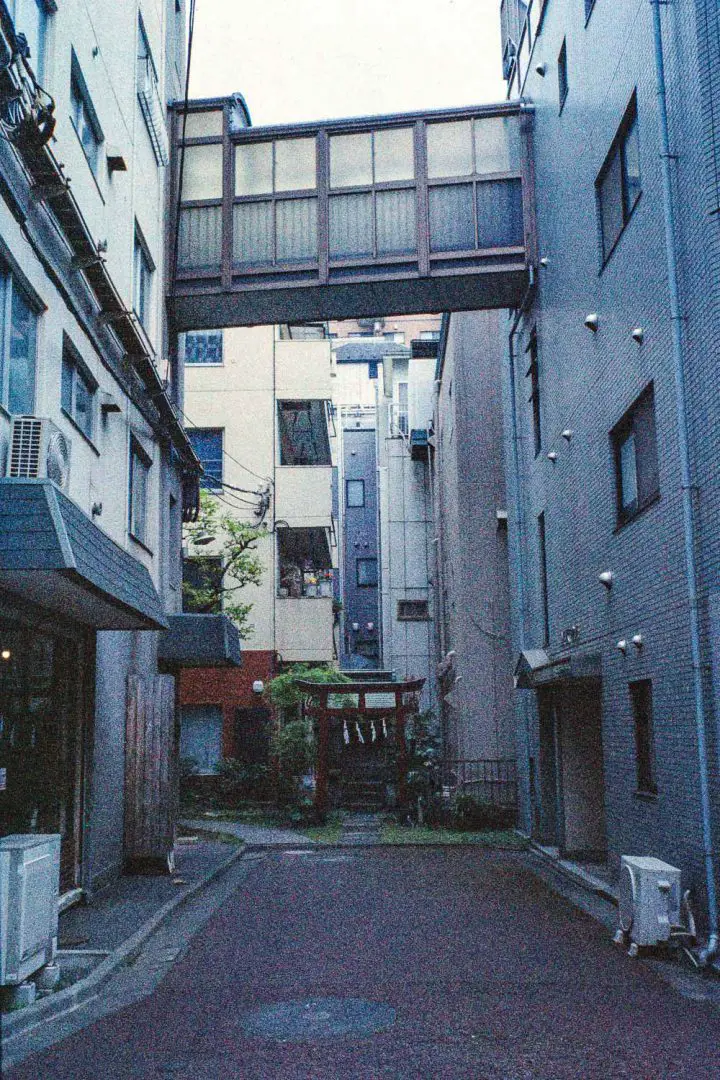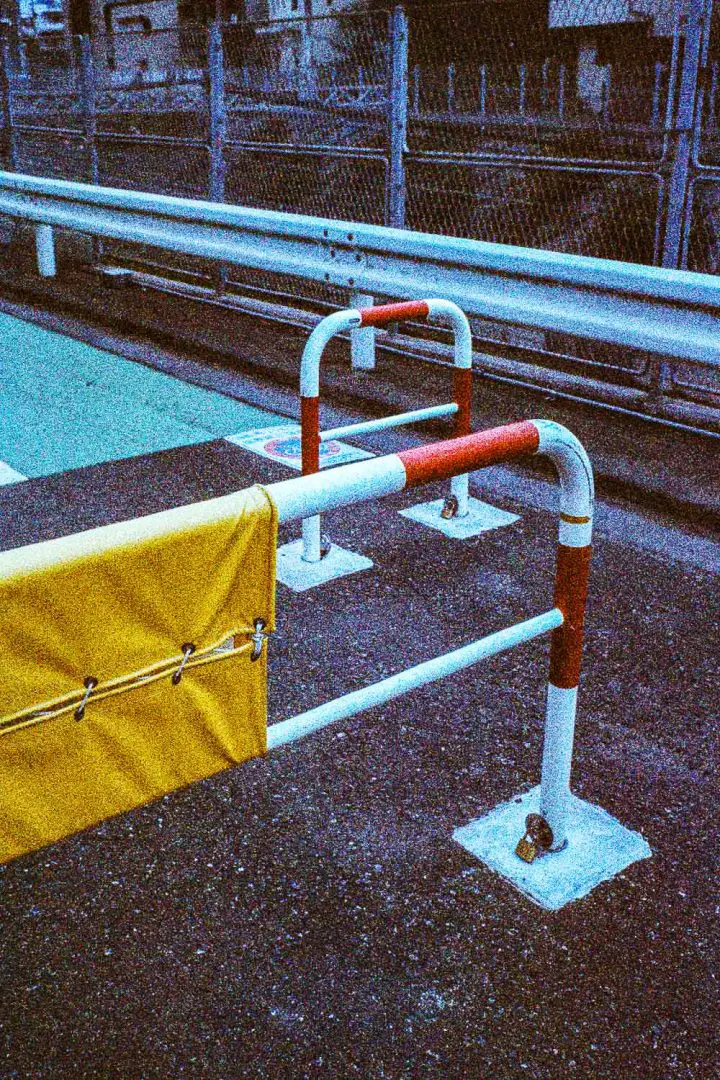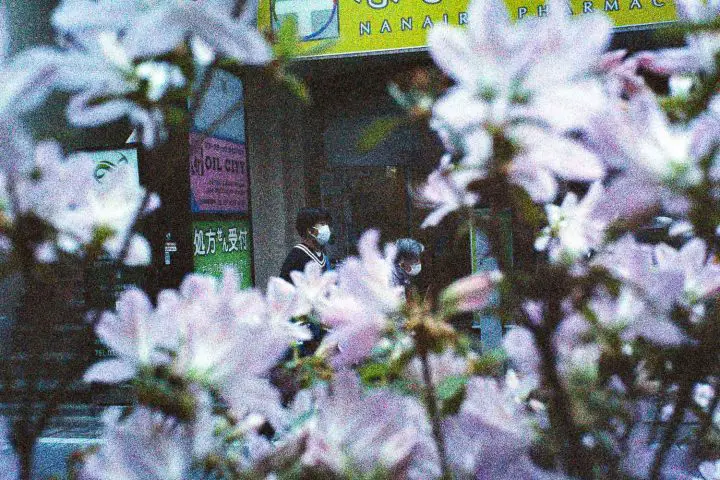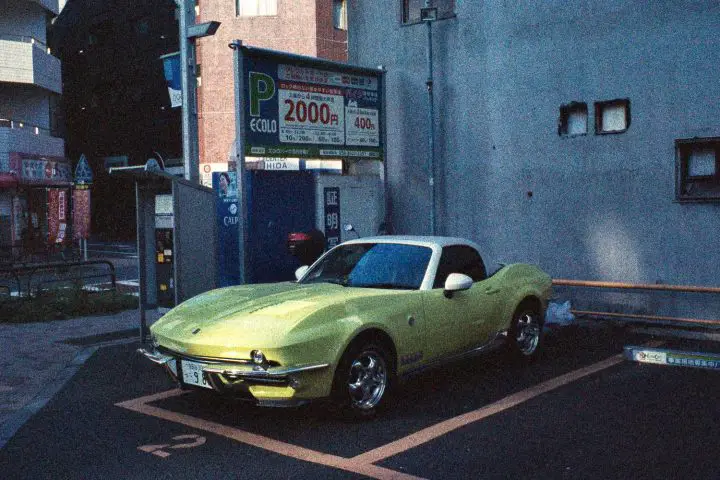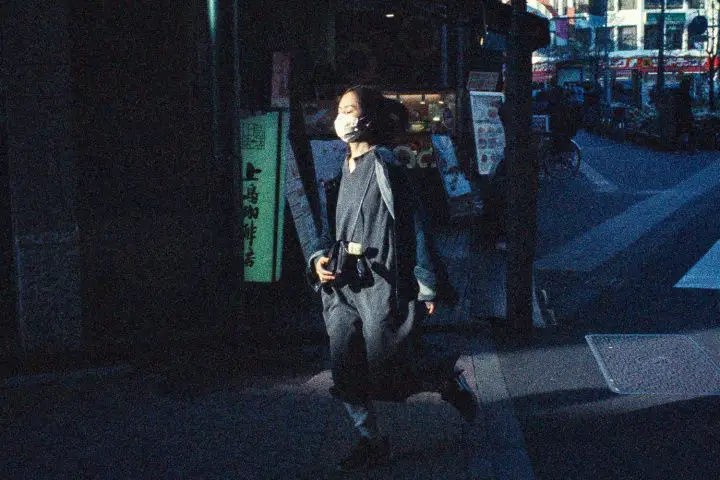 Thoughts
So yeah, the film is indeed very grainy. Shooting it at ISO 640 even displays the pronounced grain structure. From these results, its quite hard to imagine how they used to push this to 4000.
The color temperature is on the cool despite being a daylight film. This can also be attributed to simple entropy or unknown exposure to temperature changes over the years. Nevertheless you do get a glimpse of what the film was capable of in its glory days, especially when the exposure is spot in good light. But like the ex-POTUS, tolerant it is not. Shadows are easily muddled and performance in flat lighting is underwhelming at best.
The pronounced grain is unique and the somewhat dated color tone can be applied to creative uses but for most I imagine Scotch Chrome 1000 is just not worth a bother today. There really is no need for it to be a slide film. I do wish I could have shot it back in the day though to see how it truly performs. That being said, it was an an educational journey and and interesting taste test of some history.
What are your experiences with Scotch Chrome films? Would you shoot it if it was around today? Let us know your thoughts below.
MN