Film News: Safelight Berlin New Store
I am in great admiration for the folks out there who are passionate enough about film photography that they are prepared to open a store. Especially when it is a store as cool as
Safelight Berlin
. The peeps over at Safelight have found a bit of a cult following due to their style and passion. Enough so that they have had to move to a larger premises, which looks absolutely amazing.  So I thought I would get the lowdown from Alessandro and Chris on what has been going on.
New location
We moved mainly because the previous store was too small and in spring we had already moved the lab to a new location. After a couple of months we realized that it was not the best solution to have a store and laboratory in two separate places, both for communication and logistics. So we decided to go big and move everything to a bigger place and, if possible closer to where we live.
New Frontier
The new location is structured so as to have a front part of the store, bookshop and gallery for, when possible, exhibitions and parties. The laboratory consists of a Frontier mini lab FP363SC AL, 3 Frontier SP3000 and one SP500 and two different printers, one for basic prints and the other one for professional ones. Slightly more hidden and closer to the office area there is also the darkroom for everything related to black and white.
The Future
Regarding the plans for the future at the moment is all a bit in doubt as the more social part, such as organizing events, launch for books and zine, it's blocked by the covid19 regulations (let's all hope that changes soon).
We tried to move away from the concept of being an analogue photography shop/lab with "vintage" references and in the direction to become more of a brand and use this in advantage for possible collaborations with other brands and reality, focusing on the younger generation to become part of the analogue community.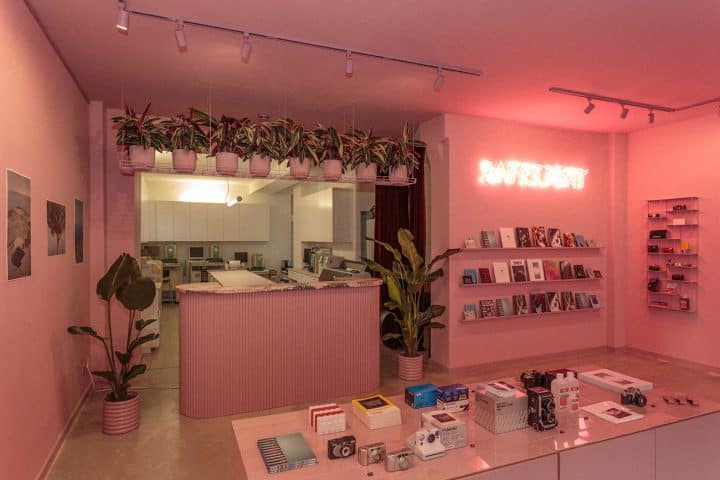 If you are in Berlin and you are allowed to go out, please make sure you check out the store and show your support. It is great to see people following their dreams, especially in these trying times.
Safelight Berlin
Not to be reproduced or copied without permission.
Do you want your store featured on the site? Reach out to me by
clicking this link
and I can share your store with the world.
JCH