Film News: Cinestill to the rescue with new powder chemistry
The photographic film industry has been feeling negative (hehe) on the heels of the drama surrounding Tetenal but great news arrives for lovers of home developing. CineStill has swooped to the rescue and launched new powdered versions of its color and b&w film development kits. Both the DF96 developer/fix monobath for b&w and Cs41 2-bath kits for color are now available in powder form.
So what?
Unlike liquid chemicals, which limit shipping options due to weight and hazardous materials restrictions, powdered chemistry isn't nearly as a PITA. Usual color chemistry is classified as "Limited Quantity Hazardous" (ORM-D) and can only be shipped via Ground within the Continental United States due to DOT regulations. Not anymore, CineStill's new powder kits lay flat and can be airmailed internationally in First Class and Priority mail envelopes!
In addition to saving up to 60-75% on shipping costs, you'd save some money on the powder kits themselves ($1 off the $26 Cs41 kit and $3 off the $20 DF96 kit). Anything here not to like?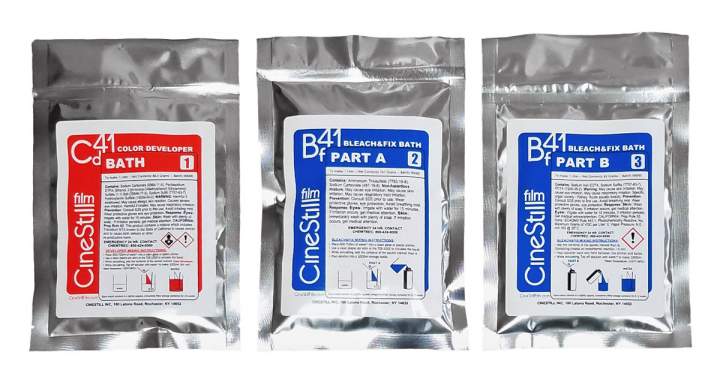 The chemicals, once mixed according to the instructions, are identical to their liquid counterparts. The kits have an indefinite shelf-life according to CineStill, until mixed, after which the chemicals should be good for up to a year in a sealed bottle. The Df96 development kit is rated for use with 16 rolls of monochrome film while the Cs41 development kit is rated for 24 rolls of color film.
With future supply from Tetenal unsure, this is welcome news and it's great to see a company take charge and some risks to launch a niche yet necessary market item. Bravo! Looking forward to testing it out!
MN
For more details, the following is directly from Cinestill's press release:
Cs41 "Color Simplified" 2-Bath Powder
If you already process your own black and white film, with this kit, there is no reason not to process C-41 color negative film at home as well! It is specially formulated without compromise for modern color films, not requiring a stabilizer bath. Modern emulsions have built-in "stabilizers" and hardeners that are released through this simplified 2-bath process. You can have beautifully developed, bleached and fixed color negatives, ready to scan or print. All you need is water, a thermometer and any simple tank and reel system!

For processing any color negative (C-41) film
Ships without Limited Quantity Hazardous (ORM-D) regulations
3 easy to mix powder parts to make 1 liter of Developer and Bleach&Fix
2 bath kit (just like most black and white processing)
No special processor needed (use standard processing tanks and reels)
Flexible processing temperatures
Instructions for processing and Push/Pull processing included
Reusable for up to 24 rolls of film
Long lasting shelf life
Fully archival
Affordable!
Df96 "Developer&Fix" Monobath Powder
Processes 16+ rolls in an all-in-one chemical, akin to D96 motion picture developer but with no need for any other chemicals. Perfect for processing CineStill BwXX along with any other black & white film. No special charts, timers or apps needed! Just a processing tank and water. Foolproof self-completing process that guarantees motion picture quality, the smoothest grain structure and crisp tonal curve. Flexible processing in 3-6 minutes at any room temperature (70-80F). Just wash with water and hang to dry. No more complicated measurements or strict margins to deal with. Process all your black and white films in one chemical with absolutely wonderful results!
Processing for traditional B&W film in 1 bath
Lightweight and chemical transport is not regulated
Room temperature processing methods for 68-82°F (20-28°C)
Temp tolerance is +/-2°F (1°C)
Worlds fastest process at 80°F (27°C) in just 3min!
Push/Pull processing by adjusting temp. +/- 10°F (6°C)
Reusable, all-in-one solution.
Processes over 16+ rolls of film
Extremely versatile self-completing process
No special processor needed (use standard processing tanks and reels)
Fully archival
Odor-free
Economical!