Featured Photographer, Maciej Dakowicz
I am delighted to be able to share with you the work of Maciej Dakowicz. Maciej has become a well known street photographer, mainly for his 'Cardiff after dark' piece. But there is more to Maciej than just this piece of work, come and read about this PhD graduate who quit the 9 to 5 to follow his dream.

First of all, welcome to JCH, please tell us about yourself
My name is Maciej. People often ask me how to pronounce it. So it is pronounced "Maatzey" or "M-ah-ch-ey". My nickname is Maciek, pronounced "Maatziek". Most of my non-Polish friends end up calling me Magic. In English Maciej = Matthias.
I am a Polish photographer based in London currently, although I am thinking about a longer stay in India very soon. I have visited India 11 times already and I like being there a lot. Before photography I worked at universities in Hong Kong and Wales. I got a PhD in computer science in 2010 – right after that I left academic life to focus on photography.
Recently your 'Cardiff after dark' piece has garnered a lot of attention. Can you tell us how this work came about?
I moved to Cardiff in 2004 – I followed my professor from Hong Kong to Wales to continue working for him as his research assistant. Soon I discovered the vibrant weekend night life of the city and simply started photographying it. I kept doing that until I left Wales in 2011. I was sharing my photos on various internet photo sharing websites and slowly they were getting more and more attention, leading to first publications, photography competiton awards, "scandals" in some British tabloids, invitations to photo festivals, the Street Photography Now book and finally the Cardiff After Dark monograph.
What made you decide to make the break into being a full time photographer?
My photographs were getting more and more popular and simultaneously I was getting more and more frustrated with my university job, as all I could think of was photography. In the end I had to decide – university or photography, as I could not do both well.
So I chose photography and it's been almost 4 years since I have been trying to make a living as a photographer, with various levels of success. It would be good to have a steady source of income, as there are months when my earnings are minimal or non-existent, but I cannot imagine myself working in an office anymore, I love my freedom very much. But I have to look to myself for sources of financing my living and photography.
I have been organising photography workshops in distant locations, which I also call photo trips, or photo adventures. Recently they have became an important part of my life. I have my own formula for them – I simply make sure all participants bring back home great photos. They are also longer than all other workshops and intended for smaller groups, usually of 3-4 participants. Everybody becomes a better photographer and most of the participants want to go on another workshop with me again. And they do.
What is the biggest challenge you currently face with your photography?
I think the biggest challenge for me is working on new projects and finding a subject as interesting as the city of Cardiff after dark. I do not have much time for producing new work when I am not travelling – organising my workshops is very time consuming. The editing of the photos from my trips and various Internet activites take a lot of time too, so there is little left to take the camera and go out to shoot. Thus most of my photography is done while travelling, recently mostly with my workshop students. I love doing my workshops, but running them limits my freedom as a photographer, because I focus on the development of my students, so with them I mostly shoot single travel and street images.
However, I keep on returning to the same locations, gathering more and more images from the same places and slowy turning them into stories. I also have a set of themes I work on and always look for new images to expand them. I think once I stay longer in one place that excites me more than London I will start looking for photographic projects there.
How would you describe your work now? Would you say it is a reflection of your character?
My work now is very much influenced by street photography. Even when I work on editorial projects I usually manage to sneak in a street shot or two, as they can be a great addition to the feature. It is hard to say if my work reflects my character, I wouldn't know, those who know me could maybe help me with this question.
Where would you like to see your photography develop in the future?
I like what I am doing now, I like travelling and I like street photography, I like my freedom and like shooting what I want to, without any directives or constraints. But I hope to do more on editorial work in the future, find some more personal projects too.
What are your thoughts on the current state of street photography? And how do you see it evolving in the future?'
It seems like street photography is very popular now and so many people try it. It is great, but it seems the main audience for street photographers are other street photographers. The street photographers should go beyond a single perfect image and start using their skills and images to tell stories, work on projects, break into the editorial world, get their work seen by people who are not photographers.
Also there is quite a lot bad street photography around and the "street photography" term is overused. There are quite a few people writing articles or even books about it knowing little about the genre. Unfortunatelly they gather a lot of praise and attention from amateur photographers and enthusiasts, who are later inspired by these poor examples. A photo taken on the street is not automatically a street photograph, it needs a twist. Some people don't get it. So I hope they learn and start talking about proper street photography. Or maybe even start doing it.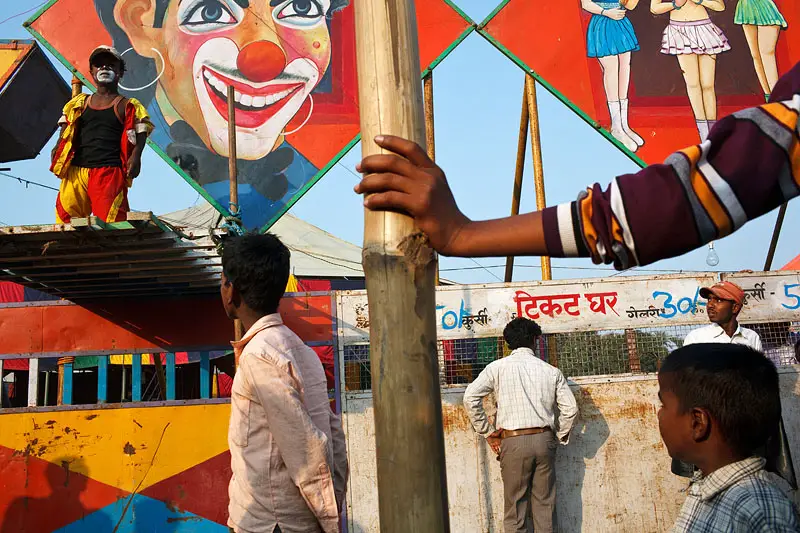 Do you have any upcoming projects or new pieces that you would like to share with the readers of JCH?
I have been working for three years in a row on Sonepur Mela – a large rural fair in India, one of the largest cattle fairs in Asia which starts as a religious festival and soon turns into a big trade fair and amusement park. I discovered this mela in 2010 – I went there with my workshop participants for a couple of days and we all loved the experience. Then I returned there with two other workshops in 2011 and 2012 and will return again in November this year with another workshop. I have accumulated a quite large body of work on this event and I hope for a nice publication for it at some point.
Any other words for the readers?
Keep on shooting and buy photography books. Start buying them if you have not started yet. They are a great source of inspiration and every person serious about photography should have a nice library of photo books. They are also a great investment – a lot of photo books become very valuable once the print run is sold out. Very often you can find really affordable deals on the Internet, keep on looking. But they are very addicitve – once you start buying them you cannot stop. Enjoy!
Check out Maciej's site and social media:
Website
Facebook
Twitter
Many thanks to Maciej for sharing his work and his thoughts with us. I am in total agreement with him in regards to street photography. It is not about one single image any longer, it has to evolve. I think this is an effect of social media where we need to have instant confirmation of what we are doing, instant gratification. Working on a larger project as a whole is going to benefit the street photography scene and bring non-photographers to understand what street photography really is really all about.
Oh and books, buy more books. Buy lots and lots of books.
Please check out the links and make sure you come and comment.
Please remember that the images are reproduced with the kind permission of Maciej Dakowicz and may not be used or reproduced without permission