Featured Photographer – Eliot Dudik
A while back I was introduced to Eliot by the lovely people at the Phoblographer, and I am very thankful for that. Eliot captures ghostly images of civil war re-enactments. Using a large format film camera. Come and check out his work.

First of all, welcome to JCH, please tell us about yourself
Thank you, it's a great pleasure to be included on JCH!  I am an artist/educator currently based in Columbia, South Carolina, USA and teach photography in the Art Department at the University of South Carolina.  I am insanely addicted to collecting things, which is certainly one of the initial driving forces behind my obsession with photography.  These days, my collecting focuses mostly on photobooks, photographs of all sorts and vintages, and cameras.  I play darts as if my life depended on it.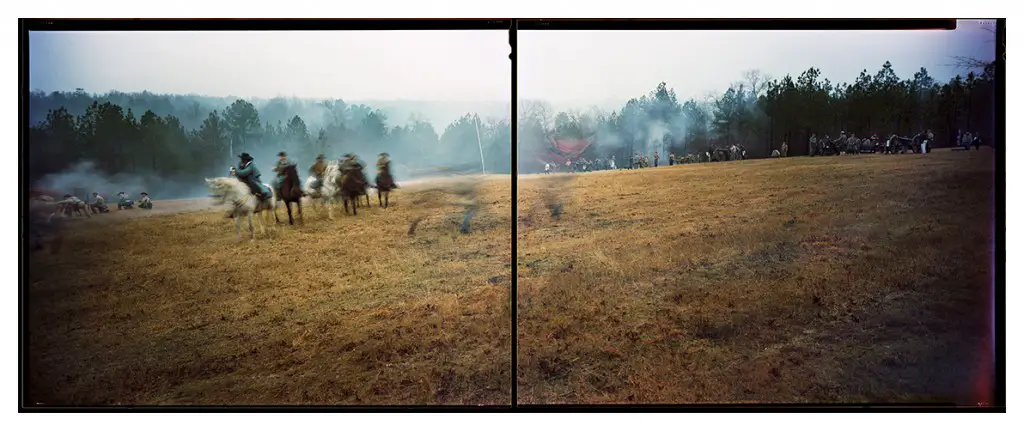 So, tell us about your Civil War Battlefields work. How did this come about? 
The lingering sentiments of the American Civil War are hard to evade in the southern United States.  I was struck by the constant discussion on the topic when I moved to South Carolina (the origin of the War) a decade ago.  I became interested in the differing perceptions people have of the War, not only the views of those in the North and South, but also of those totally beyond the conflict zone.  The large battlefield photographs became an investigation into how we perceive the War through its landscape.  Further, when surrounded by these landscapes, and considering the political climate of the Civil War era, I cannot help but relate it to the current polar political absurdities of the United States.  As these periods converge in my mind, the haunting landscapes of the past seem to foreshadow future conflict.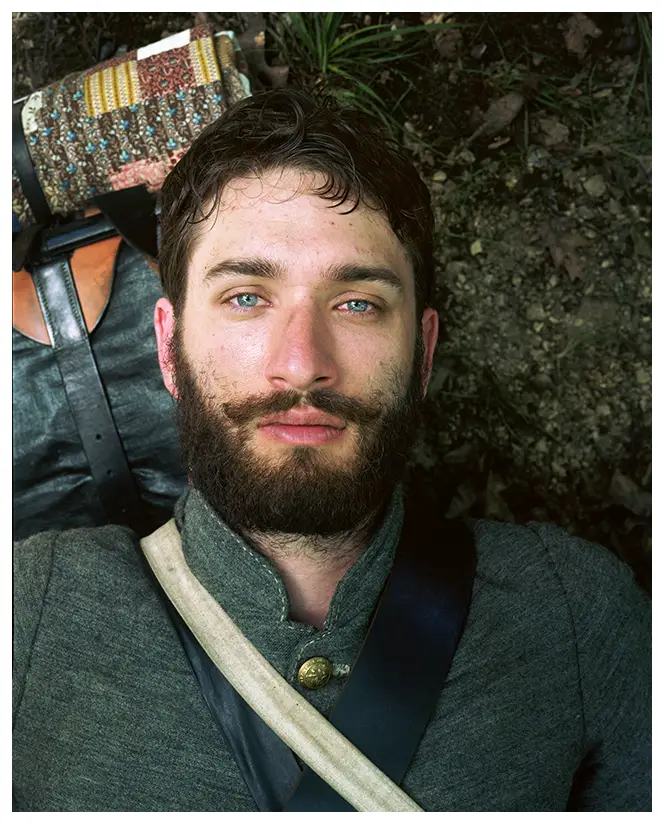 Another series of images arose as I started photographing the battlefields and attending the reenactments.  I became interested in the continual perpetuation of the War through staged performing, and thus began a portrait component that captures replica soldiers as they float above the field of battle.  Captioned with how many times the soldier has died lends to a sense of the impact this War has had on American culture 150 years after its conclusion.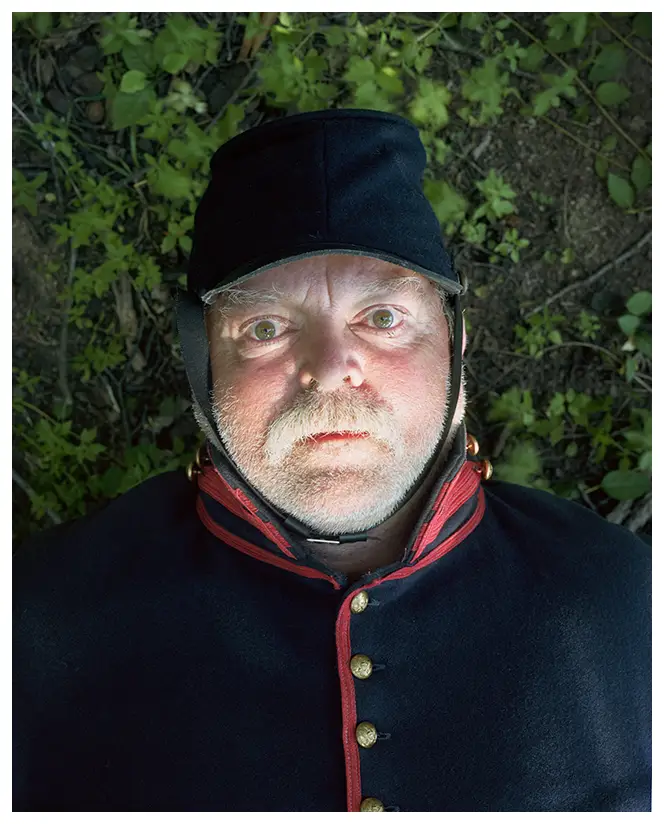 From what I understand you shoot all of this on 8×10 film. Why this medium? 
I have not yet encountered anything that can retain the kind of detail that is possible with a large sheet of film, a view camera, and a drum scanner, not that I am searching that hard because I love using this combination for capture.  Detail is certainly essential, but equally important to me is the drawn out and methodical process of the view camera.  I will never tire of the illuminated projection on the ground glass that allows for extraordinary precision.
Of course, this process isn't for everyone, it's not for most people, but it's what makes my heart pound.  The large panoramic landscape images in this series are actually made with two sheets of 8×10 film, exposed simultaneously within a hundred year old 8×20 Korona view camera.  The portraits are made with a 4×5 view camera.
What is the biggest challenge you currently face with your photography?
Time.  I am always in a constant struggle with the clock and calendar.  It's a balancing act between a relatively new teaching career and producing/promoting artwork.  I wouldn't give up either, but I certainly look forward to the day I can spend more time focusing on research and production.  Until then, I'll just keep working on filling out my head of gray hairs.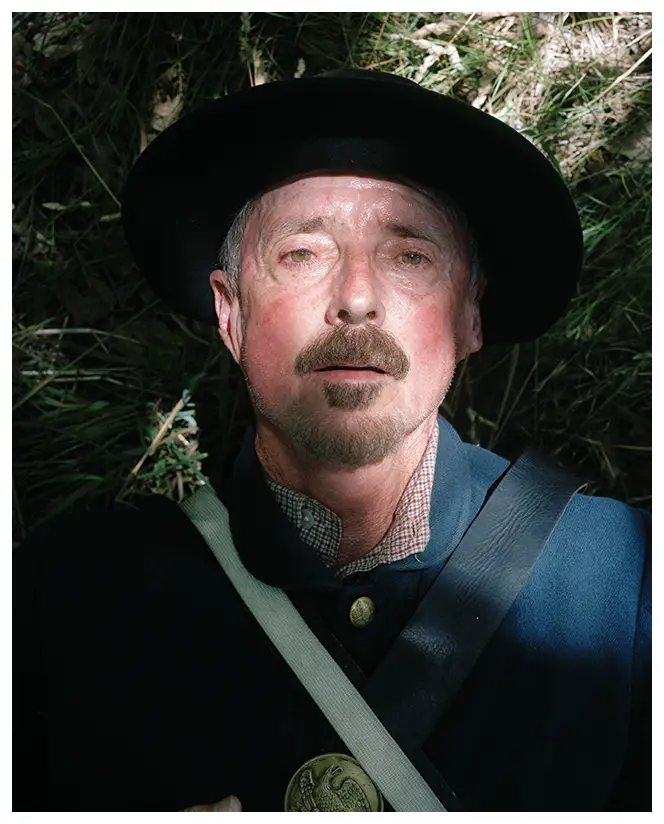 The portraits you shoot are haunting. How did you come up with this technique? 
Like many good ideas, it shot me out of bed one night as I just began to fall asleep.  I'm not sure exactly how it came to me, I think I had just started to dream about it, but woke before the dream could begin, and I knew instantly it was exactly what I was looking for.  As I mentioned above, I am interested in the idea of repeatedly arriving at battlefields to die.  I love the idea of being in command of your own death, determining when, where, and how you will die, and practicing and re-performing your own demise.  Portraits of these men and women, with the landscape they fight upon as their backdrop, seemed logical to me.
Where would you like to see your photography develop in the future?
I am not so much concerned with where it develops, but more so that it does.  I am committed to making images that excite me and hopefully move a viewing audience, and I hope that continues long into the future.
Do you have any upcoming projects or new pieces that you would like to share with the readers of JCH?
I am working on building a new website right now, so you shall be able to see my new work on there.
www.eliotdudik.com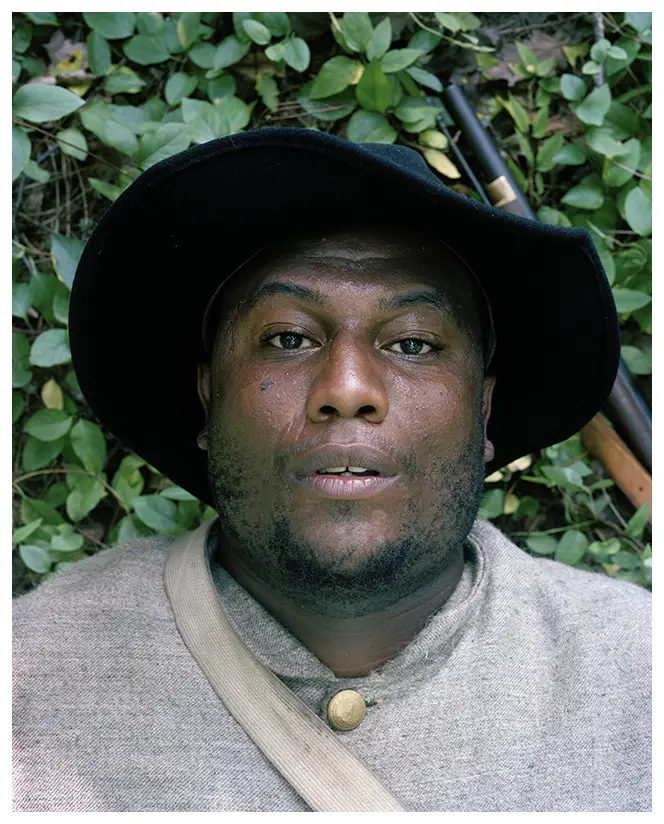 I would like to extend a big thank you to Eliot for being part of JCH. I am really impressed by the thought that goes into these images and the feeling they convey. I am looking forward to seeing more from this series and others in the future.
Check out Eliot's site and share your thoughts and comments.
Thanks
JCH