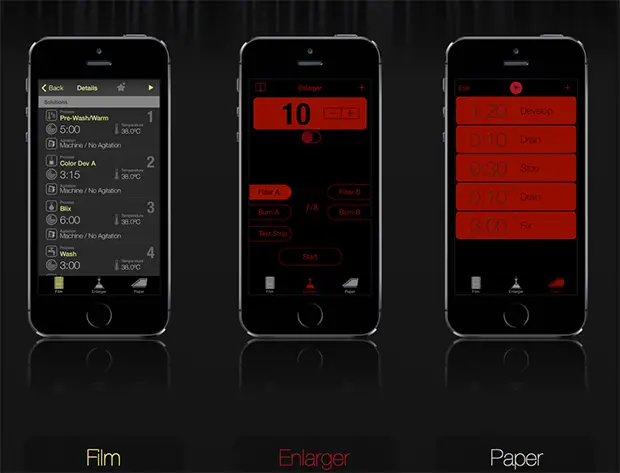 Darktimer 2 – Film Photography App
Some of you guys may remember the Darktimer App that I featured a while back. Well, Paulo, the guy behind the app has been busy beavering away and making a new updated version of this great app. And this time there are loads more features for you all to enjoy and aid you in the developing process. And if you are lucky, you might even get a free copy. Read on.

Now as many of you may know I am not all that much of a fan of phones, especially when people are walking with them and not looking where they are going (save that rant for another day), but they do have their uses and this is a great use. I really wish I had been able to have this information at my fingertips when I was working in the darkroom. But then, this just gives me an excuse to get back into it.
The Darktimer App has been massively updated and I think this is a winner.
Over to Paulo for the details:
DarkTimer 2
Three in one Film Photography tool.
Film Photography is all about been unpredictable and fun.
DarkTimer 2 is a three-in-one timer tool for your film photography.
It creates a collection of film recipes in a nice detailed iOS7 interface.
A film developing timer, an enlarger timer and a paper developer sequential timer for the photographer darkroom.
Film Collection:
Because each film has its own character, every film details can be modified: ASA, brand, film format, emulsion type, expiration date and notes. Besides that, the user can browse through a film database or add its custom film.
DarkTimer 2 also has a film developers database list which the user can choose from or add its own developers to the list. If the user is pushing the film, the App is able to store this information and calculates the amount of stops.
Recipes aren't just limited to black and white. The user can select between many process types (color dev, blix, stabilizer, reversal, bleach) to create its own color and slide developer recipes. When creating a recipe it will calculate the dilution/volume rates.
It's a developing timer, the photographer can add solutions to the recipes and edit/re-organize them later. Each solution represents a timer that it's organized in a easy to operate timers interface.
Switching between timers can be done with finger slide. Each solution has it's custom agitation, during developing the user gets notified the remaining time to the next agitation.
Sound notifications inform the status of operation.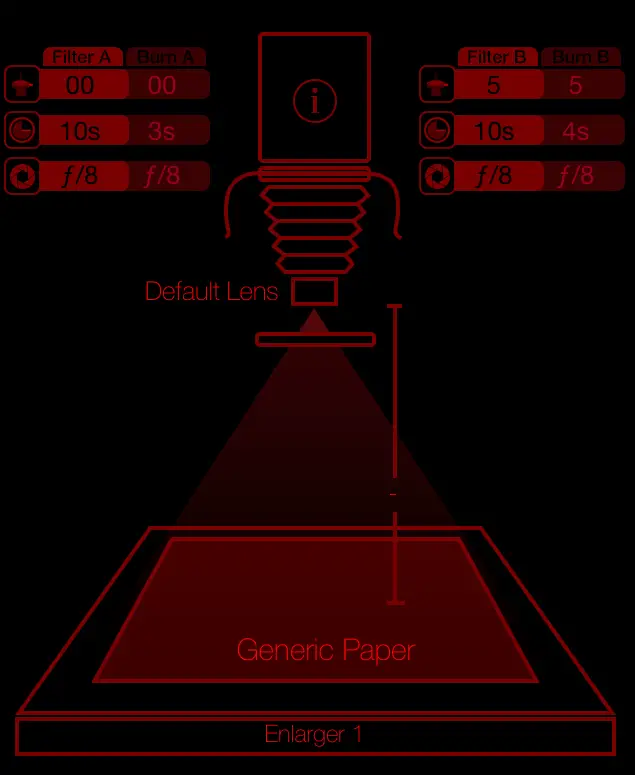 Film Enlarger:
This section was designed for the darkroom photography which lets the photographer to keep a collection of its enlargements schematics. It's designed for split grade printing with two filters. It's a timer to let the user focus in creative process. It calculates the exposure time if the photographer want to change the enlarger f-stops.
It incorporates an extra pair of timer filter for burning or dodging techniques.
DarkTimer 2 it's a test strips timer, which can be operated in equal steps or half-stop increments.
After printing the user can save all enlargement details like: filters, apertures, timers, enlargement name, paper name, lens name, height, print name and notes.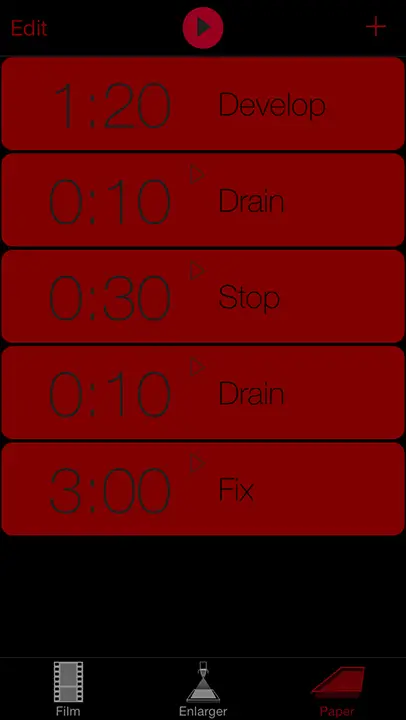 Paper Developing:
After making the enlargement the paper needs to be developed in the darkroom solutions. To better control this operation DarkTimer 2 has a customizable sequential timers that will help the user to be more precise in developing times. The timers will fire automatically so the photographer just have to ear the notification sounds allowing him hands free to manipulate the paper between baths.
The user also can decide what are the timers that will fire automatically.
With DarkTimer 2 the photographer can keep a detailed collection of it's art creation and have better control on its creative process with a easy to operate well designed user interface.
Support Site:
http://darktimer2.dev76.org
AppStore link:
https://itunes.apple.com/us/app/darktimer-2/id815630196
Twitter:
@dev76_org
Facebook:
https://www.facebook.com/Darktimer2
Google+:
https://plus.google.com/112948124972431053531
This is so cool. A big thank you to Paulo for making something like this. It is these passionate people that keep film going strong.
I have 9 free redeem codes to give away (I kept one for myself LOL) to the first 9 people that leave a proper comment on this (and not a "first" or "I want" kind of comment, and no fake mail addresses).
Cheers
JCH